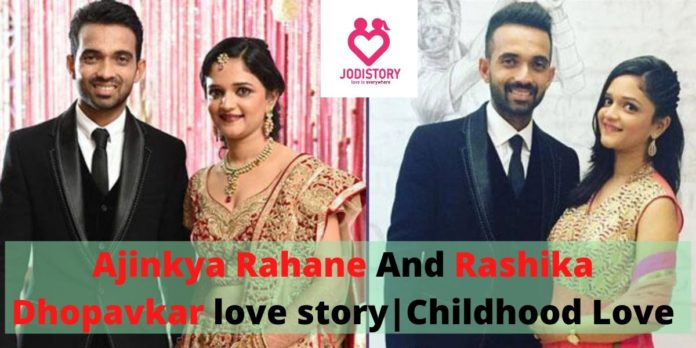 Who doesn't know Ajinkya Rahane? The cute and shy Indian cricketers Ajinkya Rahane had a great love story. Well, cricketers' love story is quite romantic. And we are here to discuss one such love story. Ajinkya's love story is similar to a Bollywood movie. Rahane is team India's 'Mr. Dependable' his relationship with Radhika Dhopavkar was hidden till their marriage. Which took place in Mumbai in 2014. Are Eager to know all about Ajinkya Rahane And Rashika Dhopavkar's love story? Then don't go anywhere we are here to make your time memorable.
They both are happily married. And Radhika has given birth to a baby girl. Join us to know all about it in detail.
Radhika and Ajinkya knowing each other since childhood
Radhika and Ajinkya's love story will remind you of old-school Bollywood movies. Where childhood love turns into a marriage.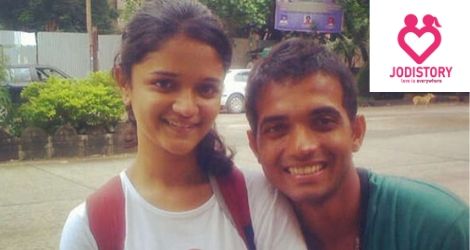 While growing up Radhika and Rahane shared the same neighborhood. They both belong to completely opposite temperaments, though they became good friends.
Must-Read Love Story–
However, Rahane being a modest person, his dates were not that cheesy.
Both generally spend time like friends. Radhika is a simple and shy Maharashtrian girl who is intelligent, modest, extremely down to earth. Both grew up and developed a very strong chemistry. After some time they fall in love. And started dating each other.
Who proposed first?
However, both did not tell their families. Though their family got aware of their liking for each other. After this, their family handles the matter.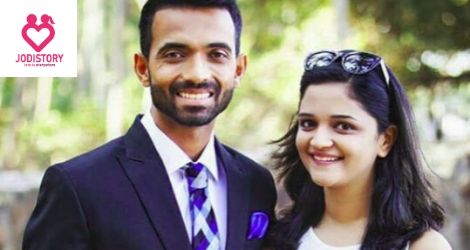 And simply asked both If they want to spend life together or not. Rahane and Radhika said yes to their proposal. After this, their family arranged their wedding. This came to be the sweetest and uncomplicated love story of all time.
Ajinkya and Radhika Grand Marathi Wedding
Ajinkya Rahane and Radhika had a grand lavish Maharashtrian wedding in Mumbai on 26th Nov 2014. Many famous cricketers and the members of the BCCI came to bless the couple.
For this occasion of the wedding, the groom and bribe dressed up in the Maharashtrian tradition.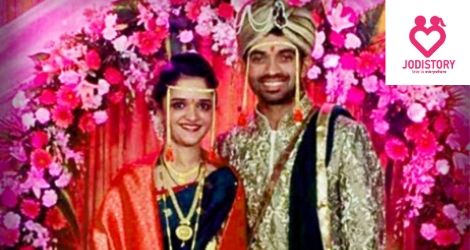 Radhika was looking stunning in green and yellow saree. Ajinkya was with a beige and golden sherwani with a green pajama.
The marriage was followed by a sensational reception at MCA.Where the whole cricket staff was seen. They were there to celebrate and bless them.
Social love of Ajinkya Rahane And Rashika Dhopavkar's
For their first marriage anniversary, Ajinkya wished his lovely wife Radhika by sharing their wedding photograph on Twitter with the quote:
"IT'S BEEN AN YEAR ALREADY!!! TIME REALLY FLIES"
Rahane even after the wedding addressed Radhika as his friend and then his wife. They both are active on Instagram and time to time, they share their loving selfies and pictures of their vacations.
Ajinkya Rahane Becomes father of Baby Girl
India's Test vice-captain Ajinkya became a father. As his wife, Radhika gave birth to a baby girl on Oct 5, 2019.
Must-Read love Story
Earlier in July 2019, Ajinkya and his wife updated the news of pregnancy as they both posted a picture on Instagram. After confirmation, many fellow cricketers wished them on Twitter.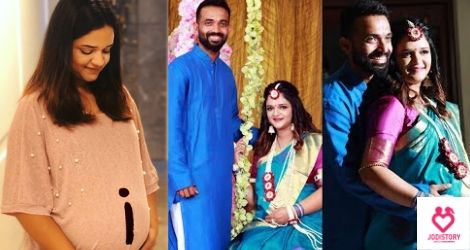 Harbhajan Singh ex-teammate of Rahane took Twitter to wish them-
"Congratulations new daddy @ajinkyarahane88 hope Mum and Lil princess are doing well.. the fun part of life starts now ajju. #fatherhood."
Conclusion-
Ajinkya Rahane And Rashika Dhopavkar's love story is full of a fairytale. The grounded and simple love story of Ajinkya Rahane has made us believe that there is beauty in simplicity. Hope you all loved it. Let us know how you feel about them. Comment down your views.