Indiand love him madly. He tried chasing the score of opponent team just to make India win. A man whom we fondly call the 'God of Cricket'. But, did you know, he was chased by his princess across the airport to make him fall in love? Here is Sachin Tendulkar – Anjali love story. Well yes, this is the tale of how our very own Sachin Tendulkar and Anjali Tendulkar.
How they fell in love and married to be the strongest and committed couple. And, the way the couple complement each other would make you want to fall in love!
It has been 22 years since the couple have been married, but the love between them is still the same as it was when they first met, recalls Anjali.
Sachin Tendulkar-Anjali love story began at airport
When asked about their first meet, she says "Sachin was just 17 when I first met him. He was returning from his first International Cricket tour and I was waiting with a friend to pick up my mother from the Airport.
My friend hinted me about this wonder boy and I immediately fell for him. I shouted out to him, but Sachin, out of embarrassment, ignored and left".
She managed to get his number and called him immediately and to her luck, he picked her call. She introduced herself and how she called out for him.
But he didn't respond at the airport, and to her surprise he remembered her. When she asked him what colour dress was she wearing, Sachin responded saying "Orange T-Shirt", which made her even happier.
Must-Read Love Story
Sachin Tendulkar- Anjali first date
They later met at a common friend's place, where they got to know each other better. The best thing in Anjali according to Sachin was. She knew nothing about Cricket and that she barely knew who is Sachin when they first met. (Cute, right?)
Once you start dating, you cannot resist, but want to have a constant contact with your lover. (isn't it?) Well with Sachin being a super busy man, always travelling and Anjali being a studious medical student, it was difficult for the couple to maintain constant contact.
Sachin-Anjali long distance relationship
Also, living in an era, where smartphones did not exist, it was even harder. So how did they manage? Anjali used to sneak out of her campus, about 46 acres away at around 10 in the night to call Sachin, when ISD rates would be low.
The couple indulged in writing letters to each other, despite it taking days to reach. However hard it was, this super cute couple managed to keep their love strong and clear.
Sachin, for being the famous personality he is, had to be in disguise every now and then, so he could have some uninterrupted time with his lover.
(Well, everyone wants their personal space, right?) But it was not only him. Anjali, for the first time visited Sachin's house, disguised as a journalist! Our lover boy Sachin was too scared to have her home, although in disguise. Anjali giggles, "He was hesitant and didn't know how to react".
Sachin Tendulkar & Anjali engagement
5 years into the relationship and they wanted to get engaged, but before that, they had to reveal it to their parents. Sachin, 21 years then, says "Talking to my parents about Anjali and us getting engaged was much tougher than facing the fastest bowler".
"So I asked Anjali to break this news at my place, as I was in New Zealand then" he added. 24th May 1995, the day when this beautiful love story took the form of marriage.
Must-Read love Story
The age gap between them has never been an issue, in-fact it has added meaning to their relationship and bought them closer.
Sachin Tendulkar-Anjali happy married life
Sachin Tendulkar and Anjali married in 1995. The couple always manages to support each other at all times and are blessed with 2 beautiful children, Sara and Arjun.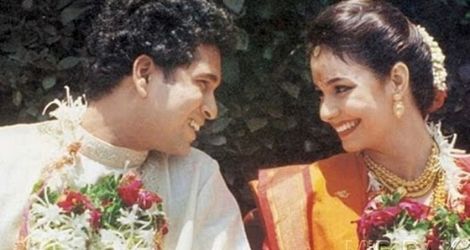 When asked about how it feels to be the wife of a star, Anjali says "People think it is glamorous, but believe me it is really tough. Whenever your husband gets out early, or team India loses, you personally feel you have done something wrong".
And Sachin shares, "Anjali actually taught me to be thankful for what God has given me and for what God has not given me too. She taught me to stay positive and strong in all situations".
They are a perfect blend of 'Love at first sight', 'Long distance love' and 'Supporting each other through thick and thin' and will always remain an inspiration to many of us, despite Sachin not talking about it to the media. This is a tale of a life journey to them, but a fairy tale to many.