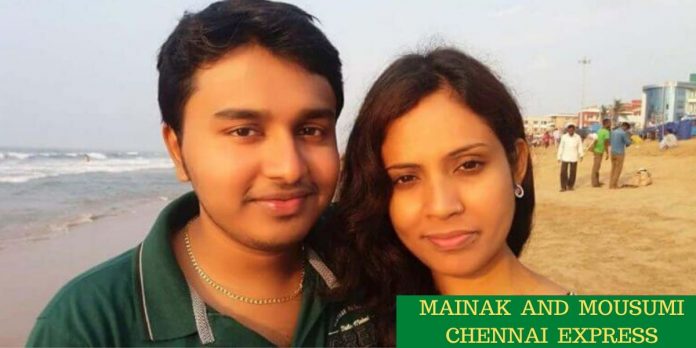 Have you ever dreamt of meeting your dream girl, the love of your life in a train, just like they show in the movies? This came true for a young couple- Mainak and Mousumi. Their journey began in the train itself.
Mousumi met Mainak while she was on her way back to her from Chennai. Mainak had the opposite seat and casually they started talking. During their chats Mousumi realised that Mainak might help her with her career so before getting off the train she gave Mainak her number. The train journey ended, which itself started a new story.
Both of them almost forgot about each other, months passed by and the one day Mainak saw her on Facebook. He sent her s friend request which she readily accepted, and then began a trail of messages and calls. They came to know a lot about each other, and eventually they started feeling for each other as well. Just as the lengths of messages grew their feelings for each other grew. They were falling in love.
Also Read: Love Knows No Boundaries: Love Story of Sania Mirza and Shoaib Malik
Mainak had another friend, who had developed feelings for him as well, unknowingly. It was the day of 29th February, 2012, Mainak decided:
'Today is my day. I'll be confident and I'll propose Mousumi."
But nature introduced a hurdle, before Mainak could propose Mousumi, Mainak's friend proposed him. She didn't accept the proposal and said a clear cut NO. But this denial gave him a matter to think on. He feared that what if Mousumi says a stern NO to him, just like she said to his friend a few minutes ago. Terrified and confused, and after having thought for hours he sent her a text message as a symbol of his proposal, at the end of which he wrote:
"If it is a yes from your side you'll call me"
He had been waiting ever since he sent her the text. Time seemed unbearable to him. But Mousumi called, finally. He was thrilled and received the phone with excitement, but that didn't last long. Apparently Mousumi called him in surprise, not in affirmation to his proposal. Well that's what Mousumi protrayed, but inside, she knew it was a yes. She just took the entire day to confess it. And at that romantic moment, both of them stood on their terrace looking at the moon, that beautiful moon. That moment Mainak promised Mousumi that:
Today we might be looking at the same moon from two different places but I promise on the next 29th of February we shall be looking at it together.
Romantic isn't it? Once things started going smooth, Mainak decided to come clean with his family and tell them everything about Mousumi. No doubt there was opposition at first but with time everything got better. In their years of courtship Mainak and Mousumi had been on many trips and clicked many pictures, they enjoyed a lot- the trips less and their company more.
Mainak being a creative person made a compilation of their beautiful memories in the form of a photo album and gifted Mousumi on her birthday. That album was so dear to her that she always kept it in her handbag and carried it with her everywhere she went. But who knew this little book would reveal all her secrets in front of her family. Friend turned Enemy, that album gave her parents every possibly confirmation of her ongoing relationship with Mainak. In the end Mousumi confessed everything in front of her parents, all of it. They were certainly not happy with such a behaviour but with Mousumi's unstoppable efforts they finally gave their approval to her relationship.
I know what do you think, they should get married now right? Well that's what they wanted as well. But the question was who would go first? Who would initiate the talk? Who would make the first call? The groom's parents didn't wanted to budge neither were the bride's parents willing to break the ice. Mainak and Mousumi are so close, yet so far. Then, Mainak came up with a brilliant idea. He called Mousumi and said:
"I will give you a call, don't pick it up. And then after sometime go and show it to your parents, saying that Mainak's parents called, we missed it, we should call back."
Also Read: Beyond space and farther: Love Story of Kalpana Chawla
Mainak and Mousumi acted as planned and their parents fell for the trap. Non of their egos were hampered. The bride's parents through that first call came from the groom's side and groom's parents felt that that bride's parents took the first step. Everybody was happy. And finally the happy couple got married on 18th November, 2014.
The best thing about this couple is their desire to stick together. There were many objections regarding Mainak and Mousumi in both their respective families, but they didn't let such things drive them apart. Rather the stayed by each others sides and fought through. They had to go through a lot to get married, but in the end it doesn't matter, those hard times don't matter because they are finally together. They have stuck together with each other as a real couple and risen above adversities as a real couple.