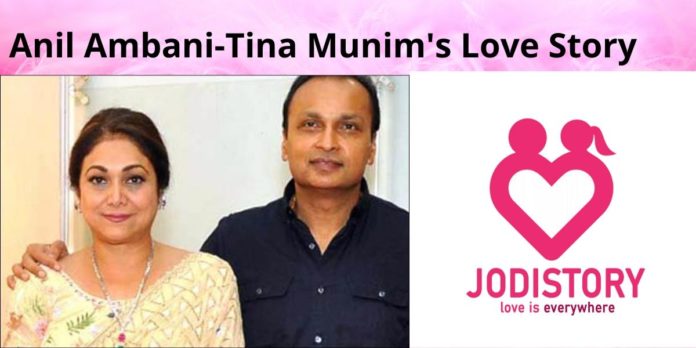 Who isn't familiar with the name "Ambani's"? Hardly anyone! Ambani's are one of the most influential and obviously the richest families in India. Anil Ambani is a successful businessman, not to mention the son of great Dhirubhai Ambani. Tina Munim, an actress by profession, is now wife of Anil Ambani. But when it comes to love even fame, influence and money do not help! Anil Ambani-Tina Munim's Love Story proves it. With several hiccups, hurdles and objections the couple paved their way out!
To find out the details, let's scroll down!
Must Read the following:
Anil saw Tina at a wedding
Anil saw Tina at a wedding. But, he did not feel something like "love at first sight." However, he did notice Tina. He was taken aback with Tina's dress colour. She wore a black saree and looked stunning.
Since no one wore that colour, Tina stood apart from the crowd. Unfortunately, things did not progress between them, until they next met!
Anil Ambani-Tina Munim's Love Story began in Philadelphia
They met again in Philadelphia. A mutual friend of the duo introduced Anil to Tina.
This time, the businessman did not waste the opportunity. He asked the enchanting actress for a date. Tina experienced with advances from unknown men, politely refused.
Later, Tina's nephew coaxed her into meeting with a "Gujarati boy." Little did she know, that Gujarati boy was Anil Ambani.
However, Tina proved to be stubborn and kept postponing the meeting. But eventually, she agreed and the couple met.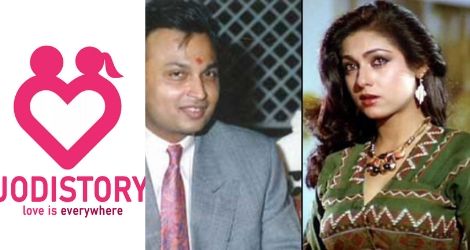 Anil and Tina get to know each other
When the couple met, they harboured some prejudiced notions about each other. No surprise, their prejudiced notions proved wrong.
Tina found Anil's simplicity quite impressive. He charmed her using his upfront and genuine behaviour. Also, speaking the same language and growing up with similar values helped.
Anil found her attractive. She proved different from other women from the film fraternity. No wonder, Anil became obsessed with her.
Anil-Tina face objections from family
When Ambanis learnt about the affair between Anil and Tina, they did not approve. They harboured unpleasant notions about Tina, coming from the film fraternity.
Though Anil tried to make them understand about Tina's simplicity, it all went futile. Finally, Anil confessed everything to Tina.
Unfortunately, they had to part ways because of family pressure. They did not talk for four years and the communication snapped between them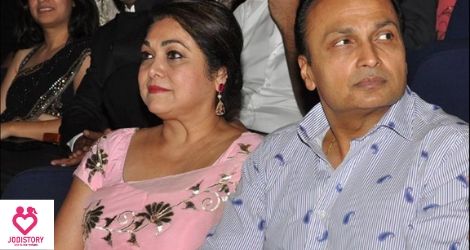 Anil Ambani-Tina Munim's Love Story reunited by an earthquake
After falling out, Tina went to Los Angeles for interior designing. Whereas, Anil pursued his business.
Fate took the matter into her hands and reunited them. Anil learnt of an earthquake in L.A. He called Tina and inquired about her well-being.
Both Anil and Tina were dumbstruck. After four years, they talked again on a phone call and couldn't believe it. When Tina assured him, Anil hung up.
Tina was frozen and disappointed that Anil did not continue the conversation. Whereas Anil felt like something exploded inside him and if he carried the conversation, he would cry.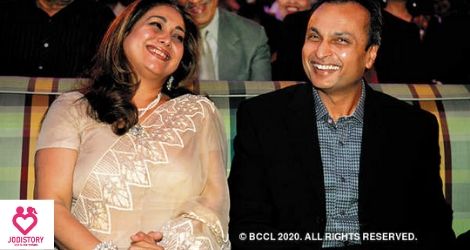 Anil's proposal to Tina
When Anil kept on refusing every marriage proposal, Ambanis realised about their son's true love. They reluctantly agreed. When Tina returned from L.A, Anil planned to propose her.
Anil went to Tina's house at Khar. Her mother, sister and her brother-in-law were shocked to see Anil there. Anil confessed about his feeling and asked for her hand to Tina's mother.
To the couple's immense happiness, their families agreed and marriage hit the way.
Anil Ambani-Tina Munim's Love Story's sealed with marriage
In February 1991 the couple tied the pious knot. They were married in a traditional Gujarati ceremony.
It was a lavish, grand and luxurious affair. The wedding saw the presence of many esteemed guests including politicians, businessman and various stars.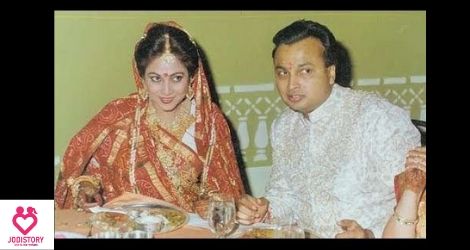 Anil-Tina's children
The couple is blessed with two sons. On December 12, they welcomed their first son Jai Anshul Ambani.
In 1996, they welcomed their second son, Jai Anmol Ambani. Their two sons completed their family and led their parents to perfect happily ever after.
Must Read the following:
Conclusion
Despite several hurdles, objections and hiccups, the couple stood firm. They even went on a break but fate intervened and reunited them. So, definitely fame influence and money does not help when it comes to love. It was only the couple's loyalty and love towards each other that brought them together.