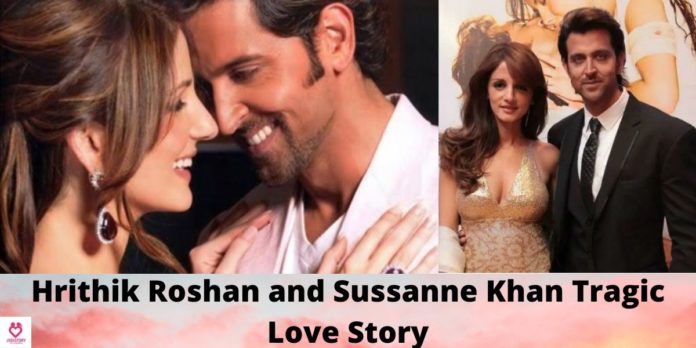 Courtship of four years, a marriage of 13 years and then suddenly a decision to part ways forever? Sounds miserable, doesn't it? Such is the catastrophic tale of Hrithik Roshan and Sussanne Khan Love Story. Hrithik Roshan, a proficient actor whose charming good looks, killing dancing moves can make any girl swoon. His wife, Sussanne Khan, an adorable lady and interior designer by profession. How can the tale of such a charming couple go awry?
Scroll down to unleash the answers.
Must Read the following:
Hrithik Roshan and Sussanne Khan Love Story began on a traffic signal
I know it sounds hilarious and somewhat absurd? But yes, Hrithik Roshan and Sussanne Khan Love Story did begin at a traffic signal.
Both of them were stuck in a traffic jam in their own respective vehicles. Hrithik glanced towards his left and saw a graceful lady in the driving seat. Any guesses as to the identity of that graceful lady? None other than, Sussanne Khan.
Sussanne too couldn't resist Hrithik's good looks. However, they both pretend to ignore each other and went their own ways. Little did they know, their paths were meant to be merged someday!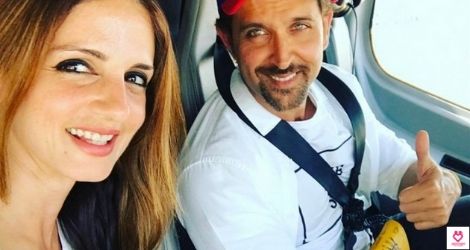 Hrithik and Sussanne started dating
Next, they met at the engagement part of Hrithik's sister. He couldn't take his eyes off from Sussanne who looked stunning in traditional attire. They became friends and yet Hrithik did not shy away from his feelings towards her.
He wrote poetry to woo her. Soon, they started dating. Though Hrithik had not achieved his star status at that time, Sussanne did not mind dating a commoner. Hrithik wasn't so financially sound but Sussanne didn't mind it either. Sussanne would pay for their dates and the couple would spend time together.
The courtship went on for four years before they decided to seal it with marriage.
Hrithik and Sussanne's marriage
The release of Kaho Naa Pyaar Hai achieved tremendous heights and turned Hrithik into an overnight sensation. Wherever Hrithik went his females' fan would follow. Despite the fact that an actor's marriage affects his fan base, Hrithik got hitched to Sussanne.
The ceremony took place in a luxury spa in Bangalore on December 20, 2000. Surprisingly, it was neither a traditional Hindu wedding nor it happened in Muslim nikah style. They exchanged vows in the presence of their families and close friends.
The couple became one of the power couples of B-town. The media kept a close eye on their every public move.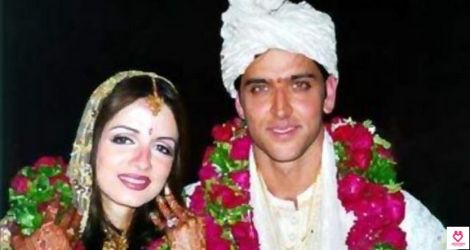 Hrithik and Sussanne's children
The couple is the proud parents of two sons. On March 28, 2006, they welcomed their firstborn, Hrehaan Roshan. Later, on May 1, 2008, Hridaan Roshan joined the team.
The couple spends time together. Definitely, parenthood suits them to perfection.
Hrithik Roshan and Sussanne Khan Love Story affected by rumours
No wonder with Hrithik Roshan's charming looks, no woman could ever resist him. So, the link-up rumours of Hrithik Roshan with his several co-stars would follow.
Hrithik and Kareena Kapoor name was linked because of their sizzling chemistry. However, when rumours took their toll, the couple did not sign any more movies together. Next, speculations ran riots when Hritik and Barbara Mori (his co-star in Kites) link up rumours spread. The media again targeted Hrithik's marital bond. After some time, rumours eventually suppressed.
In no time, the Kangana scandal erupted when Kangana Ranaut claimed Hrithik as his silly-ex. The duo got involved in heated debates which involved a lot of screenshots, stories, pictures and court drama. The scandal is rumoured to be one of the primary cause for Hrithik's separation.
Even Sussanne Khan was linked with Arjun Rampal. It is said that Arjun Rampal got divorced with his wife because of his affair with Sussanne Khan.
Till date, the speculations run riots as to the cause of Hrithik and Sussanne's separation
Hrithik and Sussanne opt for divorce
Two weeks before the couple's 13th wedding anniversary, they announced their decision to part ways. They took to their respective social media accounts to break the tragic news.
On November 1, 2014, the couple's divorce was finalised in a family court at Mumbai. The duo would share joint custody of their kids. The family has also accepted their decision gracefully.
Must Read the following:
Conclusion
The couple did not have a perfect love story. Despite their divorce, they did not end up with hard feelings and are still friends. Their kids are their priority and the duo still spends family time together. No wonder, the couple has set an example for others as to how to part ways in an elegant manner.