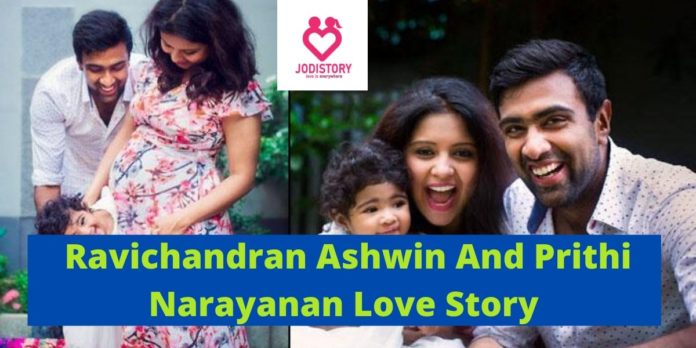 Who doesn't know Ravichandran Ashwin? If you are a cricket fan then you might be knowing Ashwin. He is one of the most famous men in the Indian cricket field. Ravichandran Ashwin is a popular Indian international cricketer. He is an all-rounder who bowls right-arm off break and bats right-handed. Ashwin plays for Tamil Nadu in state cricket and for Delhi Capitals in the Indian Premier League. In the year 2016, he became the third person of India to win the ICC Cricketer of the Year award. Well, the interesting part is his love story. Yes, you read it right we are talking about Ravichandran Ashwin And Prithi Narayanan Love Story.
So are you excited to know all about his love story? then don't go anywhere we are here to make your time memorable.
Childhood Sweetheart of Ashwin
It was during his childhood days that Ashwin first fell in love with the beautiful eyes of Prithi. Both were school friend and their friendship flourishing and went on to grow more stronger in college. Because both of them had an admission to the same college together. The pair joined SSN College of Engineering in Chennai.
Must-Read love Story
And it was the place where their love blossomed. Since the families were familiar with each other so there was no opposition from there side. Ashwin and Prithi enjoyed fully their dating period.
Cricket and LoveLife
Ashwin's cricketing life got on the top and he turned into a good player of the Indian team. During the matches, he became busy as his presence became very crucial to the team.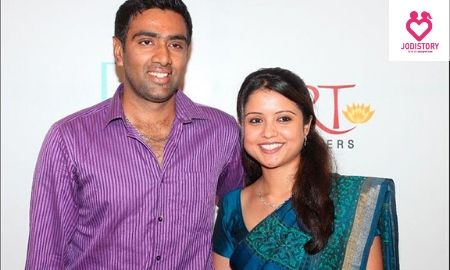 His time kept getting shorter and shorter. And calls and dates were not a part of his schedule and not frequent. But that didn't deter Prithi and Ashwin's love for each other. Both understood each other. Prithvi also respected his commitment to his career and passion.
Ravichandran Ashwin And Prithi Narayanan Wedding
Ashwin was an important part of the Indian team. Ashwin was at the peak of his cricket career, the duo considered it to be the perfect time to tie the knot.
Both had known each other for more than ten years. The pair first got engaged in the start of 2011 in a low profile event. Ashwin was very busy with his career which is as a cricket player. The pair decided to have their marriage ceremony once he got a little bit free. For this reason, the Ravichandran Ashwin And Prithi Narayanan marriage were set for 13th November 2011.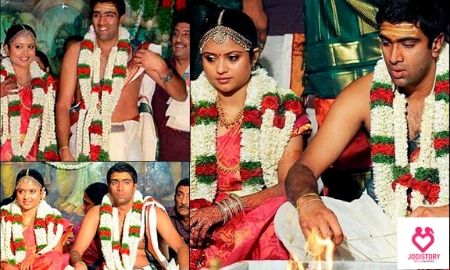 Their marriage was a traditional Tamil marriage in Chennai. Both Ashwin and his wife Priti dressed up in traditional attire. It is said that Ashwin invites several of his cricket team-mates for the wedding ceremony but unfortunately no one turned up for the marriage. The pair then held a reception the same day. But all in all, Ravichandran Ashwin And Prithi Narayanan's wedding was an auspicious occasion for both.
Ravichandran Ashwin And Prithi Narayanan Children
The pair was blessed with a cute girl in the year 2015. Ravichandran And Prithi Narayanan named their daughter, Akhira. And, their another younger little angel was born on 21 Dec 2016.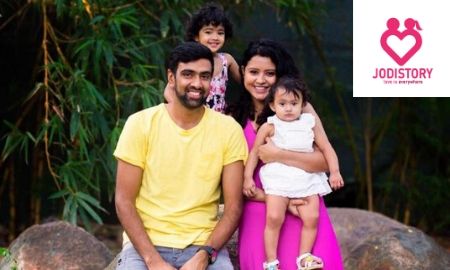 Must-Read love Story
But both intentionally hide the news birth of the second child for around four days. On 26 Dec 2016, she announced about the birth of their second child. She tweeted:
"I delivered baby #2 on the 21. She waited out a State shut down thanks to the cyclone and 5 days of Test cricket at Chepauk."
Conclusion
Prithi can be seen joining Ashwin to his cricket matches and remains one of the most exciting audiences. Aren't they just romantic and awesome? Everyone wants a life-partner like Prithi and Ashwin. We wish them many wonderful and joyous years of togetherness and love. I hope you liked Ravichandran Ashwin And Prithi Narayanan Love Story.Comment down and let us your views on this.