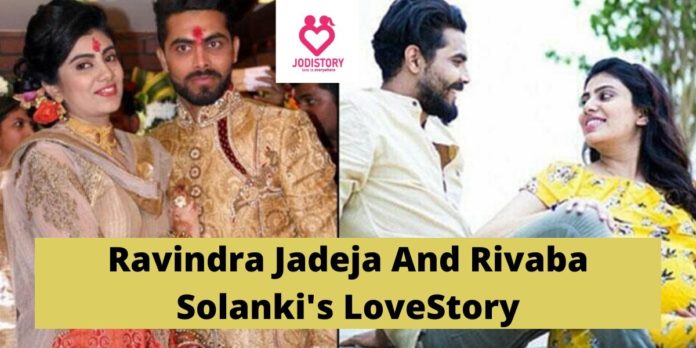 Have you ever watched a cricket match? Are you a cricket fan? If yes then you are at the right place. Today we are here to know about Jaddu's Lovestory. Yes, you heard right Ravindra Jadeja had a great love story. Ravindrasinh Jadeja commonly known as Ravindra Jadeja is a popular Indian international cricketer. He is a famous all-rounder. Saurashtra was his first-class cricket team and the Chennai Super Kings in the Indian Premier League. Though you might be aware of all these. But are you aware of Ravindra Jadeja And Rivaba Solanki's Lovestory? When we talk of the heart though, Jaddu, had a straightforward simple arranged marriage with Rivaba as he fell in love with her, the moment he saw her. So how this love story begin? Let's take a deep look at the Ravindra Jadeja love life and how it all happened.
Love At First Sight for Ravindra Jadeja
Ravindra Jadeja's family was curious about getting him to marry soon. Jadeja's sister would question him to search for wedding matches but he always changes the topic saying that he did not have time for anything else apart from cricket.
Must-Read love Story
And one day his family found a perfect match for him around 2015. They came to be in contact with a Rajkot-based engineer named Riva Solanki. Who was just two years younger to Jadeja. Her mother works in Indian Railway's and father is a businessman from Rajkot.
How they met for the first time on Whatsapp
Naina (his sister) and Riva were friends and familiar with each other. And, therefore, their family thought it to the perfect match. And they forced that Ravindra meet the girl once. The cricketer agreed and gave in to the pressure. He decided to know Riva via WhatsApp. A normal and simple conversation soon turns to a casual meet and it came to be love at first sight for the Rajput lad.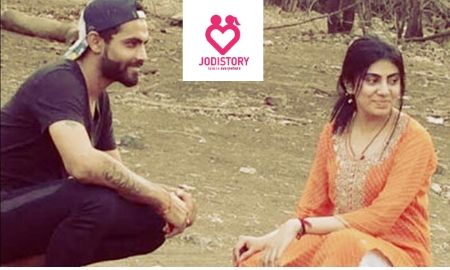 In an interview, Ravindra says that he found his wife Riva simple, attractive, educated, understanding. And he was looking for these qualities in his prospective life partner.
The pair soon started bonding with each other firmly. After some months both realized that they were indeed made for each other.

Ravindra Jadeja And Rivaba Solanki Engagement
After all, dating the pair expressed their thoughts to the families. The parents were very much happy and decided to have an engagement ceremony on February 6, 2016, in Rajkot.
Ravindra has already owned a restaurant in the city Rajkot, Jaddu's Food Field. And the duo marked to have their lavish engagement ceremony at the restaurant itself. The place then turns into a huge and grand venue.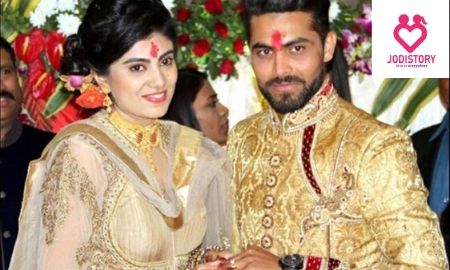 Riva Ravindra Jadeja's engagement ceremony was not less than a Bollywood wedding. Jadeja was dressed up in an embroidered sherwani. While Riva was looking stunning in a plush orange lehenga.
The pair exchanged rings in front of good friends and relatives.
Ravindra Jadeja And Rivaba Solanki Marriage
The duo started their wedding ceremony with a haldi and sangeet ceremony. And the couple tie a knot on 17th April 2016, at Rajkot. The Riva and Ravindra Jadeja marriage venue was a popular hotel in Rajkot. Ravindra was seen in a truly royal style. Ravindra was marked up in traditional Rajput tradition wedding attire with a turban.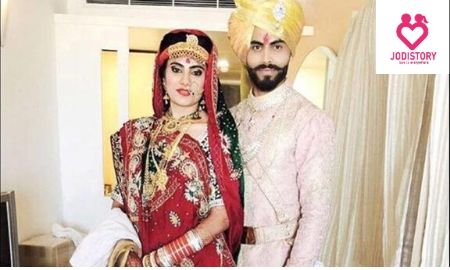 Riva looked awesome in traditional green and red Rajput bridal saree with lavish jewelry.
The Garba dance was performed by Ravindra team-mates Suresh Raina and Dwayne Bravo. Jadeja invited all his close friends from cricket. Eventually, the pair had marriage receptions held at Rajkot and Jamnagar.
Their Happy Married Life
Since Riva and Ravindra Jadeja's marriage, Riva is always supporting her partner from the stands whenever he is playing.
Must-Read love Story
In an interview after their marriage, she adds that she earlier had no interest in cricket but now she watches it because of Jadeja. "I generally watch cricket when he is batting or bowling," she said. The pair is now seen together at cricketing events.
Conclusion
And as it is,"behind man's success, there is a woman". This is what same took with Ravindra as Riva's entry took him a place in the 2015 World Cup and Asia Cup team. The couple showed that love,at first sight, can also be the best and can last forever. We wish them great years ahead. I hope you liked Ravindra Jadeja And Rivaba Solanki's LoveStory.Comment down your views.
.