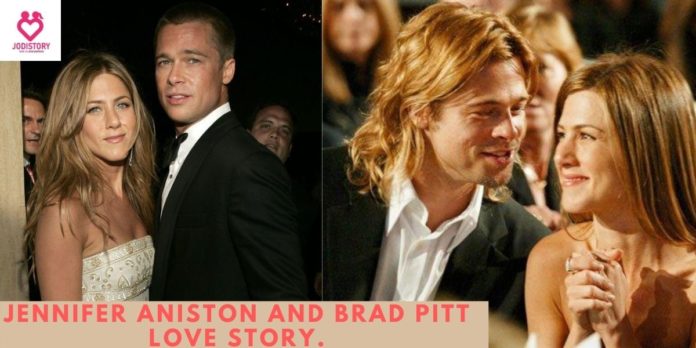 Jennifer Aniston and Brad Pitt are American actors and film producers. They worked together in Hollywood and soon fell in love with each other. Jennifer Aniston and Brad Pitt's love story are inspirational as well as heartbreaking. They became great friends several years after a serious divorce.
Jennifer Aniston's first big break in Hollywood was with the 1993 horror comedy movie "Leprechaun". She played the lead role in that movie. Later, she played the character of 'Rachel Green' in the very famous American sitcom "Friends" from 1994-2000 and became one of the highest-paid actress of all time in Hollywood.
On the other hand, Brad Pitt is a breathtakingly handsome and talented actor. He first gained recognition from the movie "Thelma & Louise" in which he was a cowboy hitchhiker. Some of his other great movies include "Mr. and Mrs. Smith", "Troy", "World War Z" and many more.
You're here to know all about Jennifer Aniston and Brad Pitt's love story right? So without any further delay, let us take at the inspirational love story of Jennifer Aniston and Brad Pitt.
How Did Jennifer Aniston And Brad Pitt Met?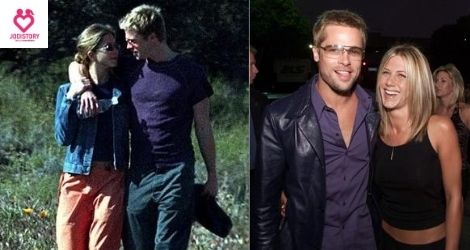 Jennifer Aniston and Brad Pitt started dating casually in 1998. But they met four years prior to that because of their respective agents. Their agents were good friends with each other.
In 1994, Jennifer Aniston and Brad Pitt crossed path but nothing actually happened between them. Aniston said in an interview "Pitt was just this sweet guy from Missouri, you know? A normal guy"
Jennifer Aniston & Brad Pitt started dating
In 1998, Aniston and Pitt were set up by their respective agents as they both broke up. They both knew that they liked each other immediately and had a fun and easy evening. Soon they started dating and became out of the most famous couple of Hollywood.
They decided to keep their relationship private but it was becoming really hard for them to do so. Brad Pitt was already a world-famous actor and Jennifer Aniston was the American sweet-heart.
As it was becoming hard to keep their relationship private, Brad and Jen made their first public appearance as a couple on the red carpet of Emmy Awards on September 12, 1999. Thus began the inspirational love story of Jennifer Aniston and Brad Pitt.
Jennifer Aniston and Brad Pitt Marriage
Brad Pitt and Jennifer Aniston dated for one and a half years before Pitt proposed the Friends actress. On 21st November 1999 made an appearance on the stage of a string concert in New York City. At this concert, Jen and Ben flashed the engagement ring vividly to all the fans.
On 29th July 2000, Jennifer Aniston and Brad Pitt tied the knot in Malibu. It was a lavish wedding with 200 guests, 50,000 flowers, four bands, and a gospel choir. It was the wedding of the year.
Consequently, in September of the same year, they appeared on the red carpet of Emmy Awards again but this time as a married couple. They looked head over heels in love with each other as they walked hand in hand. How adorable!
In an interview with Rolling Stone, Jennifer Aniston revealed her friends worried that Brad would be a "conceited fuck" but nothing as such happened. She also informed that her friends "immediately came around because he's actually just the best person".
Jennifer Aniston and Brad Pitt have no kids together. They decided early into their marriage that they do not want any kids.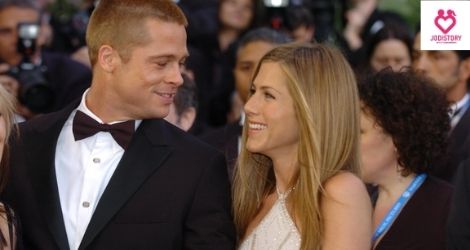 Aniston also talked about their marriage and how they are in this together for the long run. She said, " If there's an argument between us we don't get up and leave, instead we talk and sort it out. Because we are in this for the long haul. And for us, it is quite beautiful to realize this. It takes the heat and the weight out of things."
Alas! The future has its own plans.
Jennifer Aniston and Brad Pitt divorce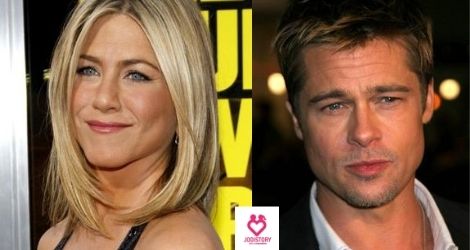 Jennifer Aniston and Brad Pitt were married for 5 years before they officially announced their split in January 2005. Their marriage was not perfect but for a brief period of time, they were really happy with each other.
They did not let their differences surface into public and that is why it looked like they are a match made in heaven. But from the inside, it was not all rosy. Apparently there were more thorns than they revealed.
Pitt and Aniston were together for seven years before they decided to split in January 2005.
After seven years of togetherness, they decided to file for a divorce. Brad Pitt & Aniston accepted that this separation is not because of all the speculations reported by media and paparazzi. This decision is the result of much thoughtful consideration.
They said in a joint statement at the time. "We still choose to remain good friends who deeply care about each other. We feel great love and admiration for one another. In advance, we ask for your kindness and sensitivity in the coming months."
Eight months after this their divorce got finalized and they separated for good. According to Pitt, at that time in his life, he was searching for interesting movies for his career. But he realized that his life was not becoming any interesting and his marriage was failing. So there was no point in making the marriage something that it is not.
"It became very clear to me that I was intent on trying to find a movie about an interesting life, but I wasn't living an interesting life myself," he explained. "I think that my marriage [to Jennifer Aniston] had something to do with it. Trying to pretend the marriage was something that it wasn't."
Brad Pitt affair begaun with Angelina Joli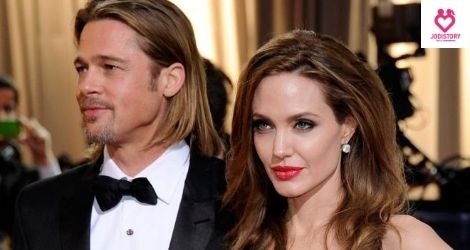 Following the split-up of Jennifer Aniston and Brad Pitt, many rumors started to rise. It was rumored that the divorce happened because Brad Pitt fell in love with Angelina Jolie on the sets of "Mr. and Mrs. Smith" in 2004. Everybody assumed that Jolie was the reason they broke up.
Subsequently, both of them denied all of the rumours of them dating though they were seen together in public a lot. In 2006, Angelina Jolie confirmed that she was pregnant with Pitt's child which was their first public acknowledgment of the relationship. They tied the knot in 2014. Unfortunately, their marriage did not last and the got separated in 2016 after being together for 12 years.
On the other hand, Jennifer Aniston remained single for a few years and then she started dating Justin Theroux. She tied the knot with the actor in 2015 but neither did their marriage last. They got divorced in 2017.
MUST READ LOVE STORY-
Current Scenario Of Jennifer Aniston and Brad Pitt.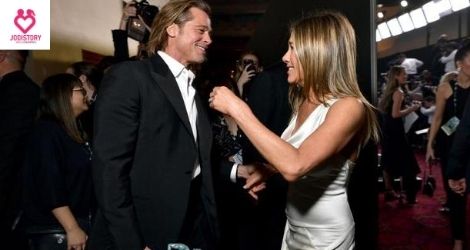 As of today, Jennifer Aniston and Brad Pitt are good friends. They reconnected, especially, after Brad Pitt's divorce with Angelina Jolie. As they promised to stay friends after the divorce, they continued to keep in touch.
In fact, as the custody battle between Brad Pitt and Angelina Jolie intensified, Pitt became closer to his ex-wife Jennifer Aniston as she called him to check up on him after his divorce. Brad Pitt revealed that she is the person who understands him the most.
It is also known that Jennifer Aniston had given mindful techniques to Brad Pitt to deal with the divorce.
"Jen swears by Pilates, yoga and daily mediation to stave off anxiety and stress, as well as taking extended technology breaks," said the Grapevine.
Other sources have revealed that Pitt and Aniston are closer than ever. Brad is filled with love and adoration for Jen for how she is helping him to get through the divorce and the custody battle.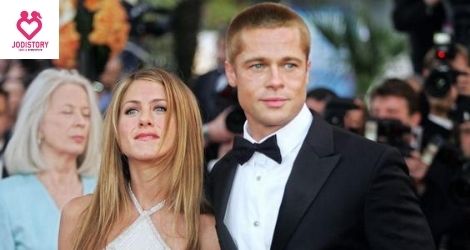 They have an unbreakable friendship as both of them care deeply about each other. Jennifer Aniston would always be there for Brad Pitt. They have been spending a lot of time together lately as Jen is trying to lift up his mood and be a source of support and comfort for him.
Though their marriage fell apart, Jen and Ben never stopped caring about each other. They are an ideal example of how ex-spouses should be. Instead of fighting a cold war, they chose to support and be there for one another putting aside their differences. They kept their promise of being friends for real and nothing can be more inspirational than that!