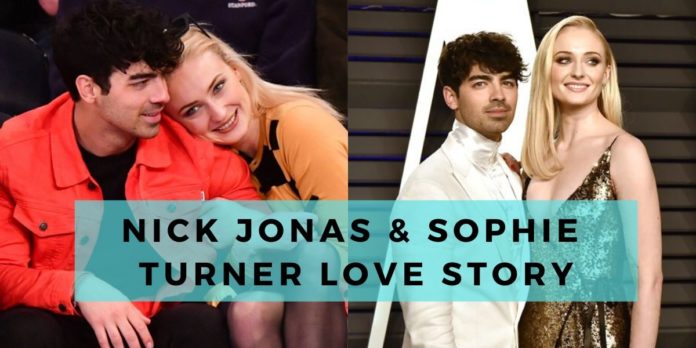 Sansa Stark (Sophie Turner) is that one lady we could look up to for her courageous lady character that has been a major change in the seventh season of Game Of Thrones. And it wasn't easy for her to be in love after the past story of her life. And Joe Jonas is one among the inspirational singer of the times. What is it when the actor-singer comes together? Sansa Stark aka Sophie Turner has fallen in love with the talented Joe Jonas of the Jonas brothers. Scroll down to read Sophie Turner & Joe Jonas love story.
How Sophie and Joe met?
Sophie Turner(Sansa Stark) And Joe Jonas were at first spotted together during a Halloween party thrown by one of their friends.
But nothing had budded then. But the couple were later spotted romancing each other during the King of Leon concert.
And this is how it all went to the media about Sophie Turner(Sansa Stark) And Joe Jonas relationship.
Also Read: KIT HARRINGTON AND ROSE LESLIE LOVE STORY: THE GAMES OF LOVE
Sophie Turner(Sansa Stark) & Joe Jonas dating
Sophie Turner(Sansa Stark) And Joe Jonas was seen various times together, holding hands on dinner dates and various other occasions.
The two really spend some quality time with each other. They were frequently noticed by the media dining in various restaurants.
Confusion in relationship
Sophie Turner(Sansa Stark) And Joe Jonas were spotted spending vacations together. And the relationship between the two was confirmed. When Turner posted a photo of Joe from their Miami vacations.
But things were not confirmed completely. There was still confusion. The couple entered the red carpet but both separately.
And this lad to confusion about the relationship. There was nothing that could stop them. They held hands and walked in public.
Also Read: ANGELINA JOLIE LOVE STORY: THE HOLLYWOOD LOVE STORIES
Sophie Turner And Joe Jonas engagement
The couple always kept their private space from the public. On October 2017, it was confirmed that the couple got engaged. Turner herself posted the image of her engagement ring.
The couple had been dating each other since November 2016. After the grand wedding of Jonas brother, Nick Jonas and Actress Priyanka Chopra, there are huge expectations of the wedding bells of Turner and Joe. How sweet Sophie Turner & Joe Jonas love story is.