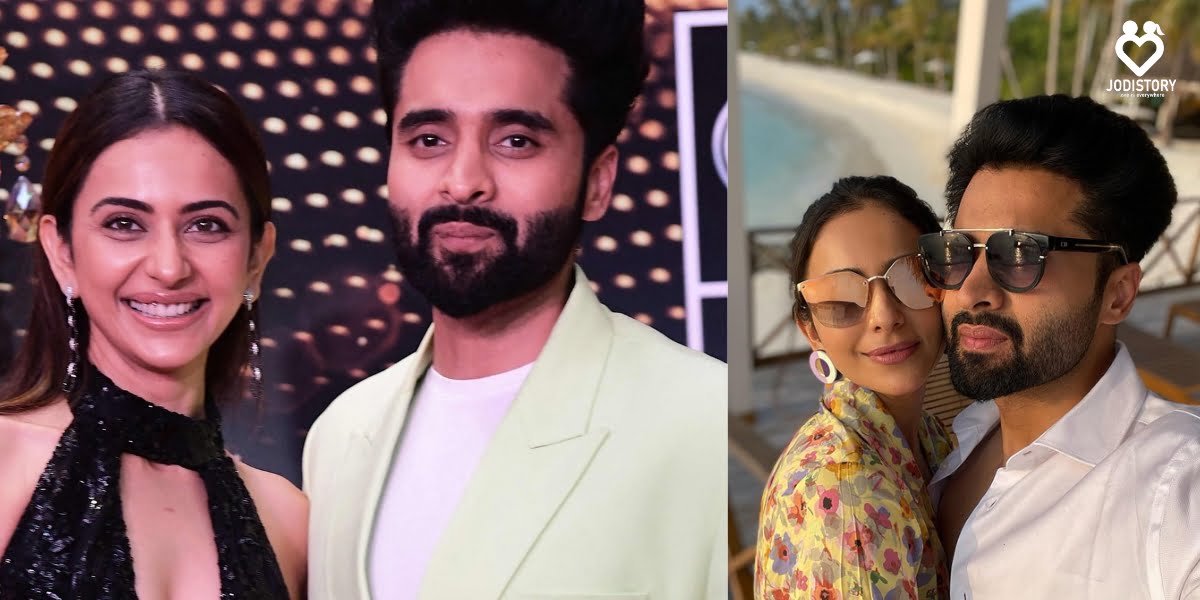 I know you are a big fan of sweet girl Rakul Preet. And you want to know about her personal life. If your intention is to inquire about Rakul Preet's affairs, love story, and relationship details. Let me tell you, YES she is in a relationship with Jackky Bhagnani since the pandemic. Yes, the lockdown has its own stories. It has had both positive and negative impacts. But some people also found their love in lockdown. Look at Rakul Preet and Jackky Bhagnani's romantic love story which is a gift of lockdown.
Rakul Preet Singh: The Versatile Actress of Indian Cinema
Rakul Preet Singh is an Indian film actress and model born on October 10, 1990. She made her acting debut in the Kannada film "Gilli" in 2009 but rose to prominence with her performance in the Telugu film "Venky" in 2014. Rakul made her Bollywood debut in the Hindi movie "Yaariyan". She has acted in various popular films such as "Chhatriwali", "Thank God", "Doctor G", "De De Pyaar De" (Hindi), "Marjaavaan" (Hindi), "Attack" etc.
Must Read Love Story:
Introducing Actor cum producer: Jackky Bhagnani
Jackky Bhagnani is an Indian actor, film producer, and entrepreneur. He was born on 25 December 1984 in Kolkata. Jackky started his career from movie "Kal kisne dekha" in 2009. He has starred in Mitron, F.A.L.T.U, Youngistaan, Ganapath, Welcome to Karachi, etc.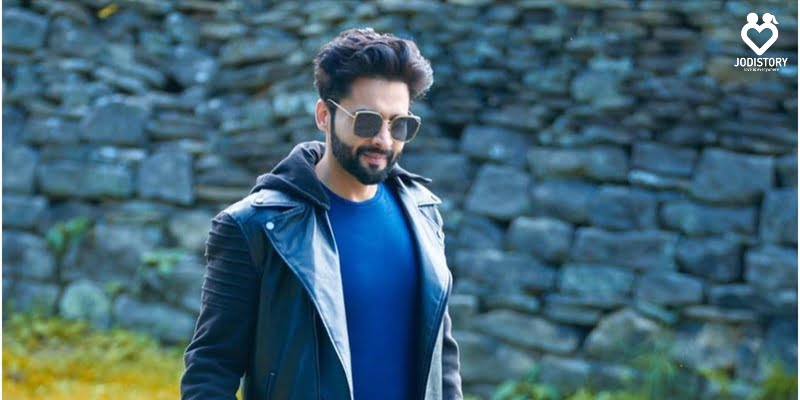 How Rakul Preet & Jackky Bhagnani's true love story sparked during lockdown
Lockdown, a time of crisis has also done something good for humans. Many people who were too busy in their lives found time to spend with family & friends. Same as Rakul & Jackky. Rakul Preet & Jackky Bhagnani were neighbors but never interacted with each other till then. Thanks to the lockdown they found each other & we found one more B-Town love story.
Rakul & Jackky were neighbors for years but didn't even know that. In a lockdown, they found each other & became friends. And this was the point from where their love story started.
Recalling their journey's beginning Rakul said, "I think it was very organic. We started hanging together and then a couple of months down the line like 2-3 months, 4 months we were just hanging without any facade of who we are. And the coincidence was we were almost neighbors and we didn't even know. We were not even friends for so many years you know. Till the lockdown happened and then we started hanging with our friends and it just very organically grew into comfort."

Jackky Bhagnani officially proposed Rakul Preet on her birthday in 2021
10 October is the birthday date of Rakul Preet. And what can be a better day for any boyfriend to shout his love out for his girl? And Jackky Bhagnani did the same. With the help of his Instagram handle, he confessed his love for Rakul. The sweet gesture of confessing love in front of the world amazed Rakul Preet.
Jackky penned his hearty feelings on Rakul's 31st birthday. He wrote: "Without you, days don't seem like days. Without you, eating the most delicious food is no fun. Sending Birthday wishes to the most beautiful soul who means the world to me!!! May your day be as sunny as your smile, and as beautiful as you are. Happy Birthday."
A birthday surprise for Rakul Preet shows true love exists
Rakul Preet was in a great surprise when he read the caption of Jacky Bhagnani's post on her birthday. Rakul said she was pleasantly surprised to see that side of her boyfriend in which he had written poetic lines in praise of her. She exclaimed, "I didn't know he was going to be a poet. I knew he was going to wish me in public but I thought it would just be 'happy birthday'. I didn't know it was going to be such a poetic message." She added, "I was quite surprised".
Rakul Preet & Jackky's relationship is an open romance
When it comes to love we can see two types of couples. One who believes in "keeping it private until it's permanent" & another who loves to confess their love to the world. Rakul Preet & Jackky Bhagnani falls in the latter category.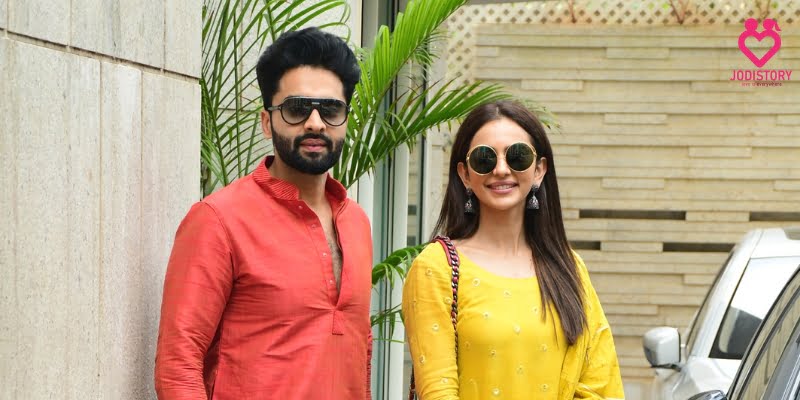 In an interview, Rakul spoke about why they decided to make their relationship public. She said "We're both of the opinion that there is nothing to hide or be sly about a relationship. If you are in one, the best thing is to give each other that respect and acknowledge it. Let's face it. We all know who the couples are, hiding and running. Both of us don't come from that school of thought."
Jackky & Rakul got a clear view of keeping personal & professional life different
When you date a person who also works with you it gets very difficult to keep your personal & work lives separate. They get mixed. On this Rakul & Jackky already talked and cleared their views.
Reflecting on the same with many details, Rakul Preet explained their view, "No, It doesn't mix. Way in the beginning we had this conversation just to be in good mind spaces that we will not mix personal and professional lives and the personal and professional requirements that we have. If I am the actor on set and I need something, I need that irrespective of he is producing it or not. And similarly, he will not take it as since it is Rakul, so you know, let's do it this way. So, our personal and professional boundaries are well-defined."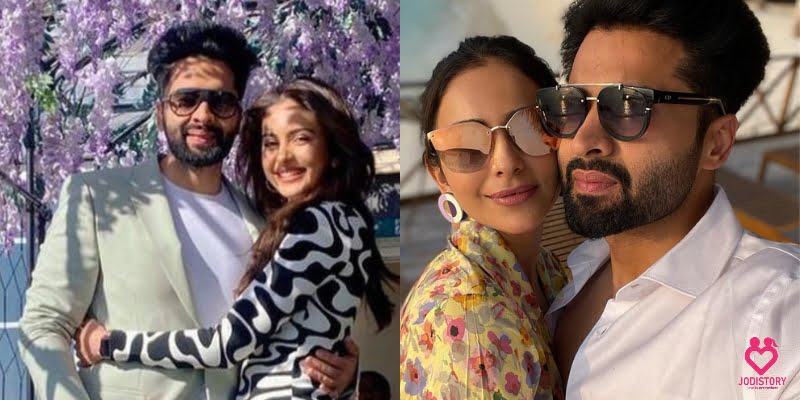 Rakul Preet and Jackky Bhagnani to get married in 2023?
There are many rumors on the marriage of celebs marriage. But not all of them are right. But let's make it clear to you that are these rumors just a rumor or are they just facts? Aman, Rakul Preet's brother, when contacted spills the beans.
He said, "Rakul has acted in a couple of projects by Jackky Bhagnani. Marriage is obviously on the cards, but nothing is concrete yet. She will announce it on her own when she decides to get married. I would know if it was happening. Marriage is the climax of any relationship. Jackky is one of the top producers of Indian cinema and he has lots of ambitious projects in mind, in fact, both of them are very busy people. So, they have their own goals."
FAQ's
Is Rakul Preet Singh and Jackky Bhagnani's relationship?
Yes, Rakul Preet Singh and Jackky Bhagnani are in a relationship. They made their relationship public on 10 October 2021.
Is Jackky Bhagnani married?
No Rakul Preet Singh & Jackky Bhagnani aren't married yet. But soon they will tied the knot in 2023.
Who is Rakul Preet crush?
Rakul Preet Singh is crushing on beau Jackky Bhagnani these days.
Who is the husband of Rakul Preet Singh?
Jackky Bhagnani is Rakul Preet Singh's boyfriend. Soon he will become her husband.
Who is the wife of Jackky Bhagnani?
Rakul Preet Singh is Jackky Bhagnani's Girlfriend. In the coming year, she will become his wife.
Must Read Love Story:
Learning from Rakul Preet and Jackky Bhagnani's love story
Every love story has its teachings. So as this story does. This2 love story teaches us that a relationship is all about mutual respect & understanding. When you come into a relationship you two have to mutually work on it and grow it.
Rakul Preet and Jackky Bhagnani love story also teaches us that there is always a thin line that keeps two individuals in a relationship as an individual. There should always be a balance between one's personal & professional life. So this is all about Rakul Preet and Jackky Bhagnani's romantic love story hope you loved the story. Comment your views on this B-Town love story.