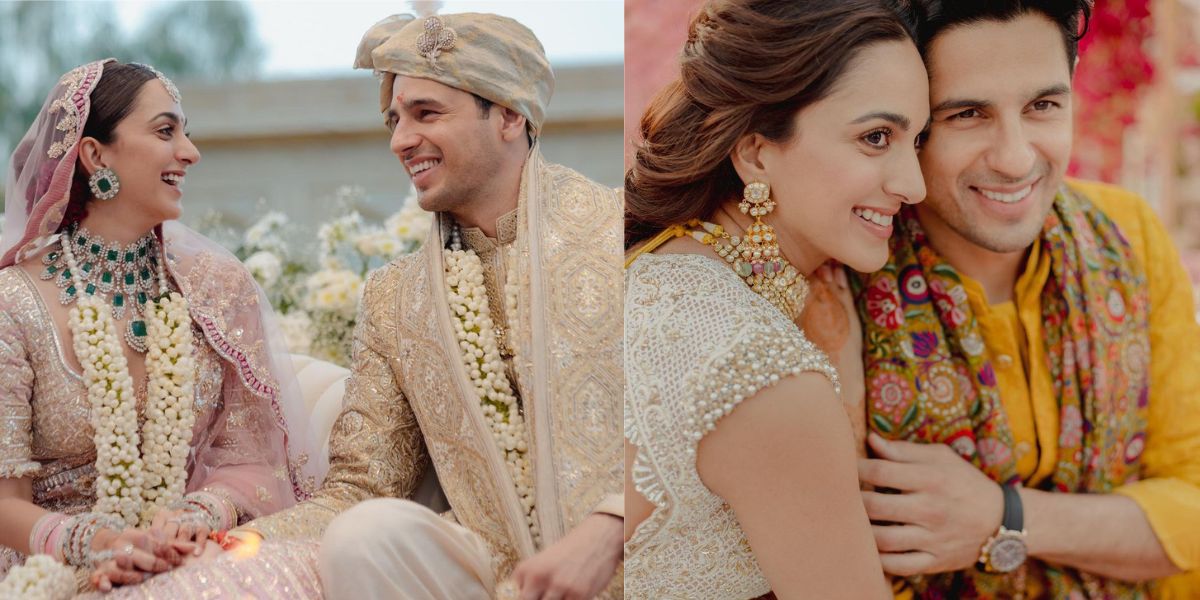 What happens when Bollywood's most handsome hunk steals away Bollywood's prettiest queen?! Definitely, they get hitched! Here is a sneak peek into Kiara Advani & Sidharth Malhotra's love story that began after a huge breakup! Yes, you heard it right! Scroll down to read more.
We all are waiting for our Shershaah to get married to our one-in-a-million Dimple! All the fans are excited about Sidharth Malhotra and Kiara Advani's wedding.
But do you know that Sidharth Malhotra and Kiara Advani's love story began after the breakup?! Our favorite couple is soon going to tie the knot and here's a look into their adorable love story.
Sidharth Malhotra entered Bollywood as Kukkad Kamaal Da in Student Of The Year. Kiara Advani stole hearts as Preeti in Kabir Singh. Least to say, both of them have very successful careers in Bollywood right now.
Who would've thought that our Kukkad will one day take away Kabir Singh's Preeti? Nobody!
MUST-READ LOVE STORIES:-
Who is Sidharth Malhotra?
Sidharth Malhotra is one of the most charming and handsome actors in Indian cinema. He was born in 1985. His career began as a fashion model but he left it for acting.
He had his first lead role in Johar's teen film Student Of The Year (2012). He did commercially successful films such as Hasee Toh Phasee (2014), Ek Villain (2014), and Kapoor & Sons (2016).
Who is Kiara Advani?
Alia Advani is professionally known as Kiara Advani. She has become Bollywood's most-demanded actress. Kiara was born in 1991. Her debut film was Fugly (2014), she played MS Dhoni's wife in the sports biopic M.S. Dhoni: The Untold Story (2016).
She gained praise for playing a sexually unsatisfied wife in Lust Stories (2018).
In 2022 she starred in many movies like Bhool Bhulaiyaa 2, Jugjugg Jeeyo, and Govinda Naam Mera.
Sidharth Malhotra dated Alia Bhatt before Kiara
For those who don't know, Kiara's real name is Alia Advani. Sidharth had dated his costar Alia Bhatt in past for a good amount of time. He was very close to Alia Bhatt's pets.
Their relationship ended but on a good enough note. They know how to maintain their professional and personal life. Siddharth and Alia's relationship began during the shoot of Student Of The Year.
They fall in love with each other. Or we can say it was a kind of infatuation cum attraction while working together.
But coincidentally our pretty boy fell for an Alia again! And this time he is getting married to her! So can we say that he finally found the right Alia? I guess yes!
Shershaah movie blessed Sidharth Malhotra with the love of his life Kiara.
Sidharth Malhotra & Kiara Advani Met at Lust Stories Wrap-Up Party
Kiara happily mentioned on Koffee With Karan that she knew Sidharth much before Shershaah. She remembered how they met at the wrap-up party of her movie Lust Stories.
Karan mentioned that it's sweet she remembers their first meeting. Kiara thought that it was definitely sweet and she won't forget that night ever.
But their love bloomed on the movie set of Shershaah. While playing together as a role girlfriend, and boyfriend in the movie. They fell in real love with each other.
Kiara Advani & Sidharth Malhotra Romance Budded on Sets of Shershaah
Shershaah is the biopic of Kargil War hero Vikram Batra. The movie was immensely successful. Shershaah revived Siddharth's drowning career and also gave him the love of his life.
Siddharth said that he was lucky that Kiara was single at the time they were shooting Shershaah. The audience loved the couple so much that they wanted them to date in real life too!
Sidharth Malhotra and Kiara Advani's Failed Attempts At Hiding Their Relationship
Kiara Advani and Sidharth Malhotra often take trips together. They're spotted a lot of times by the media. The couple is clicked on many dates.
They never post a picture together but they fail to completely hide their whereabouts.
Fans have noticed that Kiara and Sidharth often post on their Instagram with similar backgrounds and locations. Over time these pictures have given evidence of their low-key relationship.
Akshay Kumar Teased Kiara Advani on The Kapil Sharma Show
Whenever celebrities attend a talk show they're bombarded with questions about their love life. The same thing happened with Kiara.
While promoting their movie Laxmi, they went on the sets of The Kapil Sharma show. Kapil asked Kiara about her love life.
Kiara mentioned that she would make everything official once her marriage is fixed. Being a witty person Akshay pulled Kiara's leg.
Out of the blue, he said to the audience, 'bade siddhanto wali ladki hai.' It was a clear hint at her relationship with Sidharth Malhotra.
Secret revealed by Sidharth Malhotra & Kiara Advani on Koffee With Karan
When Sidharth went on Koffee With Karan, he manifested a brighter and happier future. Karan Johar asked him if he was manifesting his future with Kiara Advani.
Essentially, Sidharth slyly said that if it's with Kiara then it's great!
Kiara also faced Karan's endless questions. Karan asked Kiara if she was denying her relationship with Sidharth Malhotra.
Kiara said that she's not denying or accepting. Kiara also told Karan that she and Sidharth are more than just close friends. It felt like a pretty big deal for her to say that on national television!
In the end, it was taken as a confirmation of their much-hidden relationship.
Shocking Breakup of Sidharth Malhotra & Kiara Advani
The couple separated because of reasons only known to them. Their fans were heartbroken. Kiara and Sidharth thought that it was best for them to part ways.
Everyone was shocked to know that the couple broke up. Kiara & Sidharth wanted to give some time to their relationship. Because they were in a serious relationship. The couple did not wish to take a chance. It was all about their love life.
Karan Johar played the cupid in the Kiara-Sidharth relationship
Karan Johar is a very close friend of the couple. He was very upset because of their break up. He didn't want both of them to separate.
So Karan made them talk to each other. To everyone's delight, Sidharth even came to Bhool Bhulaiya 2's screening for Kiara. Thus the couple stuck to their love for each other against all odds.
MUST-READ LOVE STORIES:-
Is Sidharth Malhotra in love with Kiara Advani?
Yes! He has dropped subtle hints in the public and even manifested getting married to Kara Advani on The Kapil Sharma show!
How did Kiara Advani and Sidharth Malhotra meet?
The couple first met at a wrap-up party of Lust Stories, a 2018 film, where Kiara starred opposite Vicky Kaushal.
Are Sidharth and Kiara getting married?
The media have reported that the couple has already fixed two locations to get married in.
Much awaited dreamy wedding of Kiara Advani & Sidharth Malhotra
Siddharth confirmed on his promotions for Mission Majnu that he is getting married on 6 February 2023. Obviously, on hearing this, the whole internet went into storm. Fans are waiting to have a look at the blessed couple.
The couple is speculated to organize their wedding in Jaisalmer. Along with this, the guest list is expected to be really tight including only close friends and family.
Sidharth Malhotra & Kiara Advani wedding in 2023
After so many speculations and so much wait, Sidharth and Kiara finally tied the knot on 7th February 2023. They got married in Jaisalmer's Suryagarh Palace. Guests such as Karan Johar, Manish Malhotra, Shahid Kapoor, and Mira Rajput.
They shared very sweet posts on social media stating that they both are now permanently booked for life!
Thought on Kiara Advani & Sidharth Malhotra's love story
Kiara Advani and Sidharth Malhotra's love story made a mark on the history of cinema through Shershaah. Surely their chemistry was definitely so off the charts and it drove everyone crazy.
It was a truly special event in both of their lives. Especially, it also led to their incredible relationship today.
Even after being very busy in the world of Bollywood and so many rumors, they stand strong. Without a doubt, we wish all the love and light to both of them.