Love is a passionate, enduring, and unmatched attachment to your mate. Life without your loved one is beyond imagination. Everyone has a love story. Our chess champion Viswanathan Anand do have a sweet love story. Yes, Viswanathan Anand and Aruna Anand's love story is so adorable.
The couple did not date earlier, there was no gift exchange, no show-off. Just a family meeting and successful love life. Is not it so cute?
Vishwanath Anand, born and growing up in Chennai, Tamil Nadu, India, is an Indian Chess grandmaster. He has been in the world chess championship five times. Furthermore, the chess Olympiad became the first grandmaster from India in 1988.
In addition, he is one of only a select few players having an Elo rating higher than 2800, a record he initially accomplished in 2006.

Aruna Anand, on the other hand, is popularly known as the 'Tigress of Madras'. She was born in Mumbai. She did her schooling and college in Chennai and finished her education in Delhi.
Aruna claimed that dance, music, and poetry were her passions.
Must read love stories
How did Viswanathan Anand and Aruna Anand's love story begin?
In 1996, Aruna Anand was a well-established working lady. She had no plan of getting married. But, since parents have few agendas, one has to fulfill them.
Therefore, they convinced Aruna to meet Viswanathan one time. Therefore, it was the start of Viswanathan Anand and Aruna Anand's love story.

Aruna in one of her interviews says:
"… I knew it would work out because they were very keen and also because Anand is just a very simple and unassuming person. When he came home, I remember that my mother pulled me into the kitchen and said, "You have to marry him.
He is such a nice boy. If I had another daughter I would have married her to him. Since I have only you, you have to marry him!" At that point, I understood I had to marry Vishy."
How did Viswanathan get to know Aruna's family?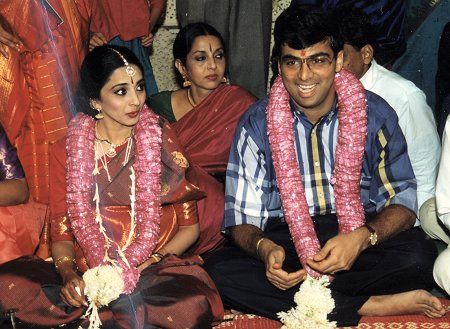 It was an arranged marriage. Frederic Friedel, the co-founder of ChessBase, often jokes that Viswanathan looked through a catalog of prospective brides and found Aruna as a perfect match.
Nevertheless, a mutual acquaintance brought both families together. And Viswanathan Anand and Aruna Anand's love story began.
Although the marriage may have been somewhat conventionally organized. It was a great success and guaranteed the chess community a noble and durable marriage.
Viswanathan Anand and Aruna Anand's love story takes a turn in Dortmund
Viswanathan and Aruna got married on 27th June, 1996. On the third day after their marriage, the pair departed for Dortmund. They had decided their thoughts to learn more about marriage once they were in Dortmund.
Aruna, in her interview, says that Dortmund was not only her first chess tournament. But was also her first trip abroad. She shared how beautifully Viswanathan supported her and helped her throughout. Aruna says,
"Anand was playing in Dortmund and the event was in a dark theatre. It was cold and I would sit in a corner. I knew absolutely no one. I had no idea of what was going on on the stage".
Those days you didn't have apps to see what the position was and the computer evaluation. I would sit and watch and happily go to sleep. Suddenly I would wake up and hear people clap and I would see Anand get up from the stage and walk off. And in those days they wouldn't put the result on the screen.
I used to be so scared. If somebody asked me what happened in the game, I would have no clue. I would wait in the ladies toilet and I had told Anand to come there and call my name and I would come out.'
Aruna turned Viswanathan's manager in the romantic relationship
Often, when we fall in love, we start taking care of every little detail of that person. You will find something similar in this couple too.
Soon after their marriage, Aruna became Viswanathan's manager. Aruna often organizes and remembers kinds of stuff where Viswanathan was abominable.
She makes sure if Viswanathan has taken all the necessary things or not before he leaves for the airport.
Chess is not a huge barrier in Viswanathan Anand and Aruna Anand's love story.
There is this common incident that we will find on the internet. Usually, in case of any emergency, we tend to panic before acting.
If our flights get canceled at the very last moment, it is quite obvious we will get enraged. A hundred individuals rush to the counter to inquire about the time of the next flight.
Aruna also stands there yelling and shouting at these airline staff to put them on the other aircraft. And Viswanathan pushes all his bags, stretches his legs, and blissfully reads.
He stays calm. In fact Viswanathan would say that the airlines will book them the next flight. On the other hand, Aruna would get constantly worried and blow a fuse.
She would question Anand how does he not get bothered, and he would respond, "I know that you will find a solution. After a time, they will get tired of dealing with you and give us a flight!"
Lovely, isn't it?
Viswanathan Anand's Family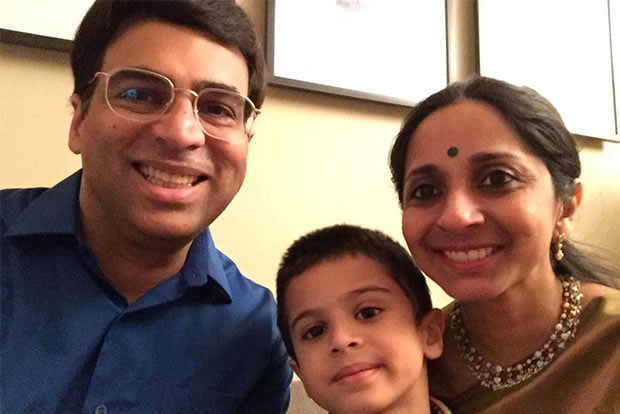 After 14 years of marriage, on 9th April 2011, Viswanathan and Aruna became proud parents. Anand Akhil, son of Viswanathan Anand, made his chess tournament debut at the Kolkata quick and blitz competition, held at the famous National Library building.
Like his father, he chose not to compete in the meet, but by watching the bouts from the stands, he experienced an over-the-board event for the first time.
Must Read Love Stories
Conclusion on Viswanathan Anand & Aruna Anand's love story
Viswanathan Anand & Aruna Anand's love story shows that arrange marriage also goes successful. A successful marriage does not mean having an earlier date, gifts, or showing off. A happy relationship means understanding each other and respecting the negative things of a loved one also.
In conclusion, love is essential to human existence since it gives life purpose. You learn many things from it of use in your daily life. Love has the power to improve both you and your life. It could seem challenging at times, but keep in mind that quitting up is never an option. Instead, one should stand by their partner to prevent them from feeling excluded or alone.