Esha Deol and Bharat Takhtani Love Story is a fairytale. Esha Deol Takhtani is an Indian film actress and model. She is the daughter of actor-politicians Dharmendra and Hema Malini. An actress played a lead role in the movie "Koi Mere Dil Se Pooche ". Esha performed her role so well that she won Filmfare Award for Best Female Debut. This gorgeous young lady is Punjabi on her father's side and Tamil on her mother's side.
During her school days, she was very passionate about football. From Kya Dil Ne Kaha and LOC Kargil to Main Aisa Hi Hoon, Dhoom, and No Entry. Her movies list is never-ending. In her every movie, she always became successful to thunderbolt the audience by playing her role so well. In the year 2015, she was seen on MTV Roadies as a gang leader.
Bharat Takhtani is a very successful businessman. He is the owner of the company, R.G. Bangle Pvt. Ltd. He has been a very passionate and hard-working individual since the beginning of his career. His father is also a successful business person. Bharat Takhtani did his early education from Learner's Academy, which is located in Bandra.
Later on, he pursued his graduation from H.R. College of Commerce and Economics which is located in Church gate Mumbai. After finishing his studies, he wholeheartedly dedicated himself to the success of his business. Even after reaching this much height of success, Bharat is still pursuing higher aims and believes that success has no limits.
Esha Deol and Bharat Takhtani Love Story Began – Their First Meet
Both of them met at a very early age, 13. When Bharat saw Esha , he lost his heart to her. Esha Deol and Bharat Takhtani Love Story began at that moment. For him, it was last love at first sight.
Both of them used to study in different schools. Bharat studied in Learner's Academy, Bandra. Esha studied in Jamnabai Narsee School, Mumbai. But they used to meet each other at inter-school competitions.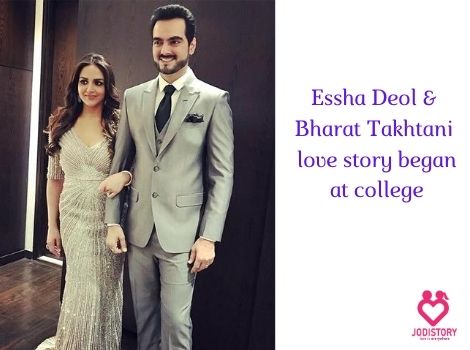 When Bharat was asked regarding how he fell for Esha. He stated " "I studied in Learner's Academy in Bandra and her in Jamnabai Narsee School in Juhu. We often met at inter-school art competitions. I developed a huge crush on her.".
When Bharat was being asked that what was the most special thing about Esha that he fell for? He answered, There was a certain freshness and cuteness about her. We began seeing each other. Everything was going well between both of them at their teenage age.
Esha Deol and Bharat Takhtani Love Story Fall Apart Before Beginning As They Lost Contact For Years
One day, out of love, Bharat wanted to hold Esha's hand. It created a cleft between both. Recalling that moment, Esha said: But it was an immature, stupid age. Once when he wanted to hold my hand I snapped, 'How dare you hold my hand?'". As both of them were very young, Esha found it quite awkward. After this incident, Esha got aggrieved and broke contact with Bharat.
For many years, both never talked to each other. But as Esha was his first love, Bharat never lost hope. He always loved her even when he was at distance with her. Even after having no contact, his love never became less.
It kept on growing with time. He remained good friends with Esha's younger sister, Ahana Deol. Esha Deol and Bharat Takhtani Love Story got a long break.
When Bharat was asked that, how he never forgot Esha even while being in no contact, he said. "Though I didn't keep in touch with her, I remained friends with Ahana (Esha's younger sister). So somewhere the connection remained. I always nurtured a soft corner for Esha. After all, she was my first love."
Meeting again after ten years
After staying ten long years away from each other. Esha and Bharat found a way back to each other. They once again got connected. And this time, this connection was meant to last forever. This time they found each other to never part ways.
After a whole decade, the couple met each other at Niagara falls. The loveliest part is that even after meeting after such a long time, both of them felt the same spark.
Bharat wanted to ask Esha to hold her hand, but like this as it offender her ten years ago. He had a lot of hesitation. But, after gathering all courage back, he finally asked to hold Esha's hand. But this time her reaction was completely opposite.
She, not only allowed him to hold her hand but also asked him to never let go of her. The quote " some times we part ways to meet each other again " seems true in their relationship. Esha Deol and Bharat Takhtani Love Story was about to turn forever.
Introducing each other to the family
Esha was very sure about Bharat. So she decided to introduce him to her mother. When Esha was asked how she told Hema about Bharat, she said ", "I called out to her and said, 'Mama, come up! I've something to show you'. Mom came up to my floor, casually playing with the dogs, unaware of what was in store. Then I introduced her to Bharat. Both being Librans, hit it off instantly!".
Hema was impressed by Bharat. She found him perfect for her beloved daughter. After Hema, Esha Deol decided to introduce Bharat to his father. Esha left Bharat and Dharmendra alone for one hour. When Bharat was asked about his meeting with his dad-in-law. He answered:- "Dharamji's seen life.
He listed a few things and asked whether I'd be able to fulfill those. I've turned more responsible after that meeting. I've already fulfilled half of the things from that list. " After an interaction, her father also found that Bharat is the one,for his daughter.
The Dreamy Proposal of Esha Deol & Bharat Takhtani
Esha always wanted Bharat to go on his knees and propose her for engagement. But that didn't happen. Soon after their parents met, both of them decided to get engaged on February 12, 2012.
After their engagement, Esha's dream of her better half going on his knees and proposing her came true. Bharat left her in surprise as he went on his knees for her.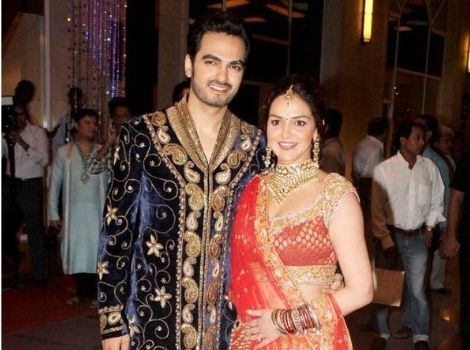 When Esha was asked regarding the same, she answered"When we were getting engaged I told him, 'Baby, you'll have to go down on your knees and then slip the ring on my finger. Bharat asked, 'Really?' and went down in the presence of papa, Sunny bhaiya, and Bobby bhaiya, right there. From the industry, only Jaya (Bachchan) aunty was present. She's like a mother to me."
The Grand Wedding:-
Both decided to take their relationship to the next level. The couple decided to tie the knot for life. On June 29, 2012 Love birds, Esha and Bharat married each other. They both had a grand marriage. From big actors to big Producers, every face of Bollywood attended their wedding. Their marriage was a four- day affair.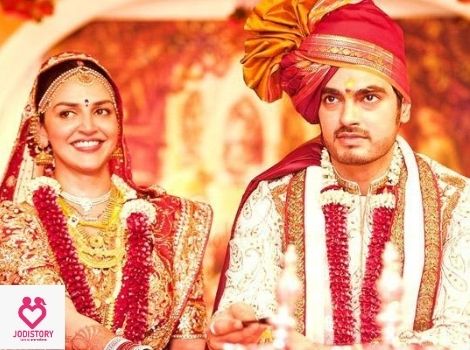 It had four functions, they are -sangeet ceremony, Mehendi ceremony, traditional Tamilian wedding, and a star-studded reception. Since Childhood, Esha always wanted to have a love marriage and not arranged. But with her parent's approval.
When asked about her opinion on marriage, she said:- If you find someone with whom you'd be able to spend the rest of your life, It's beautiful if someone's face you wish to see before going to sleep and on waking up. I can't understand the arranged marriage concept"
Post Marriage and Happy Family Of Three
After the grand wedding, the couple went to Europe for their honeymoon. Bharat feels himself a lucky man to have found a life partner like Esha. Talking about how surprised he felt when the two came closer, Bharat said:-
"It seems impossible that someone from a film family and I who am from a conservative business family would ever come together." Bharat always states he is a very lucky man as he has found the perfect soulmate in Esha, who not only takes care of him but also his family. Talking about the same, Bharat said: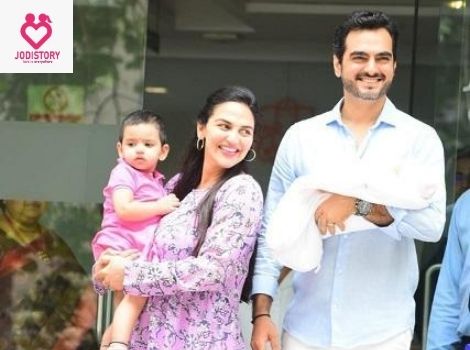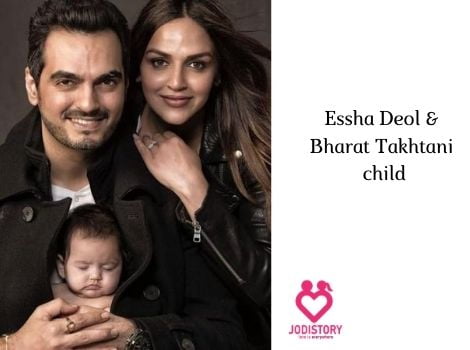 Actually, Esha's always been gharelu. She's caring and responsible. She's aware of what keeps me happy. I'm a foodie, I live to eat. In fact, for someone who didn't know how to make chai, just the other day, she cooked Khow Suey."
God blessed Bharat and Esha with a baby girl. It was after five years of their marriage on October 20, 2017. They named her as Radhya Takhtani. Currently, both are enjoying Parenthood.