Love is a very strong feeling. We all know love has the power to heal the wound of our lives. Love gives us the power to fight against difficult situations. It fills our lives with color, joy, and immense happiness. Do you want to show your love to your girlfriend in a romantic and cute way? But are you not getting appropriate love quotes for her? Do not worry. I have come with a list of cute, deep, and romantic love quotes for her. So, don't waste any time and read these beautiful love quotes that will help you get to win her all over again.
CUTE, DEEP, AND ROMANTIC LOVE QUOTES FOR HER
Sometimes we fall in love easily. But the difficult part is to express our love through words. Do you also face the same problem? Are you getting nervous and conscious while expressing your feelings to your girlfriend? Do not worry about it anymore. If you want to make your relationship special and show your love to your girlfriend, you are definitely are in the right place. Come and read the cute, deep, and romantic love quotes for her. And take help from them for your relationship.
Must read content
CUTE LOVE QUOTES FOR HER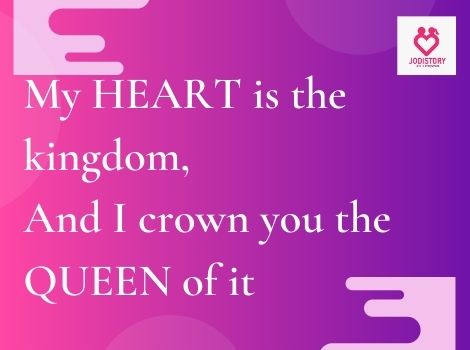 1. My HEART is the kingdom, And I crown you the QUEEN of it
This beautiful quote shows her value in your life. She will understand that your heart truly belongs to her. Her presence is all over your heart and you owe your heart to her – these feelings will be expressed through this quote. And she will definitely love it.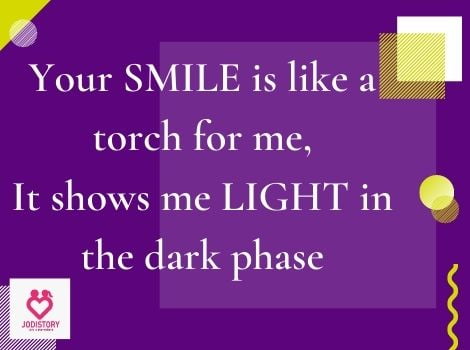 2. Your SMILE is like a torch for me, It shows me LIGHT in the dark phase
This quote will show how her smile and happy face helps you to overcome difficult situations. If she is in some bad mood or sad, this quote will definitely bring a smile on her face. So, if you want to explain the value of her smile and also want to make her smile, this quote is best for you.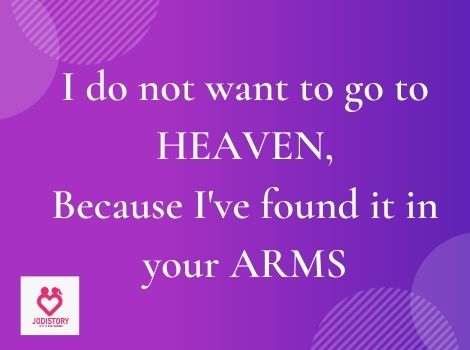 3. I do not want to go to HEAVEN, Because I've found it in your ARMS
This one is a really cute yet deep quote. How her warmth and love fulfill you will be shown by this quote. As we all want to go to heaven, it means heaven is one of the most beautiful places. And comparing her arms with heaven means you found the best place in the world. And it will surely make her happy.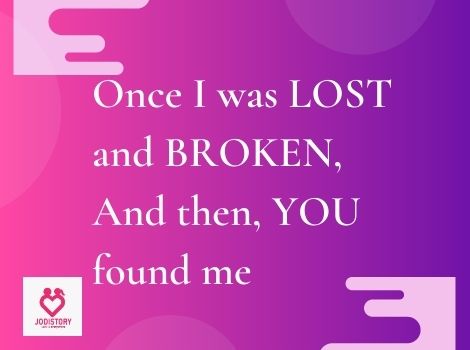 4. Once I was LOST and BROKEN, And then, YOU found me
In life, we all face difficult situations where we get totally broken. We badly want someone to hold us and fix us. And we feel grateful to that person for helping us to come out of the situation. And this quote helps to convey all these feelings to your girlfriend.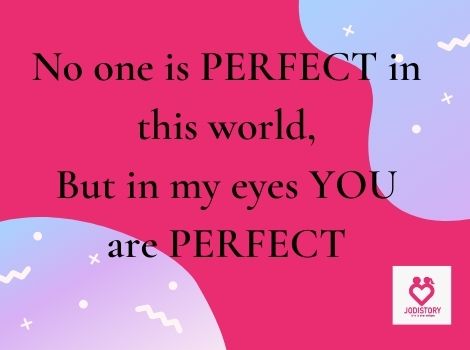 5. No one is PERFECT in this world, But in my eyes YOU are PERFECT
We always say this thing that no one is perfect. But if you are comparing your girlfriend to be the perfect one, it means she truly matters to you. And even if she has any flaws, in your eyes those are too little to consider. So use this quote to make her feel special.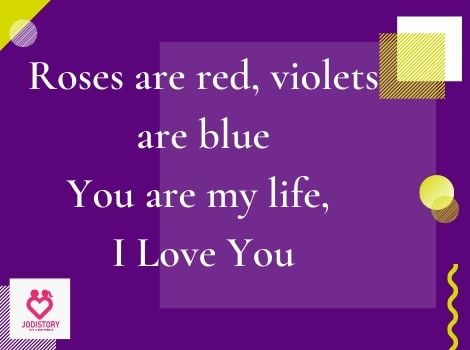 6. Roses are red, violets are blue. You are my life, I Love You
This quote is really simple but still it has cuteness in it. It conveys that she means the entire world to you and you can not stop loving her. So all you want to say is I Love You to her. If you want to keep it simple yet cute, this quote is the best for you.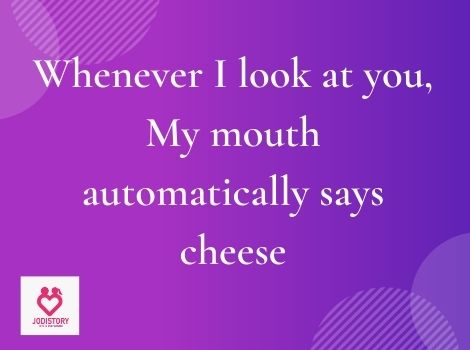 7. Whenever I look at you, My mouth automatically says cheese
This one is another cute quote to exhibit your love for her. It means that whenever you see her you can not stop but smile. She is so charming and you love her so much that the only thing that comes to your face is to smile. It helps to express your love very subtlely.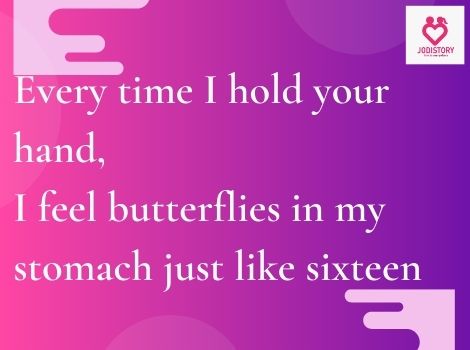 8. Every time I hold your hand, I feel butterflies in my stomach just like sixteen
We all remember our first teenage love. The first time we held someone's hands gave us butterflies in our tummy. That feeling was really special and adorable to us. If your girlfriend gives the same adrenalin rush to your heart, you just have to use this quote. Teenage love has a very mushy feeling which we miss. This quote gives that mushy feeling so just use it for her.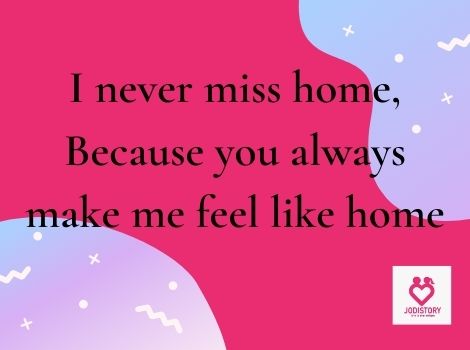 9. I never miss home, Because you always make me feel like home
A home is a place where we feel most comfortable. No other place gives us the same comfort and happiness. So, through this quote, you can indicate that she also gives you the comfort that you find only at home. Her presence around you is so comforting that you never miss anything about the home.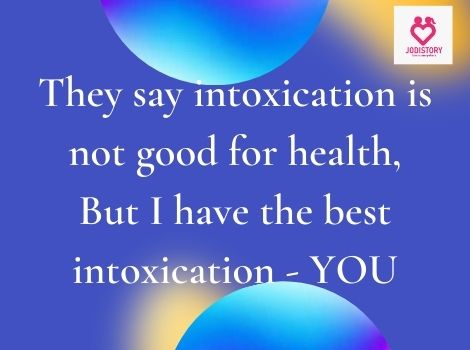 10. They say intoxication is not good for health, But I have the best intoxication – YOU
We all know that intoxication is always denoted as something bad. But in this quote that intoxication is converted into a beautiful sense. This actually means that her presence is soothing to you that you feel too much delighted. Your girlfriend will feel damn special if you compare her with something so powerful.
Also, read 10 Signs He's Cheating & Affairs. How To Know?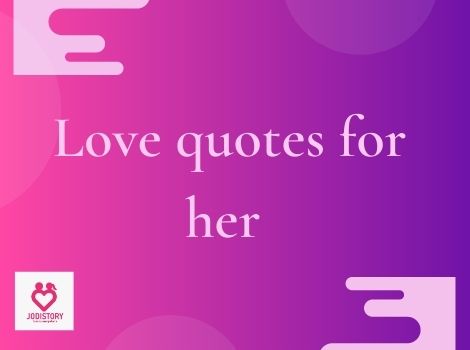 DEEP LOVE QUOTES FOR HER
Often we face situations where we want to express our deep feelings. But the problem is the loss of correct words. Do you want to make your time romantic and special with your girlfriend? I have listed the best romantic quotes that will help you to express your true feelings to her.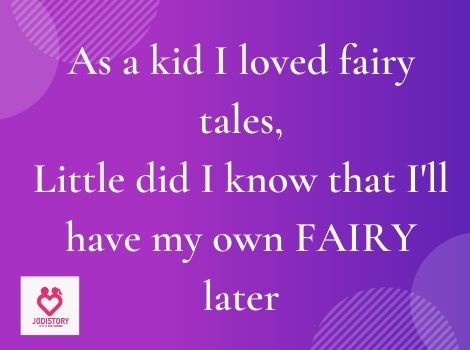 11. As a kid I loved fairy tales, Little did I know that I'll have my own FAIRY later
We all loved fairy tales as kids. It was really thrilling for us. And we always wanted to witness a fairy. But as we know witnessing a fairy is just impossible. So, if you want to make your girlfriend extra special, this one is the right quote to use for you. She will be overwhelmed to feel something so special and supernatural as a fairy.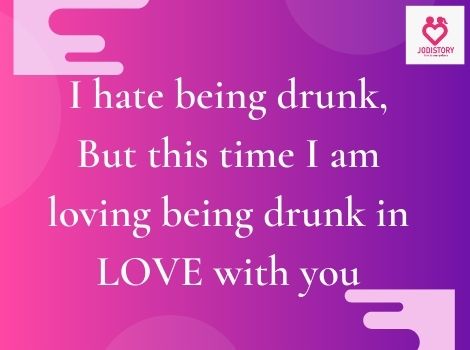 12. I hate being drunk, But this time I am loving being drunk in LOVE with you
This quote will show that you are involved with your girlfriend deeply. She will understand how much you love her. Your depth of love will be shown perfectly through this quote. Getting drunk is a strong emotion. Though it is considered as a bad thing, the depth of this quote is really powerful. So, if you want to show that you are madly in love with her, just use this quote.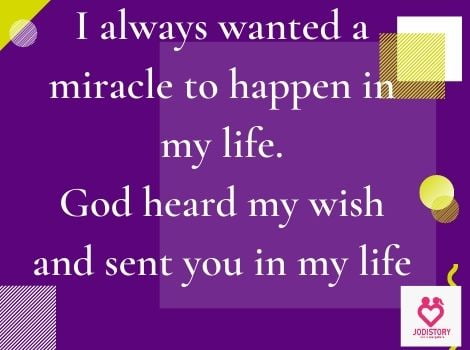 13. I always wanted a miracle to happen in my life. God heard my wish and sent you in my life.
Miracles do not happen in our lives too often. But when it happens, we tend to be in disbelief. Because we always witness miracles in movies or stories. So, this quote will help you to reveal your sense of disbelief because you feel too lucky to have her. And she will understand how much she means to you.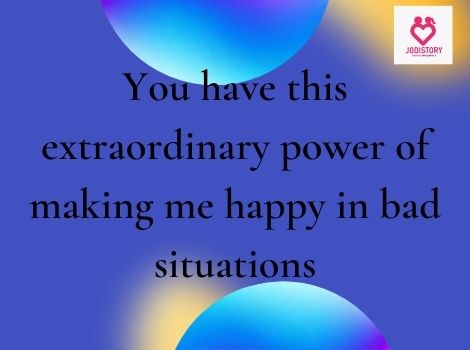 14. You have this extraordinary power of making me happy in bad situations.
Making someone is sad really easy. But pulling someone out from sorrow and making them happy is a pretty difficult job to do. But if your girlfriend makes you happy in sad moments, you must use this quote for her. She will know that she is really important to you which will be really great for her.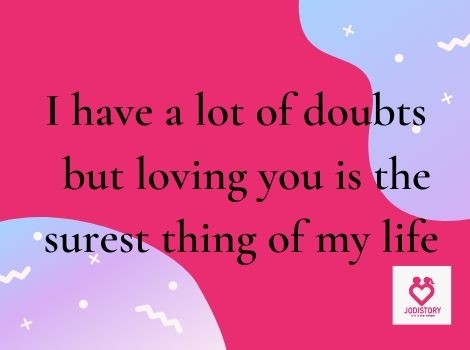 15. I have a lot of doubts but loving you is the surest thing of my life.
All of us have doubts about every little situation. But if you feel very certain about your girlfriend and about your love for her, just express it through this quote. If at any point your girlfriend thinks that you are not sure about her, you can use this quote to make her understand that there is no doubt in your head about her.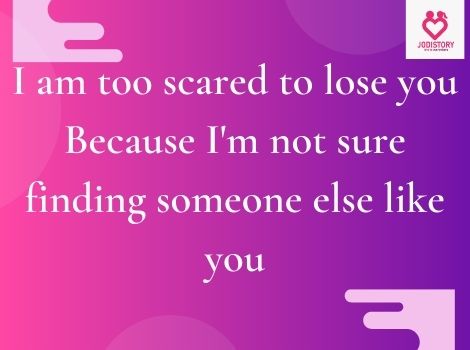 16. I am too scared to lose you Because I'm not sure finding someone else like you.
We scare to lose something only when that particular thing very precious to us. And if you feel that your girlfriend has that precious value in your life, this one is perfect for you. At any point where she feels sad about her presence in your life use this quote to reassure her about her value in your life. This quote will show your immense love for her.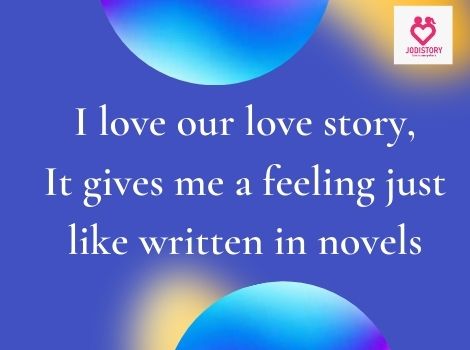 17. I love our love story, It gives me a feeling just like written in novels
We always feel that love stories of novels are perfect to a T. And in real life, it is quite impossible to have that kind of special love story. But you can add that special and extra essence to your love story by using this quote. Your girlfriend will be very happy to know that your love story is priceless according to you.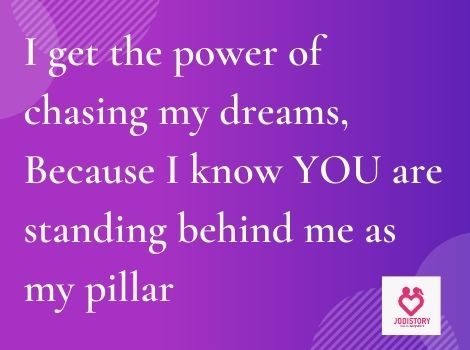 18. I get the power of chasing my dreams Because I know YOU are standing behind me as my pillar.
Having someone as a strong pillar in our lives is very important. And not everyone has that luck to have someone like that. You can dedicate this quote to your girlfriend if you want to show that without her you do not feel that strong. Her presence gives you the power to chase your dreams and hearing these words is really special for a girl.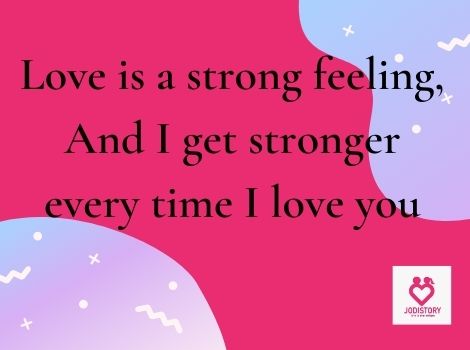 19. Love is a strong feeling, And I get stronger every time I love you.
Love definitely makes us stronger. But only if we love the right person. So if you feel that your girlfriend is that right person for you and loving her makes you strong, you should use this quote to convey this feeling. She will be glad to know that you love to love her. This cute, deep, and romantic love quotes will definitely woo her.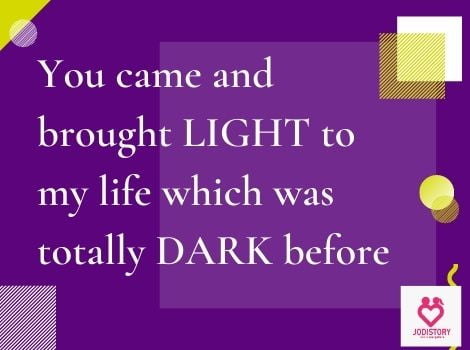 20. You came and brought LIGHT to my life which was totally DARK before.
When someone enters our lives and fills it with light, we feel too blessed to have that someone. And that someone means the world to us. So, if you want to portray your deep affection and blessedness to your girlfriend, do not forget to use this quote. She will feel ecstatic to get this much appreciation from you.
Also, read ROMANTIC SHORT DEEP LOVE QUOTES FOR BOYFRIEND
SHORT ROMANTIC LOVE QUOTES FOR HER
Women love when their men express their love. They feel special and valued by these gestures. On the other hand, men are very poor when it comes to express their feelings to someone. They feel a lack of words to express their romantic emotions. But this never should create a problem in a relationship. So, boys not to worry. Here I have written some short cute, deep, and romantic love quotes that will be helpful for you guys.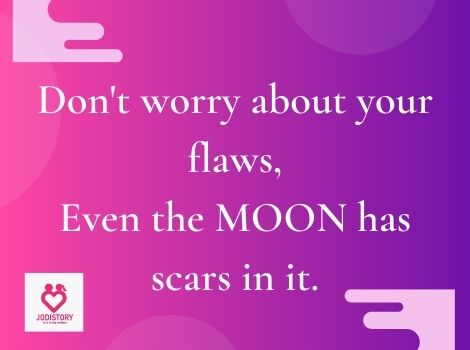 21. Don't worry about your flaws, Even the MOON has scars in it.
Women are always very conscious of their presence. They feel judged about their looks and their presence by the world. But this quote will show that you do not judge her and love all her flaws. Comparing her to the moon will show her that she is flawless in your eyes and she will fall for you again.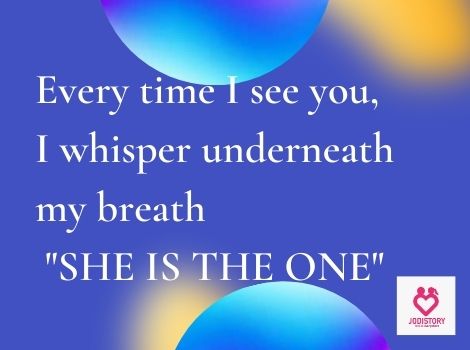 22. Every time I see you, I whisper underneath my breath "SHE IS THE ONE"
This quote will just melt your girlfriend's heart in one go. It shows your deep and hidden emotions for her. When you are too certain about someone, you can not stop admiring them. And this deep love quote shows that side of yours.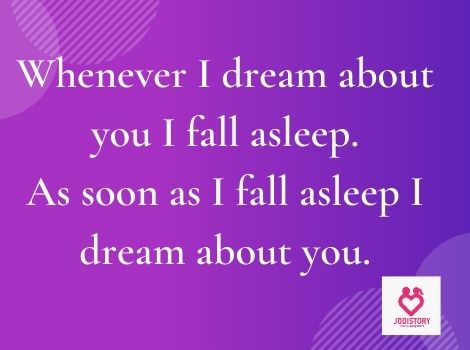 23. Whenever I dream about you I fall asleep. As soon as I fall asleep I dream about you.
This is a bit filmy quote. But you know what women love when their men become a bit dramatic in expressing their love. You can show that you think of your girlfriend even when you are sleeping. You just can not get over her. So, use this quote to show your addiction for her.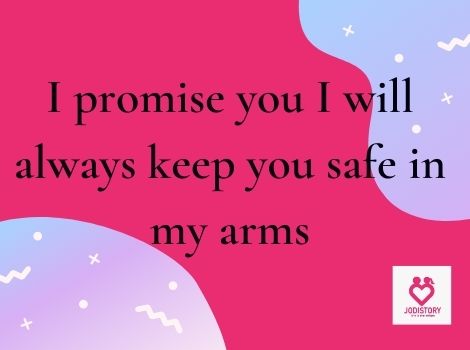 24. I promise you I will always keep you safe in my arms.
Girls always find someone who can provide security to them. They feel blissful if someone makes them feel safe. And a girl always needs these secure feelings from her boyfriend. And, when you want her to be safe and secure, why not use this quote to express that. These cute deep and romantic love quotes will help you in your relationship.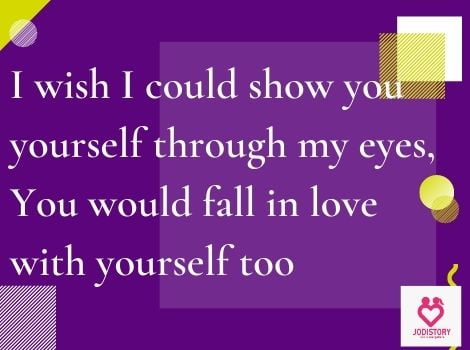 25. I wish I could show you yourself through my eyes, You would fall in love with yourself too.
When you fall in love with someone, they have the perfect image in your eyes. To you, they just appear differently. If you want to convey that your girlfriend is the most beautiful woman you have come across, use this quote. Because it shows that in your eyes she appears as gorgeous and only you can see that.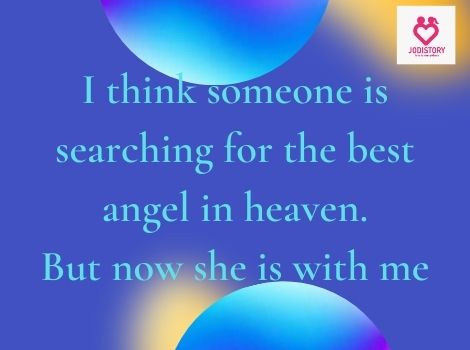 26. I think someone is searching for the best angel in heaven. But now she is with me.
This heartfelt quote is appropriate if you are using it to show that you consider your girlfriend as an angel. If you feel someone is very special in your life, it is obvious that you will be comparing her with an angelic figure. Because angels are the holy spirit sent by God. And using this quote will surely show that emotion to her.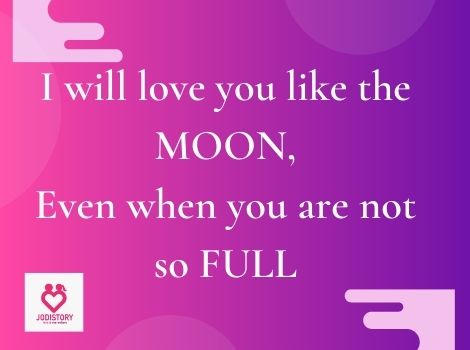 27. I will love you like the MOON, Even when you are not so FULL.
Human beings have a nature to leave people when they are not at their best situation. But if your love is beyond this thing, just go for this quote. You can use it when your girlfriend is feeling very low and dealing with some issues. These words will comfort her and reassure her that no matter what happens you will not leave her at any cost.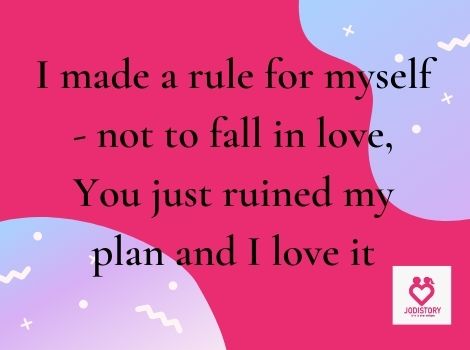 28. I made a rule for myself – not to fall in love. You ruined my plan and I love it.
When we get dumped or cheated by someone, we decide not to fall in love again. But not everything goes according to the plan. Some people come into our lives and totally change it. And often that feelings can not be expressed. But if you really want to express that feeling of your heart, this cute, deep, and romantic love quote is made for you.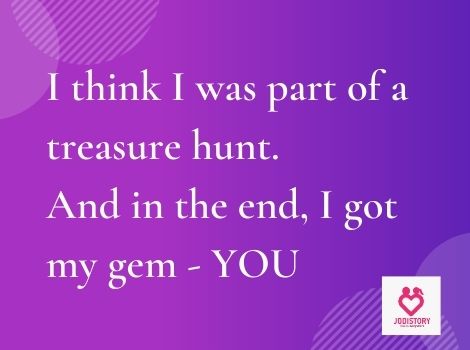 29. I think I was part of a treasure hunt. And in the end, I got my gem – YOU.
If your girlfriend is like a gem or diamond to you, and you want to convey that to her have a look in this quote. This quote will show that you were trying to find someone really precious and that person turned out to be your girlfriend. We feel a loss of words to express feelings. But not if you have this one with you.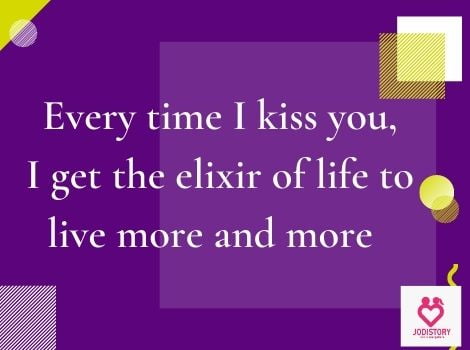 30. Every time I kiss you, I get the elixir of life to live more and more.
The experience of kissing is very intimate and precious to a girl. She always thinks about the times when you kissed her. So, if you at any time you think of making that special moment even more special, here is the apt quote for you. Or if you want her to remember the moments of your kissing, you can tell these intimate words of love to her.
CUTE DEEP AND ROMANTIC LOVE QUOTES FOR BOYFRIEND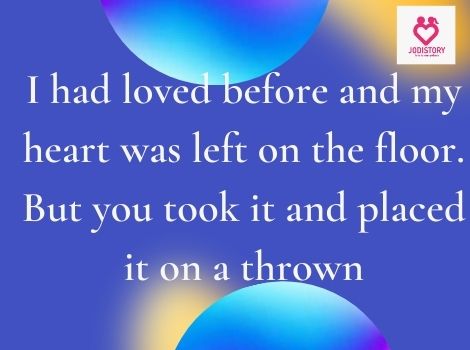 31. I had loved before and my heart was left on the floor. But you took it and placed it on a thrown.
Girls, do you remember the time when your heart was broken into pieces? And your boyfriend took those pieces and fixed them. Do you want to express your thankfulness to him but do not find the right words? These words can express your gratitude to your boyfriend.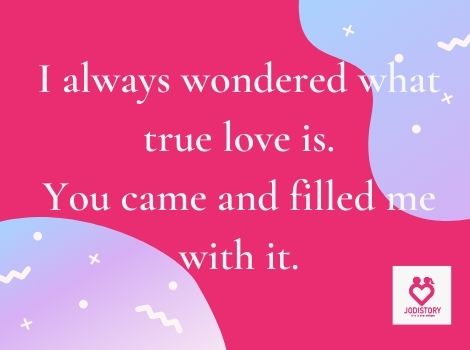 32. I always wondered what true love is. You came and filled me with it.
We try to find true love. But, most of the time we fail to find someone who truly loves us. But if your boyfriend is that true love of your life, do not shy away expressing your feelings. He will understand his value in your life. These cute, deep, and romantic love quotes for him will grow bond stronger.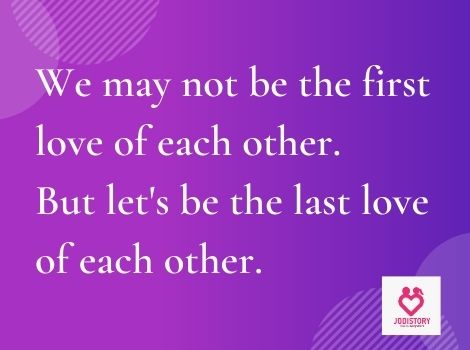 33. We may not be the first love of each other. But let's be the last love of each other.
Often we find our best and true love after we get heartbroken by others. Our first love does not stay all the time. You and your boyfriend can also be each other's second or third love. But that does not mean your love is not pure enough. And you can express your feelings when your boyfriend is a bit low through this quote.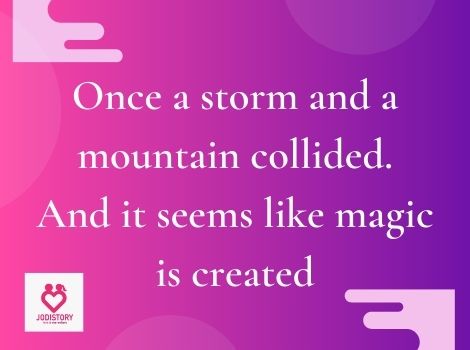 34. Once a storm and a mountain collided. And it seems like magic is created.
You feel as agitated and your boyfriend gives you calmness. This combination is very deadly because as they say, opposites attract. If you feel your love story is magical and want to show the exact emotion to your boyfriend, you can use this quote. This will make him feel good about the relationship.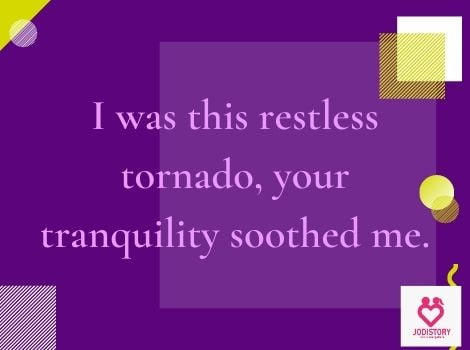 35. I was this restless tornado, your tranquility soothed me.
This one is another example of cute, deep, and romantic love quotes that are applicable for a couple who are opposite of each other. If you want to convey your boyfriend's impact in your life and how he has influenced your life, this is the best love quote to gift him. This can be used in your love anniversary where you can list the impacts of your boyfriend in your life.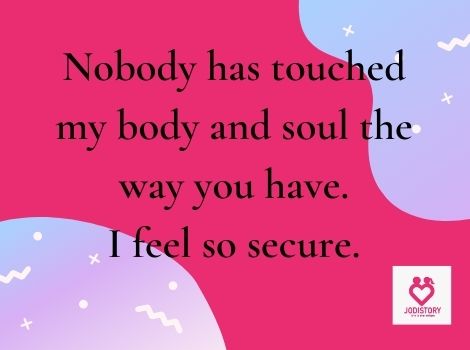 36. Nobody has touched my body and soul the way you have. I feel so secure.
We girls do not like the touch if it is inappropriate even if it is our boyfriend. When someone touches your soul, it means that person can never do wrong to you. And if you feel that you have found that secure feeling in your boyfriend, express your deep emotions to him through this one. He will feel special to know about your sense of security being with him.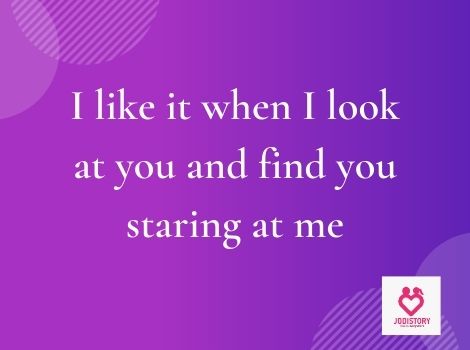 37. I like it when I look at you and find you staring at me.
We girls like to be admired in our partners' eyes. So if you feel admired by your boyfriend, he should also feel the same kind of admiration through your words. So, just show your admiration towards him by this quote. And boys, keep in mind the way you love to look at your girl is the same way she loves to look at you all the time.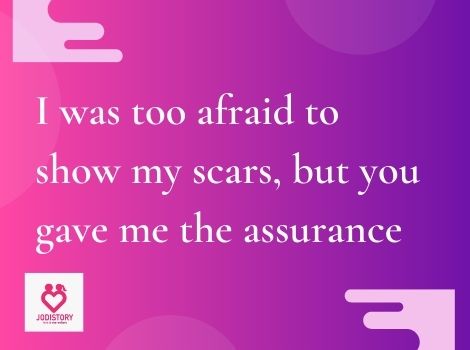 38. I was too afraid to show my scars, but you gave me the assurance.
Women are always conscious about showing their scars to someone. And mostly when these scars are emotional. They take time to open up to someone. And when you get that man in your life, there should be no delay in showing that to him. So, when you feel your boyfriend has made that effort to make you happy, do not hesitate and use this quote to make him feel happy too.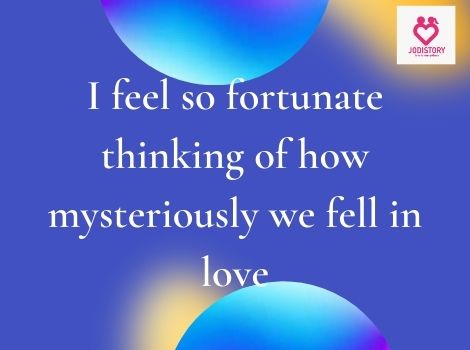 39. I feel so fortunate thinking of how mysteriously we fell in love.
There is an Ed Sheeran song where he says "People fall in love in mysterious ways…" Your love story can be mysterious too. But it definitely is special to both of you. And what can be a better way to enrich that love other than using a quote that is totally apt for your relationship. Your man will be overjoyed to hear lovable words.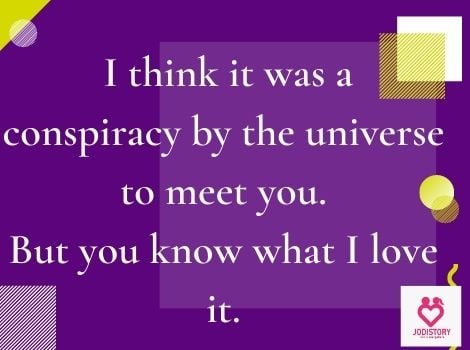 40. I think it was a conspiracy by the universe to meet you. But you know what I love it.
Do you believe in destiny? Often you think that it is destiny that you met the love of your life in your boyfriend. And you can not imagine your world without him. Well, let's accept this fact of destiny and conspiracy of the universe. If you want to give him that mushy feeling of love again then use these cute deep and romantic love quotes.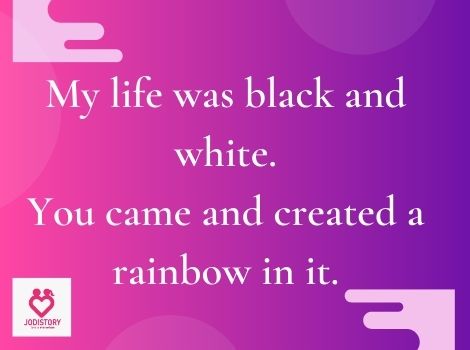 41. My life was black and white. You came and created a rainbow in it.
Women want to express their feeling to their men. But the problem is they get shy and awkward when it comes to expressing their deep and intimate feelings. But if you truly love your man and can not get over him, you should just let him know about these feelings. And guess what I can help you to do that easily. This lovely quote will exhibit your emotions to him without saying too much.
Must read content MOVE ON, OR STAY WITH MY EX-BF? LOVE QUESTIONS ANSWERS
ROMANTIC LOVE QUOTES FOR GIRLFRIEND
Men are always prejudiced to be less emotional. But when it comes to love no matter if you are a man, you should not be shy to express your emotions. But if you are still finding it hard to explain the true emotions to your girlfriend, take help from the quotes I have written for you. Do not hesitate to take help from these beautiful and romantic love quotes for girlfriend.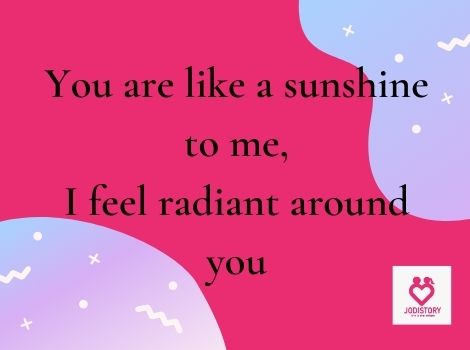 42. You are like sunshine to me, I feel radiant around you.
Do you feel genuinely happy when you are around your girl? If yes, do not let your hesitant feeling take over your emotional feeling. You definitely want to show your love for her. So, you have this simple and cute love quote to mouth your feelings without any hesitation.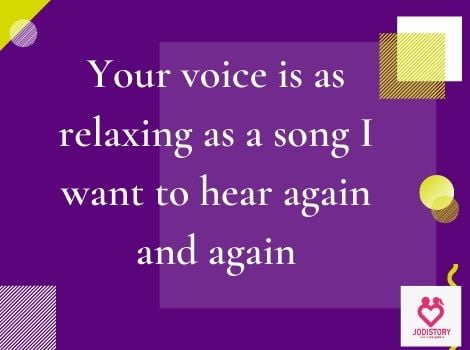 43. Your voice is as relaxing as a song I want to hear again and again.
Songs give us a calm feeling. And we tend to hear that one particular song again and again. In your case, if that song is your girlfriend's voice, nothing can compete with that. This quote can be used as a good night message when you want to keep talking to her but have to end the call. She will have the best sleep hearing this sweet message from you.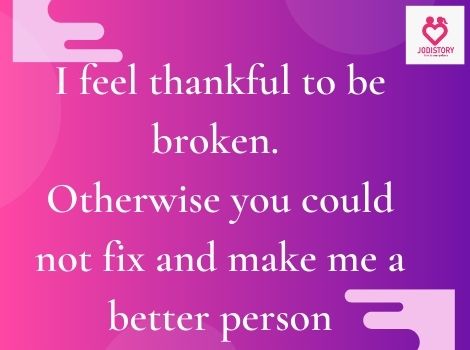 44. I feel thankful to be broken. Otherwise, you could not fix and make me a better person.
Heartbreaks are the worst nightmares. But often after getting a heartbreak, we find the right person for ourselves. And that heartbreak turns out to be a blessing in disguise. So, if you also feel that your girlfriend is that blessing in your life, the quote is perfect for you. In a relationship, many situations come where your girlfriend will feel insecure. You can finish her insecurities with the help of these cute deep and romantic love quotes.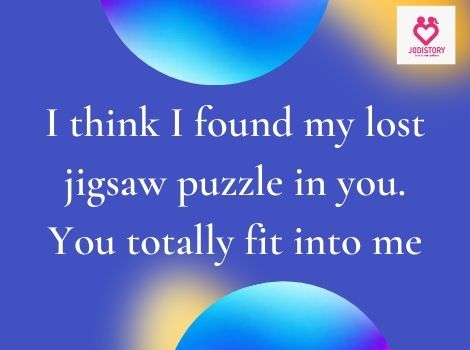 45. I think I found my jigsaw puzzle in you. You totally fit into me.
When two people find each other fitting right, they feel extra joyful. A relationship faces a lot of ups and downs. When you face any difficulties in a relationship and want to make your girlfriend believe in you and in the relationship, this quote is applicable. Often we get confused about what to say or not. This will help you to come out of that confusion and convey your true love.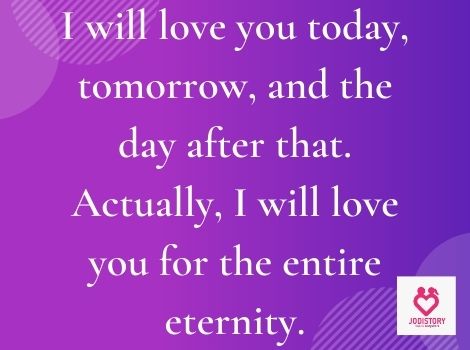 46. I will love you today, tomorrow, and the day after that. Actually, I will love you for the entire eternity.
Love is a strong and a priceless feeling. We want to spend our entire life with the person we love. And this means a lot to us and to the person also. Your intention of spending life with her will be exhibited through this quote. And she will fall in love with you all over again.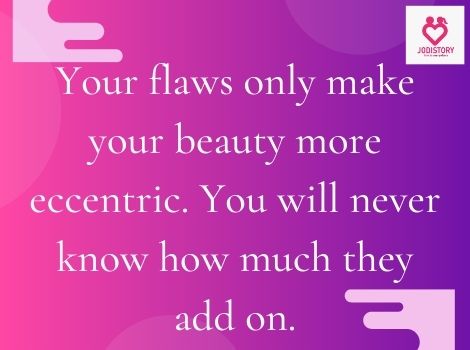 47. Your flaws only make your beauty more eccentric. You will never know how much they add on.
Girls get conscious of their flaws. Even if it is their partner, they still feel aware of it. You can stop her insecurities about her flaws with the help of this love quote. Because it is your words that matter to her. If you truly want to make her feel beautiful about herself, choose these words, and trust me she will love you and herself even more.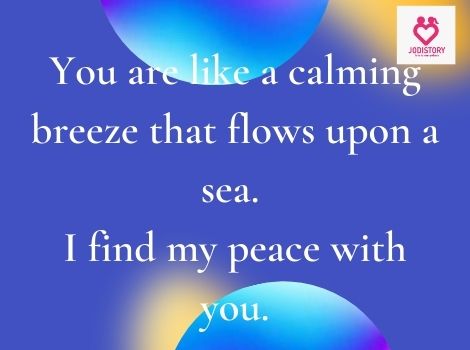 48. You are like a calming breeze that flows upon a sea. I find my peace with you.
Guys when you fill that your girl is making you calmer and grounded, it is best for you not to lose that girl. And conveying your realizations about these deep feelings will make your bond stronger. So, whenever you feel grateful to her about how beautifully she handles yourself, make her feel special too. You can give her a rose with this short love message and it will make her day.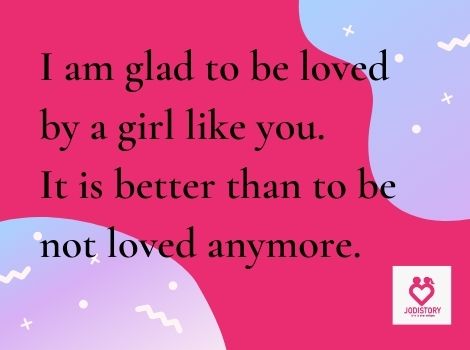 49. I am glad to be loved by a girl like you. It is better than to be not loved anymore.
Her love definitely fills you wholely. Your past experience with other girls was not very pleasant. But this time you feel lucky to get a girl like her. And making her feel the same way will only add sweetness to your relationship. Girls have mood swings where they find no worth of themselves. You can uplift her mood and moral if you use this pleasing love quote.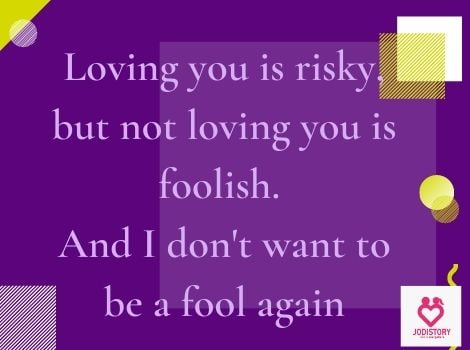 50. Loving you is risky, but not loving you is foolish. And I don't want to be a fool again.
And for the last one loving her is the best thing for you. Definitely love has many risks but that does not mean we will stop loving someone whom we value so much. Women need reassurance frequently. Because they face low self-esteem sometimes. And it is your duty to reassure her about your love for her. And this is the best way to comfort her and make things smooth between you two.