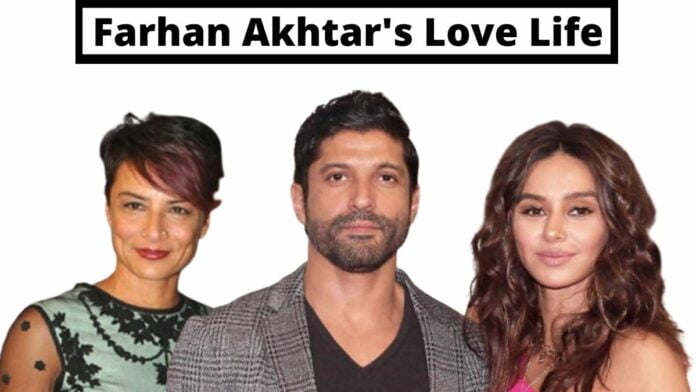 Every love story has a meaning. So as Farhan Akhtar Love Story And Relationship. Despite ups and downs he managed all. Let's read about his love story in this blog.
Farhan Akhtar is a multi-talented person. He is an Indian Actor, Director, Screenwriter, Signer, Producer, and Television Host. All these are there in his gene. His parents were screenwriters, Javed Akhtar and Honey Irani.
He was born on 19th January 1974 in Mumbai, Maharashtra. He started his career as an apprentice in film distribution and direction. And worked in Yash Chopra's film "Lamhe". Later in 1999, he started his production house named "Excel Entertainment" with Ritesh Sidhwani.
He made his directorial debut with the movie "Dil Chahta Hai", which won National Award for Best Hindi Film. Later he directed movies like, "Lakshya", "Don", and more to come. He debuted his acting career with the musical drama film "Rock On".
Later he appeared in the biopic of Milkha Singh "Bhaag Milkha Bhaag". And he won Filmfare Award for Best Actor. He made his appearance and left his remark in different segments of Bollywood. Like comedy-drama "Dil Dhadakne Do", crime-thriller "Wazir". And many more like "Lucknow Central", "The Sky Is Pink", "Toofaan" more to come.
Farhan Akhtar Love Story And Relationship in First Marriage with Adhuna Bhabani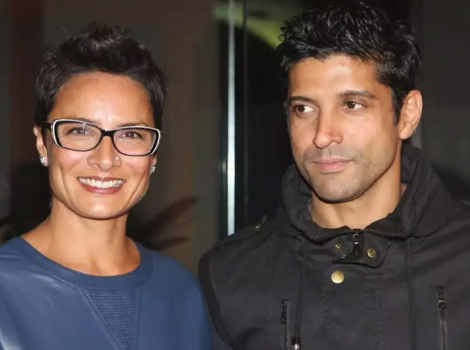 Farhan Akhtar First Love Story And Relationship started during the shoot. Farhan Akhtar married Adhuna Bhabani in the year 2000. They were in touch with each other for 3 years before they got married. They met during the shoot of "Dil Chahta Hai", she was a hairstylist. From there their love story begins.
Adhuna Bhabani was born on 30 March 1967. She dreamt of becoming a famous Hairstylist when she was a kid. And she started working in her dream. In the year 1998, she started her salon brand, Juice.
Why Farhan Akhtar and Adhuna Bhabani Got Divorced
Everything was going well. They had two daughters named Shakya and Akira. But things started falling apart and they decided to get separated. They followed their own path after that and are happy in their life.
On 21st January 2016, after 16 years of marriage. They announced their separation. And got divorced on 24th April 2017.
Also Read-
Farhan Akhtar Decided to Marry again with Shibani Dandekar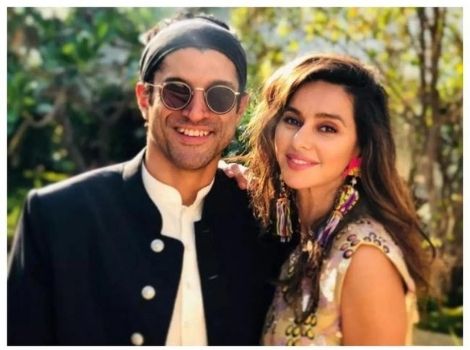 Farhan Akhtar Second Love Story And Relationship started in the year 2018 with Shibani Dandekar. She is an anchor, actress, model, and singer. Also, she was one of the co-hosts of the 2019 ICC Cricket World Cup. And have appeared in reality TV Shows "Jhalak Dikhhla Ja" and "Khatron Ke Khiladi".
Who was that Mystery Man in Shibani Dandekar's life ??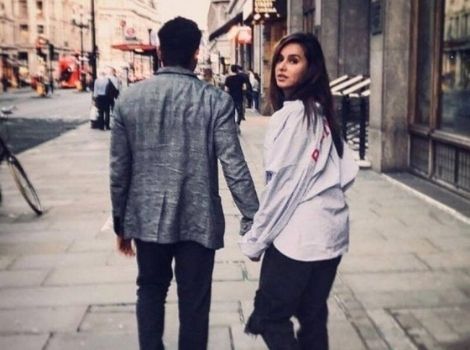 It was a mystery, why saying mystery. Read below,
Shibani Dandekar posted a picture on her Instagram where she is holding the hand of a man whose back is facing towards the camera. Soon it went viral and everyone started talking about it. Her fans started dropping a message asking about that mystery man.
After 15 days of her post. Farhan on his Instagram posted that same picture captioning with heart. Fans started cheering and started talking about their marriage.
Soon media started following and bugging them about their relationship. They were not sure, so they were silent.
Farhan Akhtar Love Story And Relationship with Shibani Dandekar
Actress Shibani Dandekar claims she isn't keeping anything about her relationship with Farhan Akhtar. But it doesn't mean she will shout about it to everyone. She explained.
Taking a break for some me-time yet staying together has been Shibani Dandekar's key motto. These mottos are helpful in maintaining a good and well-balanced relationship with Farhan Akhtar. "I spend a lot of time with my partner. Whether we're training together, or discussing things in terms of work or our pets," Dandekar says.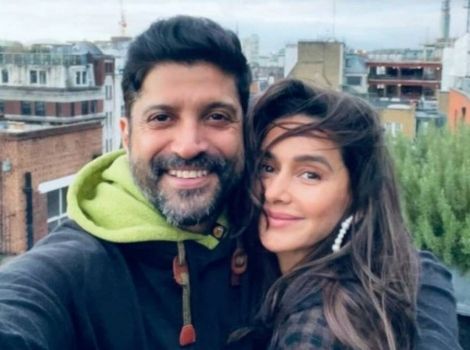 The actor learned to establish a balance between the activities. She along with Akhtar during the period has spent more time indoors than outdoors.
While Dandekar has never made an official declaration about her relationship status, she hasn't tried to disguise it, and in most situations has allowed the photographs to speak for her.
"Every relationship goes through its ups and downs. It's also critical to figure out what your preferred mode of operation is. So, life goes on, and you're trying to figure out a structure that works for you," she says.
"Then do things on your own when you need your space. That is extremely crucial. The most important thing I learned throughout this process was the importance of balance and respecting one other's routines and needs," adds the actress, who recently celebrated three years of dating Akhtar.
"Our life has changed so dramatically. We're trying to traverse new areas in our work, at home, and in our relationship," Dandekar says. It's also vital to talk about it because we're dealing with fresh relationship issues.
Must Read-
Farhan Akhtar And Shibani Dandekar Marriage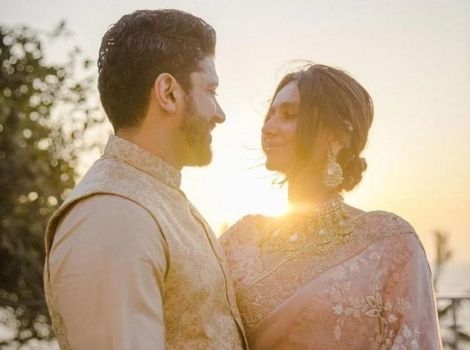 After four years of relationship, the couple decided to get married. On 19th February 2022, they tied the knot at his farmhouse.
Close friends and family members were present. Farhan wore a black suit while Shibani wore a beige and red gown with a veil. The daytime wedding was attended by several celebrities including Farhan's cousin Farah Khan, Rhea Chakraborty, Satish Shah, Ashutosh Gowariker, and Ritesh Sidhwani. Hrithik Roshan also attended the wedding with his parents, Rakesh and Pinkie Roshan.
Wish this couple a happy married life. Let us know in the comment, how do you feel about Farhan Akhtar's love life.