Gal Gadot, familiarly recognised as Wonder Woman, is every bit of a Goddess.Gal is an Israeli actress and a model, who was crowned Miss Israeli when she was just 18. But here you are going to read Gal Gadot love story.
Gal Gadot works in Hollywood
She has worked for small roles in Date Night, Knight and Day, Fast Five ,Fast and Furious 6.
In 2017,she was seen in Batman v Superman : Dawn of Justice.
In these roles she has performed no less than a superhero!
All the Hollywood actresses surely had a tough competition!
Her magnificent looks and her alluring smile had surely caught attention of the paparazzi and the public.
With this increasing attention, people were more curious about her personal life.
Also Read:
But Gal turned out to be a happily married woman, with her stunning husband Yaron Versano!
Gal Gadot Her Wonderful Love
Do you need an inspiration for Love?
Then you must surely have a sneak peek at this gorgeous woman's love tale with her handsome prince!
Gal Gadot and her husband Yaron Versano's love story is no less than a fictional fairy tale.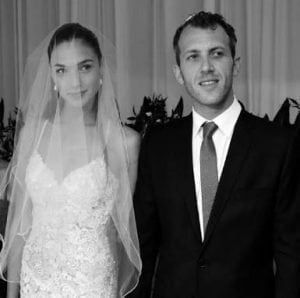 We met nearly 10 years ago through mutual friends at this very strange party in the Israeli desert.
It was all about yoga, chakras, and eating healthy — we didn't exactly find ourselves there, but we found each other.
Having met at the party and having brief chats, they discovered that Yaron is 10 years older to her.
But in an obvious way, Love has no age differences, right?
Well, they both surely believed this!
Marriage Commitment, so soon
They both started seeing each other since then, and in no time Yaron confessed to her that he is really starting to fall for her, and cannot wait less than 2 years to propose her for marriage!
Isn't that adorable?
She definitely was head over heels at this gesture!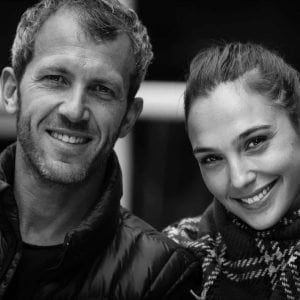 By staying true on his confession,they both finally got hitched in 2008!
Well, this man is surely genuine regarding promises!
And my husband's the best. It's logistics: We team up, and we just do it.
Simple and Precious love story
Isn't this a kind of love story every girl desires?
To meet someone,know him well, fall in love,get married and spend her life with him forever!
No games. Let's just be honest and keep it simple."
Well Gal Gadot's dream did come true after all!
She met him, dated him, fell in love and got married!
Also Read:
Yaron is definitely a stunning and a good-looking man, with great qualities of a husband.
Now, what else does a girl want?
Happy married life of Gal Gadot
This wonderful couple is more than happily married.
They have given birth to two endearing children – named Mary Versano who's two months old and 6 year old, Alma Versano.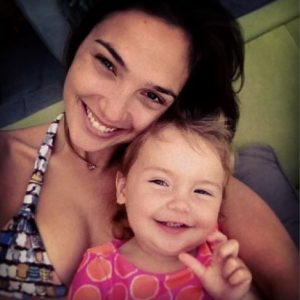 A perfect family. Isn't it?
They have been together for 10 years but the love between them keeps growing every minute!
During shoot, Yaron was always by her side, like a new age couple, the husband strolling their child and the mother working.
Yaron performs his double duty as a doting father to their children, Alma and Maya.
And also supports his wife in her challenging career.
I think that Yaron and I make a really good team. I understand his career and he understands mine.
We help each other progress in all areas of life. We're both very career driven."
Even after ten years they don't seem bored of each other.
You go, Gal!!
They still get those sparks of a new relationship.
And that's what love's all about!
Loving your partner the same way, infact even more than yesterday.