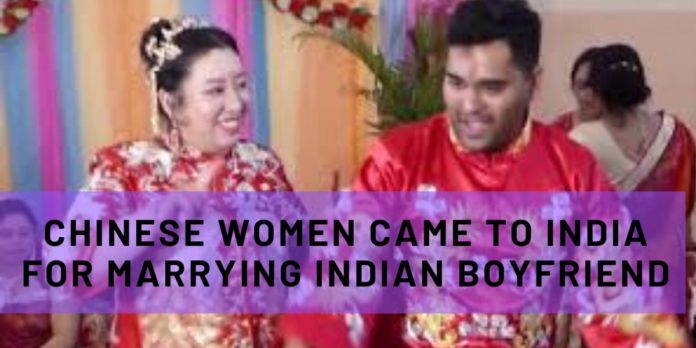 Of course, love has no caste, tradition, religion, gender, and boundary. The marriage took place in Madhya Pradesh on 2 February 2020. Where and Indian man tied the pious knot with Chinese women.
If love is pure and true nothing can stop it to flourish and happy ending. A love story with a happy ending took place in Madhya Pradesh' Mandsaur.
Mandsaur district witnessed the marriage of an Indian man with a Chinese woman yesterday as reported in indiatoday.in.
Satyarth Mishra belongs to Madhya Pradesh's Mandsaur district. He fell in love with the Chinese woman Ji Hao.
Also Read
Actually, the pair did not meet on a social networking site like Facebook, Tinder or Tantan.
Satyarth Mishra went to Canada for his further studies at Sheridon University. Ji Hao a Chinese girl also took admission to the same University.
They met there as a class fellow at the university. After spending 5 years of a great time as a friend. Satyarth and Ji hao fell in love with each other.
Then they decided to continue this friendship of love lifelong. The marriage took place in the hometown of Satyarth Mishra in Madhya Pradesh's Mandsaur.
Marriage was completed according to Indian rituals and traditions on 2 February 2020.
But before the marriage, the engagement ceremony also took place. Where the couple exchanged rings and got countless blessings.
The engagement was scheduled on 29 January 2020 in the presence of some selected relatives of Chinese bride Ji Hao. Only three relatives came to India from China to attend the engagement and marriage ceremony.
The combination of Chinese and Indian couple was appearing stunning. Satyarth Mishra and Ji Hao were seen dancing in delight and happiness.
Satyarth's friend and family were looking more happy and excited about the marriage ceremony.
Satyarth Mishra confessed to ANI that both the family decided to carry out the engagement function and wedding in India according to Hindu tradition ritual and custom.
The plan was also to host a marriage ceremony in China. But due to coronavirus issues, their family drops the plan of celebration in China.
When asked Ji Hao on how she fell in love with an Indian boy Satyarth Mishra? She said, " India is a nice country, with nice people and also with nice food".
Again she said that" India is a colorful and amazing country" this made her fall in love with Satyarth and Indian boy.
The family of the bride and groom belongs to different countries, different castes, religions, traditions, and customs.
But they are happy enough with international marriage. It gave them a lifelong new relationship between two countries as well
When asking about the Chinese and Indian culture from the bride Ji Hao. She says "India and China follow traditional culture on their own. And we have something very common what different things."
On asking about Chinese daughter in law. What Satyarth Mishra's mother Jyoti said to ANI?
Actually my son returned to India in 2016. And he told me about his love story with a Chinese girl.
On that time we were happy and excited to welcome a daughter in law from another country.
Our whole family gave Green Signal for this relationship. Then we talked to the Ji Hao family. And then decided to complete the marriage soon.
Also Read:
Talking to ANI Jyoti Mishra added that daughter in law Ji Hao's parents spent a great time with us. They explored and absorb the Indian traditional custom culture.
After marriage, the newlywed couple will soon return back to Canada. And Ji Hao parents would land back to home country China.