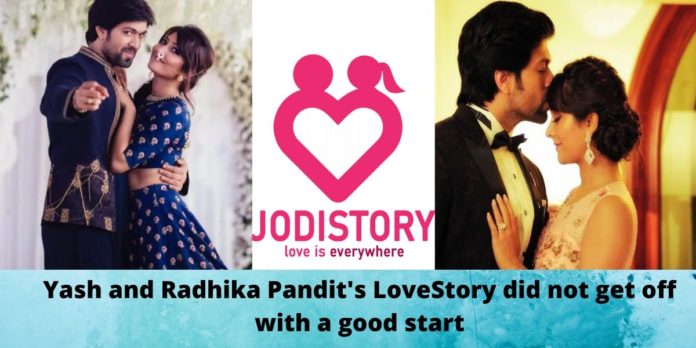 Ever read Pride and Prejudice by Jane Austen? What happens when first impressions are the worst? But, later you learn that first impressions are deceptive! Well, doesn't it look like a wonderful plot from a novel? Alas! Yash and Radhika Pandit's Love Story is one such tale. The duo is the most adored couple from Tollywood. And, hence their love story is an adorable tale which involves several hilarious incidents.
Did curiosity peak? Scroll down to sate it!
Must Read the following:
Yash and Radhika Pandit's first meeting
The couple first met on the sets of a TV show, Nandagokula in 2007. Yash would replace the lead male character of the show. He had to work beside Radhika.
Radhika saw him getting down from his vehicle and said "hi". Yash replied nonchalantly, "hello." There began the story od rude first impressions. Radhika thought Yash to be rude. She instantly disliked him and believed that he couldn't be friends with her.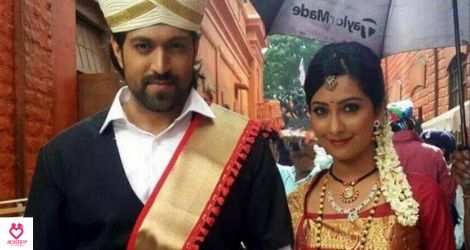 Yash and Radhika become friends
Radhika is talkative and a romantic, whereas, Yash is introvert, reserved and pragmatic. Even on the sets when everybody used to sit together and enjoy, Yash would stay aloof.
But later their friendship developed. Gradually, he started opening up. Most of the time they used to travel together. Radhika, chatter-box at heart, would make sure to invite Yash in her conversations. Soon, they became friends.
Yash and Radhika Pandit's Love Story blossoms
Soon, they became very close friends. Yash and Radhika would share every little detail of their professional and personal life with each other.
Yash would become an entirely different person around her. He would talk more, smile more and brought out the best of him. Yash realized that it was something more than friendship. Yash would drop hints about liking her but couldn't muster the courage to directly address the issue.
He didn't want to lose his friendship. Eventually, he decided to step out like a man and confess it all.
Yash's romantic proposal to Radhika on Valentine's Day.
Finally, on Valentine Day, 2000, he made the big move. He inquired Radhika about her whereabouts. Radhika was watching a movie with her parents. Yash went to the mall, bought a gift hamper with a message," Happy Valentine's Day."
He asked the manager whether he could stop the show and talk to her. Unfortunately, the manager denied but kept him informed about the show's timings. He decided to leave the hamper in her car.
Hilariously, he searched for her car in the parking lot. Finally, he succeeded in leaving the gift hamper. When Radhika saw the hamper, she immediately knew who gifted it to her. But even then Yash didn't confront her.
Several days later, he confessed his feelings on a phone call. Radhika took her own time in answering the big question and Yash patiently waited.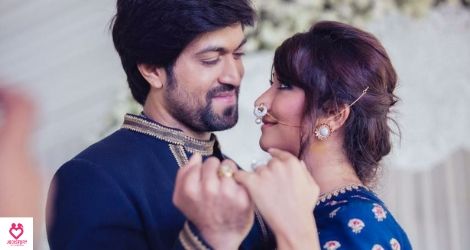 Yash and Radhika Pandit's Love Story sealed with marriage
They soon convinced their parents and soon the wedding plans were in order. The couple got engaged in August 2016. They tied the knot in the same year, later in December.
The wedding saw the presence of close friends and family. The ceremony took place in Bangalore.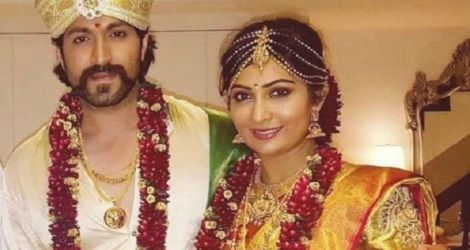 Must Read the following:
Yash and Radhika Pandit's children
In 2018, the arrival of their first child deemed their family complete. The baby girl named Arya brought happiness in the couple's life. Later, on October 30, 2019, their son Ayush.
The family spends quality time together. Yash's love for Radhika has been the same ever since he set eyes on her. No wonder, the story proves a lot of things. First impressions are deceptive, opposites attract and even a shy man can turn eloquent and do things in love, he would never have done otherwise. Can you think of some other things that this love story proves?