What happens when you fall for someone's voice, without even meeting them? Can love progress in such circumstances? What happens when you fall for your friend? Will love win or friendship ruin? Answers to such questions are revealed in Jayasurya and Saritha's Love Story. The popular actor fell for a science student. But their love story includes several hilarious and lovestruck incidents.
Scroll down to know more!
Must Read the following:
Jayasurya and Saritha become acquainted through a call
The popular actor participated in a live phone-in programme on ACV Television Channel. The programme was very popular. No wonder, Saritha's mother and grandmother were avid fans of the actor.
Once Saritha visited Kochi for a vacation. There she talked to Jayasurya for the very first time. Soon, they began talking on the phone, quite often. Little did they know they've embarked on a beautiful journey via a phone call.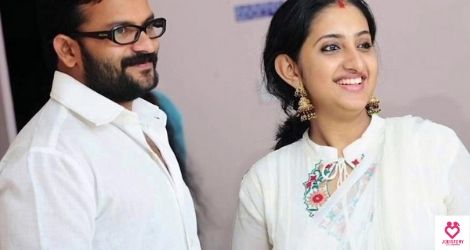 Jayasurya and Saritha's first meeting
A few months later, Saritha and her family visited Tripunithara for a function. Jayasurya also stayed there. And, a meeting was arranged for the duo. Surprisingly, neither did the attraction flair nor did the sparks flew in their first meeting.
They exchanged a few words and parted ways. However, they continued talking on the phone and considering each other as god friends.
Jayasurya and Saritha's Love Story kept hidden from their families
Things took a serious turn when Jayasurya started residing in the same building as Saritha's. The couple spent more time together. Their families grew close. They were constantly moving in and out of each other's apartments.
And thereon began the most adorable love story. However, their families didn't suspect a thing. Though humorous discussions like what an ideal husband or wife should be took place, neither of them gave a hint.
Jayasurya and Saritha's marriage
Eventually, Jayasurya and Saritha decided to marry. They confronted their families with the idea, who were shocked beyond words. Given that, they never got a hint of their children's hidden affair. However, they agreed after some time.
On January 25, 2004, the couple tied the pious knot. The marriage took place in a conventional style.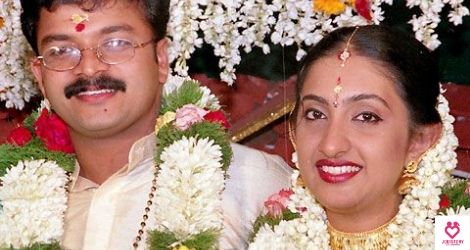 Jayasurya and Saritha's children
On January 16, 2006, the couple was blessed with a baby boy, Advaith. The family deemed complete with the arrival of their daughter, Veda on 30 December 2012.
The son takes after his father pursuing actor career. Likewise, Veda also takes an uncanny interest in acting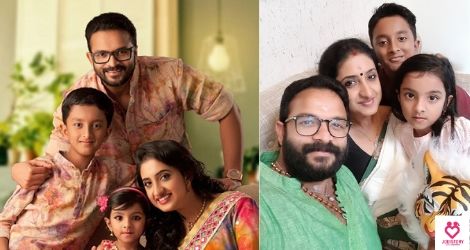 Must Read the following:
Conclusion
Despite the glory and fame, the family spends normal quality time together. They go for walks in the garden and n the cinemas to see films. The humble and compassionate nature of her husband thrills Saritha beyond words. Their love story that began with a friendship on a phone call turned out to be an adorable journey of love.