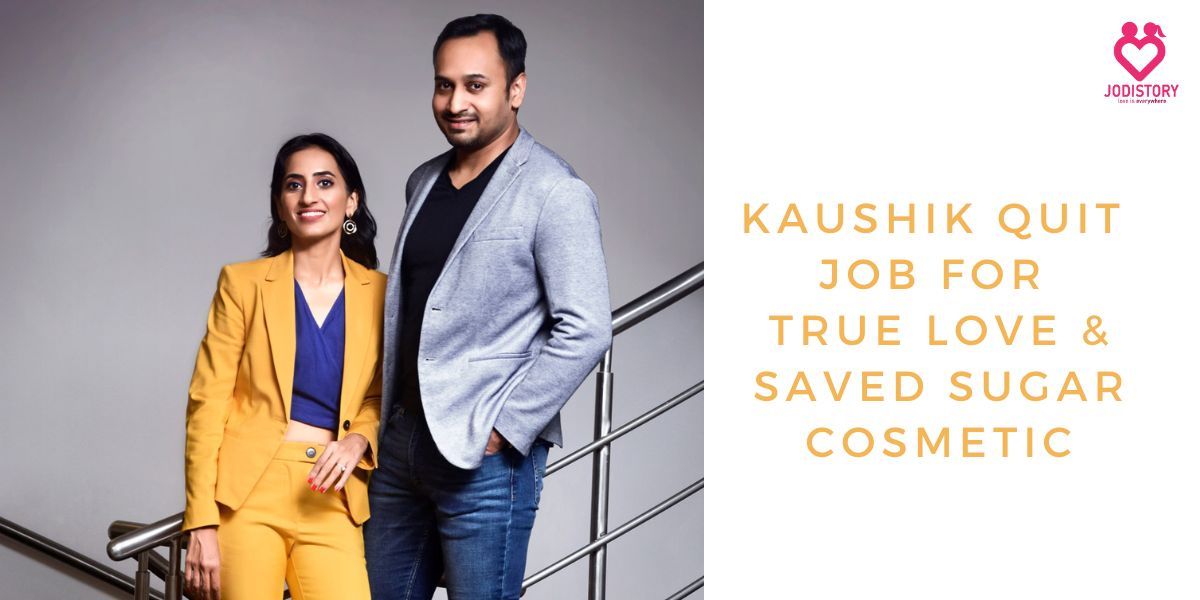 Vineeta Singh is the Co-founder of SUGAR Cosmetics. An empowered woman who is excelling in the field of entrepreneurship. She is an inspiring role model for the youth who wants to be an entrepreneur. Especially for women. She has proved to the youth that it is sometimes worth taking risks in life. She is a determined and confident established entrepreneur. It is time to know about Vineeta Singh & Kaushik Mukherjee's Love story. Founders do have a personal life.
She is a judge on the panel of the famous TV Show "The Shark Tank".
Vineeta and her husband Kaushik met during their college life. Both of them were sports enthusiasts and started their journey as entrepreneurs together. During this phase, their bond grew stronger. They decided to marry after that. They both lead their business together and are reaching heights holding their hands together.
Who is Vineeta Singh and Kaushik Mukherjee?
Vineeta Singh was born in 1983 in Anand Gujarat. She along with her husband started the SUGAR company together. Kaushik Mukherjee, Vineeta's husband was born on 17th June 1983 in Kolkata. He is also an entrepreneur and COO of the SUGAR company.
Vineeta Singh is also a sports enthusiast. She has done many sports events during her college times. Vineeta is also a fitness freak. Even many times in the show "The Shark Tank" she is praised for her fitness by other sharks and the contestants too!
MUST-READ LOVE STORIES
How did Vineeta Singh meet her boyfriend Kaushik Mukherjee?
Vineeta was an MBA student at IIM Ahmedabad. She was born in 1983 in the city of Anand in Gujarat. She met Kaushik Mukherjee at IIM Ahmedabad. They both were good friends. They both were enthusiastic regarding businesses and startups. Both of them made different plans and schemes. The same vibes and same thoughts led them closer to each other.
During their phase of plans and plots, they started dating each other. Vineeta's husband Kaushik also posted somewhere about his journey with her. That is how they both used to have common dreams and were together bonded to fulfil them.
Vineeta Singh and Kaushik Mukherjee married in 2011.
Vineeta and her boyfriend Kaushik Mukherjee married in the year 2011. They used to work together before their marriage and this was the reason that grew their connection deeper.

Vineeta also mentioned that when she was working on her startup of SUGAR the person who made her feel confident was Kaushik. She saw her batchmates managing both marriage and business together.
Since Vineeta and Kaushik were comfortable and very efficient during work. They both felt that taking their bond a step forward will be a great decision.
Kaushik was a big support for her. He always kept Vineeta ahead of her and was standing beside her holding her hand. He made her feel secure.
People say that behind every successful man, there is a woman. But behind Vineeta's success story was her love, her husband Kaushik Mukherjee. It was his faith and also his hard work for her wife that made her an inspiring personality.
Sugar cosmetic funding error shows Vineeta Singh & Kaushik's true love story
The couple had many startup plans during their MBA days. But none of them worked and collapsed. Still, this couple stood like a rock together, and in the year 2012, the couple made a big decision to Startup again.
They launched their own cosmetics brand SUGAR in the year 2012. Though there were many doubts and questions arose. But, both of them didn't stop.
At the beginning of the company, SUGAR cosmetic Vineeta was in great need of funds. Before getting funding for SUGAR cosmetics Kaushik did not join the company. He was working in Mckinsey to run livelihood side by side.
Investors refused to fund Vineeta's company SUGAR. They said they will not fund a solo woman entrepreneur. Because they invested earlier in a company run by women. And they had a great loss.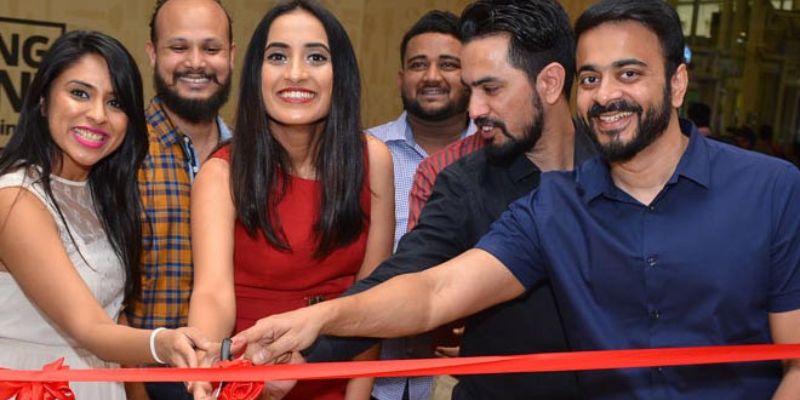 Investors demanded Vineeta ask Kaushik to quit Mckinsey and join SUGAR cosmetic full-time as a COO. Only then we will invest money.
The couple was asked many questions regarding their startup like how this company will grow in India. As already there were so many leading cosmetic brands who were making millions of turnovers.
And here comes a TRUE LOVE STORY. Kaushik Mukherjee quit Mckinsey for the sake of Vineeta's happiness, and love for business. He joined SUGAR as a COO. Now results are in front of us. SUGAR has become the leading cosmetic brand in INDIA. Oh my God, Vineeta Singh & Kaushik Mukherjee's Love story is how adorable.
They had faith in themselves and their love too. It was their love and bond which made them strong enough to pass all the hurdles.
Vineeta Singh children
Vineeta Singh and her husband were blessed with a baby boy recently. It was a very happy moment for them. The baby was the symbol of their love and is very special for the couple.
Though as a woman entrepreneur, it was tough for Vineeta to manage her business and take care of the baby. She had to attend calls, breastfeed the baby, go to meetings, etc.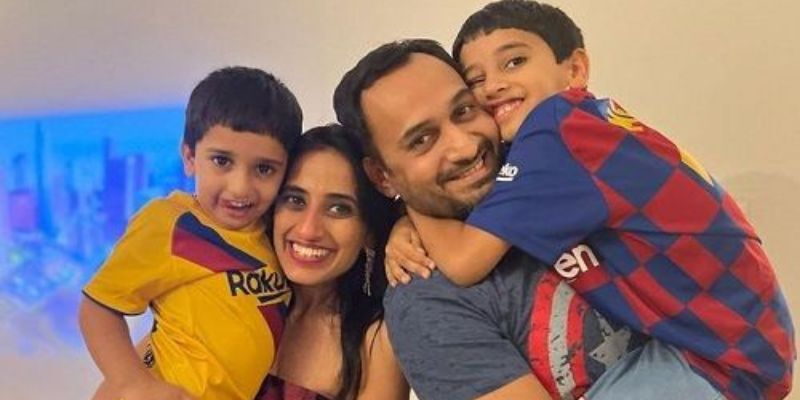 But, during this phase, Kaushik was a big supporter of her. He used to take care of the baby and let Vineeta work on her dreams.
Despite having a baby Vineeta achieved a lot. It was her husband who is the big reason for it. Without him, it would have been tough for Vineeta to establish herself in this man's world.
Kaushik and Vineeta had always divided their works. They were so particular about it. They never stepped into each other's work. But were there as business and life partners.
Vineeta Singh & husband Kaushik is a sports couple
Vineeta and her husband Kaushik were athletes since their college days. Again, this was another aspect of their strong connection. Vineeta was a runner and Kaushik was a swimmer at their university.
She completed a most difficult one-day race called Ironman Triathlon in Austria.
The couple were fitness freaks and wanted to excel in some adventurous sports. So they decided to do a triathlon.
As this was perfect for the couple to do it together. They packed their bags and travelled the world. Participated in many racing competitions to train themselves for the Ironman Triathlon.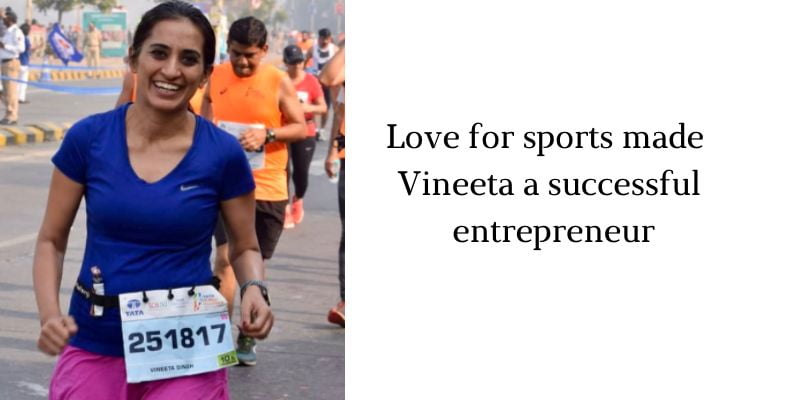 And finally, after a rigorous training of 6 months, they completed the Ironman Triathlon in 2017.
This couple is the true symbol of an ambitious and strong bond. Their bond shows that it's possible to manage professional and married life with so ease. Also, Kaushik mentioned in one of the posts that, after winning this Ironman they will focus on their business and family. But, I will again do another Ironman competition.
Vineeta is blessed to have such a life partner in her life. She even expressed her gratitude regarding her husband when she was on the TV show "The Shark Tank".
She used to tell everybody how lucky she is to have such a supportive husband. Who helped her not only as an entrepreneur. But, was also present with her during her thicks and thins.
How do Vineeta Singh & Kaushik Mukherjee manage SUGAR cosmetics?
Sugar cosmetic is made in India and for Indian women. Its products suit all Indian skin types. The company has created a big buzz on social media due to its marketing.
It wasn't a plain path for Kaushik and Vineeta. They got many hurdles during the settlement of their company. But having a partner beside you who is not only in your good days. But, being ready to hold your hands on your bad days too is a boon.
During their startup, they both doubted their idea. When they went to raise the capital they were told that this type of digital-first beauty will be a small market. It is impossible to compete with large companies. But, Kaushik believed in Vineeta.
MUSTE-READ LOVE STORIES
He never let her fall down and always praised her for moving forward. And this is the reason that today the company SUGAR raises funds in millions and sells around 650,000 products.
They both run the company together hand in hand. Kaushik looks after the tech department and Vineeta leads the company as the CEO. Who says males are jealous of successful women?
Here is the best example of a husband who is behind the success of his wife. And always feels proud of her. Vineeta Singh & Kaushik Mukherjee's Love story is a great example of a successful personal & professional life.
How did Vineeta and Kaushik meet?
Vineeta and Kaushik met at IIM Ahmedabad during their MBA.
Is Vineeta Singh Married?
Yes, Vineeta Singh is married to Kaushik Mukherjee.
Is Kaushik Mukherjee the husband of Vineeta Singh?
Yes, Kaushik Mukherjee is the Husband of Vineeta Singh.
Love lesson by sugar cosmetic owner story
Vineeta and Kaushik are working together hand in hand. They proved that they are a powerful couple. Not only by money or business. But, also by their bond, support, and love between them.
Kaushik is a real lover. He not only loved her but also supported her dreams. He even worked hard for her dreams and is happy in her happiness.
Truly, their love and bond are a real definition of what love means. He always praises her wife without expecting anything from her. They together made their empire SUGAR and managed their professional and personal lives.
Even after having a baby he still let Vineeta work on the Frontline and was at the back to handle everything. Just for her! They are the real role models for young generation couples. Vineeta Singh's relationship & happy love life gives us a reason to believe in LOVE. What is your thought?