Who doesn't know Sanjay Dutt? He is one perfect actor in Bollywood. His life is just like a roller-coaster ride. All might have seen his Biography "Sanju" which was a blockbuster Film. His first film was Rocky in the year 1981 which was a great hit and Sanjay became a sensation. Being born in a Rich family he was first addicted to drugs, ample affairs. It isn't surprising that he had many love affairs in his young days. His weapon and arms case was also a big matter but this doesn't ruin his love life. So did you know about his popular affairs? He had married three times. So are you excited to know all about Sanjay Dutt Love Story? If yes then stay tuned with us we are here to make your time memorable. Today we will be discussing Sanjay Dutt (Colorful) Love Stories & Marriage
Sanjay Dutt is now happily wedded to Maanayata. And is the father of two twins. Let's take a deep look at Ladies whom Sanjay Dutt dated.
Sanjay Dutt First Love Tina Munim
Tina Munim and Sanjay were childhood buddies. They were attracted to each other. Their cute love flowered into a serious affair. They two were in close relation with each other about the time when Sanjay Dutt's première film "Rocky" released.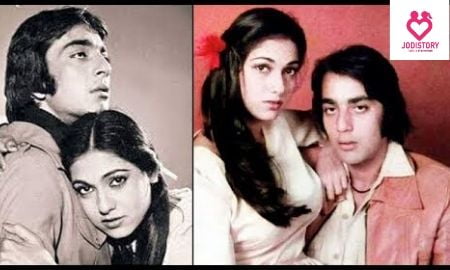 They both started dating since then. However, due to Sanjay Dutt's unnecessary consumption of alcohol, Tina broke their love affair.
must read Love story of –
Sanjay Dutt Second Love Richa Sharma
Dutt met Richa at the Mahurat of one of their films. Well, Sanjay already was flat on Richa ever since he saw her photo in a magazine. While shooting for a Film, Dutt somehow succeeded to get her telephone number and began calling her and asked Richa Sharma for a date but she kept refusing. Fortunately, one day she accepted to go on a date, and thus their romance flourished.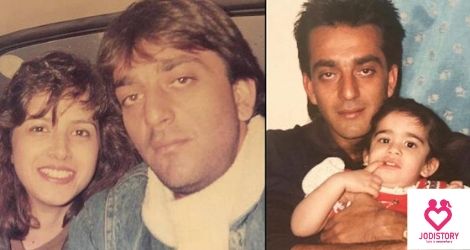 Dutt then proposed Richa when she was shooting for the film Aag Hi Aag in Ooty. After some time she agrees to marry him. Finally, the duo got mated in the year 1987 and became parents to a beautiful daughter named Trishala.
But soon, Richa was suffering from a brain tumor and moved to the US for treatment. In Dec 1996, Richa had his last breath in New York.
Sanjay Dutt Third Love Madhuri Dixit
Sanjay Dutt and Madhuri's affair was a great matter back in the 90s. According to Source, love flowered among the celebrity while shooting for the film Saajan in the year 1991.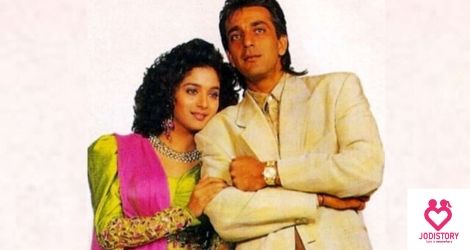 Madhuri and Sanjay were even preparing to get hooked but unfortunately, after TADA arrest in the year, 1993 they broke their alliance. However, Sanjay Dutt and Madhuri always disagreed with their affairs.
Sanjay Dutt Fourth Love Rhea Pillai
Sanjay Dutt began dating model and socialite Rhea after separating with Madhuri. They both first met and fell in love with each other. Both tied the knot in 1998.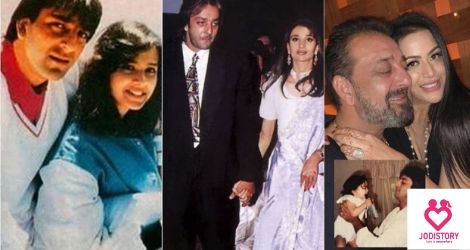 But this time too Sanjay association could not survive. And they both decided to divide after a few years. The pair divorced in the year 2005. Apparently, the two were in an extra-marital affair when the split came through.
Sanjay Dutt Forever Love Manyata Dutt
Sanjay Dutt dated many film actresses. However, he finally found forever love in Maanayata's arms. Maanayata and Sanjay fell in love immediately when they saw each other. Well, Sanjay's sister was against Dutt's marriage with Manyata. But their love towards each other made them to come closer and Sanjay Dutt was married.
must read Love story of –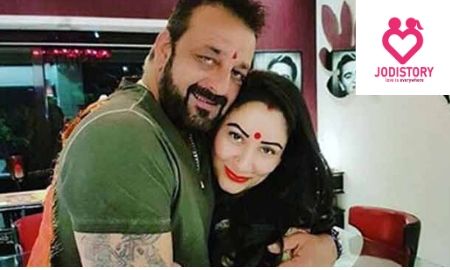 Sanjay Dutt Happily Married Life
Manyata and Sanjay Dutt were in love and after a long two years of courtship, they both married for 7 February 2008. And after two years of the wedding on 21 October 2010, the pair welcomed their twins, Iqra Dutt and Shahraan.
Manayata once adds in an interview that:
"Wherever there is power, there is bound to be a great deal of conspiracy hovering around that source of power. As well as let's face it, Sanjay is very effective. There were many individuals around him attempting to utilize him. I just came like a barrier in his life to stand between him as well as those who want to use him. Normally, these fair-weather good friends dislike me. I just ruin their event, you see."
Conclusion
So, in the end, Sanjay found his true love, Manyata Dutt. She supported her in each and every phase of his life. They both proved the power of Eternal true love. Even after knowing about so many affairs of Sanjay, Manyata accepted him and which so humble. We wish Sanjay And his family a great year ahead. We hope you loved this article on Sanjay Dutt Love Story. Comment down your views.