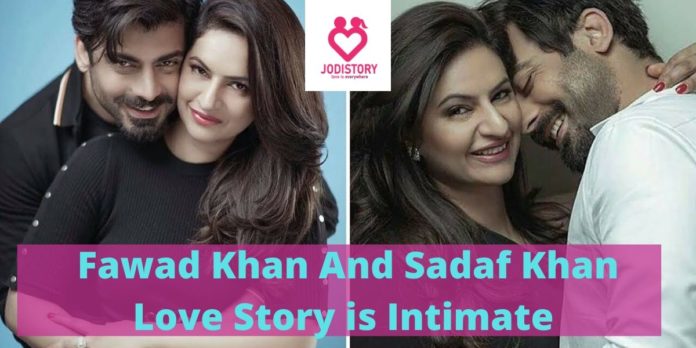 Fawad Khan needs no introduction. He is the one Pakistani actor who is loved all over the world. Along with acting, he is a producer, model, and screenwriter. Khan has received ample awards, including a Filmfare, three Lux Style Awards. Fawad Khan is amongst the finest and handsome in the film industry. Well, all might be aware of his profession but he is also the most loyal partner ever seen. Today we are here to discuss Fawad Khan And Sadaf Khan Love Story. Fawad married to the childhood love of his life. Are you excited to know all about Fawad and Sadaf Khan's love story? So don't go anywhere we are here to know about their passionate love story. Scroll down.
How they met?
Fawad did his schooling in Lahore Grammar School. Sadaf attended the girl's school of the same branch. Fawad khan met Sadaf when they were about 16 years old. Fawad was hypnotized by Sadaf and had a huge crush on her. But he could not assemble the courage to ask her for a date in person. So, both began chatting online. At 17, Fawad khan met with a pitiless accident where he damaged his pancreas and acquired diabetes problem. And when he was admitted to the hospital, his close friends said to him that the girl named Sadaf was asking about him.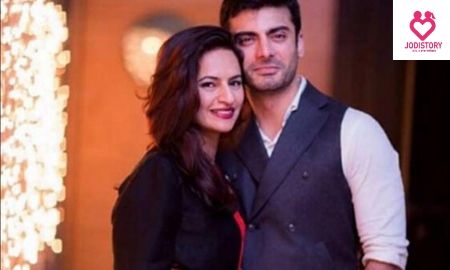 must read Love story of –
After some days the pair finally set up a meeting. Khan, within the very first week of their meeting, proposed to the pretty girl who stole his soul. And, this was the just beginning of something really extraordinary. When they both went to different colleges, Fawad Khan would usually wait for Sadaf outside her college.
Though Family Approval was a tough task
As the were in love and wanted to get married soon But, Sadaf's parents were very traditionalistic, and that produced many problems in the initial phase of their love affairs.
Fawad sprang his career as a singer in a band, 'Entity Paradigm'. His profession as a television singer and actor was not welcomed by Sadaf's family. Sadaf's family wanted to marry her with someone who had a formal background. Fawad when he came to about this, proves his love for Sadaf's family. He then did a nine to five job. Finally, Sadaf's family approved of their match.
Their Wedding
Fawad Khan proposed to his cute girlfriend at the age of 17. It was a normal proposal and on this Sadaf adds
'Well, the proposal was very simple without any drama. It was just a simple question over the mobile. Fawad proposed to me(Sadaf) when I was just sixteen and he claims that he's been wedded to me the day the relationship began fourteen amazing years ago."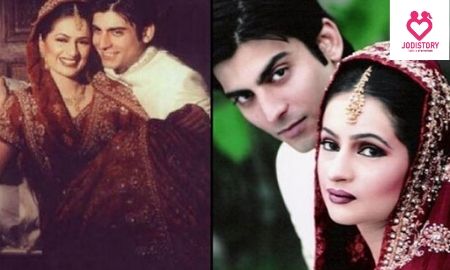 Fawad and Sadaf tied a knot on 12 Nov 2005, in Karachi, just after their graduation.
Happily Married Life
Fawad Khan and Sadaf make a very lovable family. They both are blessed with the son. He is about a 10-year-old named Ayaan Khan. They are also blessed with baby girl Elayna Khan. Fawad considers himself to be one of the most fortunate men in this world. Fawad once adds on his wife –
must read Love story of –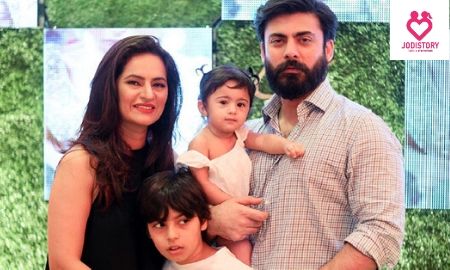 "It is the greatest feeling in the universe if you're married to a person who means everything to you. I know it might sound clichéd, but it's fantastic to be able to find such an amazing person. Whatever good I have in me, is because of the impact of my wife, family, and my son. I'm having a ball."
Conclusion
So it was the end of the bewitching love story of Fawad Khan and Sadaf. Both have been together since they were 16. They proved true love never ends. Their love story is a perfect example of togetherness. We wish them all the very best for the coming years.We hope you loved the article on Fawad Khan And Sadaf Khan Love Story. Comment down your views.