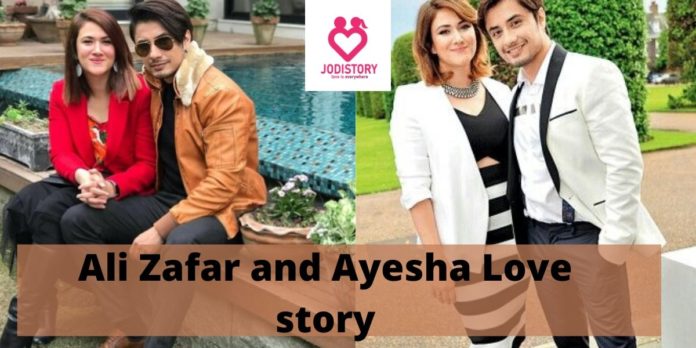 Who doesn't know Ali Zafar? Ali Zafar is one of the best singer-songwriters of Pakistan, actor, model, producer, and painter. Ali started out on TV before becoming a popular musician in Pakistan. Zafar, later also discovered a career in Bollywood and his progress led many Pakistani actors to try into Hindi films. He has also received five Lux Style Awards and a Filmfare Award proposal. Zafar has made our hearts freeze through his works in Tere Bin Laden and through many other activities. Between all this, he had a great love story with his wife Ayesha Fazil. Today we are here to discuss all about his love life.
So are you excited for Ali Zafar and Ayesha Love story? then don't go anywhere we are here to make your time memorable. Know When they married, How they met, and more.Scroll down
How they met?
Ali is one skilled lad and no one can dare to refuse that. He was about 8 years old when he first sketched his comic book. During his teenage, he started earning from his art and was getting huge success.
must read love story–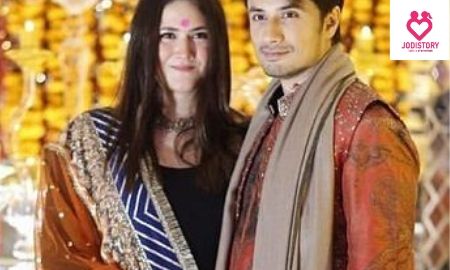 He managed to work as a normal sketch artist in the hotel and it is where he met his love Ayesha for the first time. Both were very astonished with each other. And it was love at first sight for Ali. After some days they became good friends.
Introducing to their Family
After dating for so many months, Ali Zafar and Ayesha decided to propose each other to their respective families and their family welcomed with warm hugs. The exciting thing about Zafar's meeting with Ayesha's father is that he had never heard of Ali Zafar despite his huge fan following in Pakistan.
It was a very good thing for Zafar that Ayesha's family member was fond of art, as that supported Ali to win their hearts. While discussing on his very first meeting with Ayesha's family, Ali adds:
" I was lucky that Ayesha's father was a big fan of music and films. Actually, his dad used to make movies. Jab main unse mila and he came to know that I can sing, he was overjoyed."
"In fact, kya Hua ki they didn't know that we both were dating. So unhone kaha ki chalo gaana karte hai, doston ko bulate hain. Unhone mera song suna hi nahi tha usse pehle. Toh ho sakta tha ki main bahut bura singer lgta and woh sab log aa jaate. But that night I sang very well and folks were sitting till 4 am and all his friends enjoyed a lot."
Ali Zafar & Ayesha Wedding
After meeting each other families and dating for so long, which started in their teen years. Ali Zafar and Ayesha finally tied a knot and said "Qubool hai" to each other on 28 July 2009 in Lahore, Pakistan.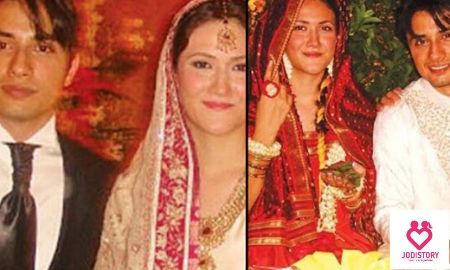 Their marriage was a lavish occasion and both looked absolutely stunning on their wedding day. For the reception, Zafar was looking dashing in a black tuxedo while Ayesha was seen amazing in her silver and pink attire. They invited many famous celebs of Pakistan in Reception.
Ali & Ayesha Children | Happily married Life
Ali and Ayesha are blessed with an adorable baby boy named Azaan Zafar. Azaan was born in the year 2010. Five after Azaan birth, in 2015, the pair were blessed with their daughter, Alyza.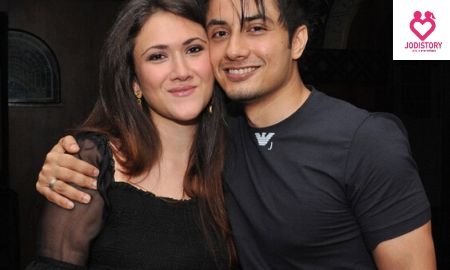 Zafar and Ayesha are made for each other. Ayesha Fazil loves to help Ali out in keeping a work-life balance, while Ali makes sure that he is a loving father to her kids and a doting husband to his wife. They both have been spotted together many times and happily married.
must read love story–
Conclusion
Ali Zafar and Ayesha Love story is full of fairy tales. Their love story is the perfect example of true love never ends. They both together make a perfect couple. Ali Zafar and Ayesha are amongst the lucky couple who found their love in teenage and their bonds grows deeper every day.