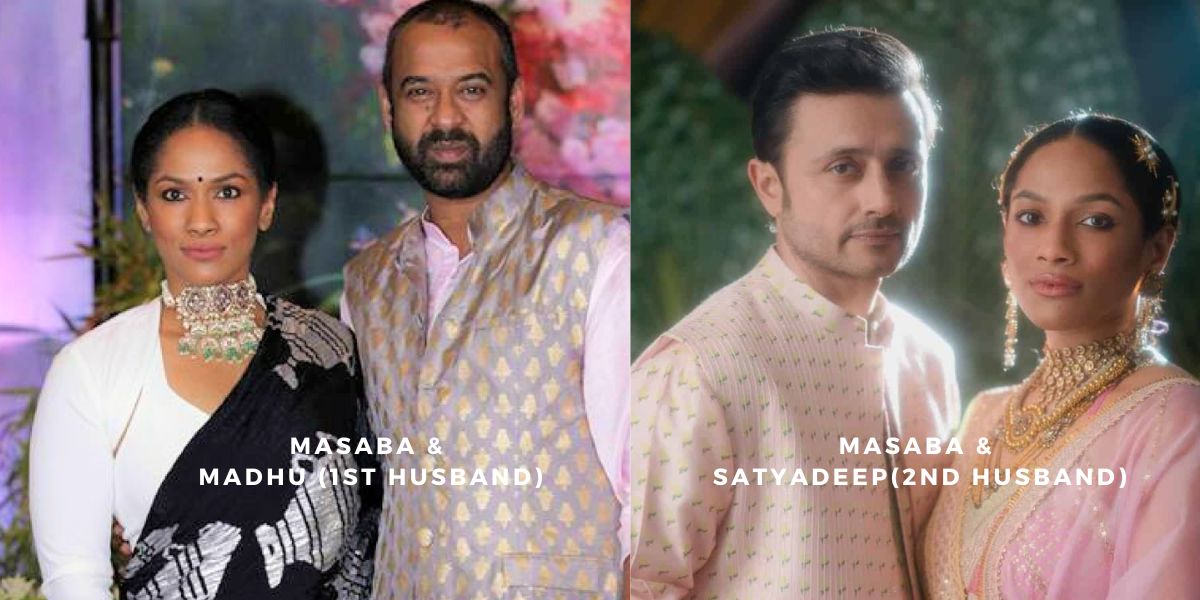 The iconic fashion designer of Bollywood Masaba Gupta is not an unknown personality. We know Masaba because of her controversial mother Neena Gupta. Although Masaba is a "love child" not a biological child of Neena Gupta and Vivian Richards(West Indies Cricketer). But here we are not talking about her biography. I am telling you the love story of "controversial child" Masaba Gupta. She fell in love with the famous filmmaker Madhu Mantane. Masaba married to Madhu in 2015 & got divorced in 2019. Again she married secretly Satyadeep Misra on 27 January 2023. So here is Masaba Gupta & Madhu Mantane's love story, divorce & remarriage.
Who is Masaba Gupta?
Masaba is an Iconic fashion designer of Bollywood. She is known for her creative dress design. And more important Masaba is famous for being the daughter of unmarried parents Neena Gupta & cricketer Vivian Richards.
Masaba's parents never married, they spent life through live-in-relationship. In childhood, Masaba wished to become a tennis player. But at the age of 16, she quit the dream.
And inclined towards the fashion industry. At the age of 19 years, Masaba tried her luck in LAKME FASHION WEEK. And after that, she never looked back. Now famous celebrities like Shahid Kapoor, Sonam Kapoor, are her favorite client.
Must-Read Love Story
How did Masaba Gupta & Madhu Mantane's love story journey start?
Although Masaba Gupta became part of Bollywood after entering in the fashion world. Many actors & actresses approach her for a designer dress. In the meantime, Madhu came in contact with Madhu Mantane.
He is a Bollywood film producer. Madhu has produced many famous films as Ghajini, Rakta Charitra, Mausam, Lootera, Queen, Masaan, etc.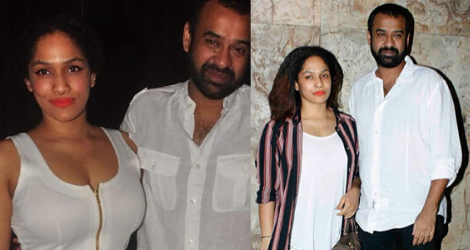 While producing films Madhu Mantane approached Masaba for the dress designing of his heroine. In this way, their friendship turned into love and then marriage.
Masaba Gupta & Madhu Mantane's love story began after the breakup of Madhu's Ex-girlfriend Nandana Sen
But before dating and marrying Masaba Gupta, Madhu was in a relationship with Nandana Sen. Madhu and Nandana spent life together for 9 years. There were in live-in-relationship.
And planning to marry soon. But Nandana Sen wanted to shift in New York after marriage. And Madhu did not want to shift there because his career was expanding in Mumbai.
In 2012 Madhu Mantane & Nandana Sen quit the 9 years long relationship. Then Madhu was searching for a new life partner. And he came to know Masaba. And Masaba Gupta & Madhu Mantane's love story journey started.
Masaba Gupta & Madhu Mantane's engagement
Masaba and Madhu were deeply in love with each other. And Madhu was looking for a romantic chance to propose Masaba Gupta. While Madhu was in Udaipur he was searching for a precious ring to propose Masaba.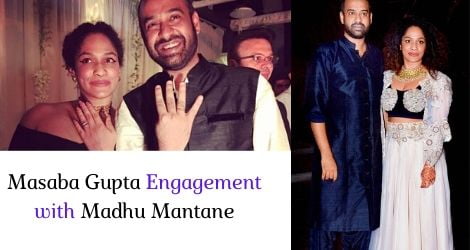 But unfortunately, he did not get the ring. Within two days Madhu gave the order to make a designer ring. Then he proposed Masaba. And in March 2015 Masaba got engaged to Madhu Mantane.
But only selected friends of Madhu were present at the engagement. Because the couple wanted to keep the engagement simple without any pomp and show.
Masaba Gupta & Madhu Mantane(first husband) marriage
In November 2015 Masaba Gupta & Madhu Mantane tied the marriage knot. Before marriage, the couple was in confusion about where to marry. They were busy selecting a marriage destination.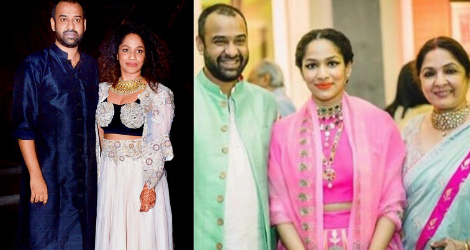 But in the last, they decided to marry in India. From the sangeet ceremony to the reception party, the function was a grand hit. Many celebrities attended the event.
Masaba Gupta & Madhu Mantane divorce
After 2 years of a married relationship, Masaba and Madhu were looking for separation. Nothing was good between the couple. That is why in 2018 they announced their separation joint statement. Masaba informed about the separation and divorce on her official Twitter account.
After consulting their parents and a relationship counselor they finally ended the relationship in 2019. Although her mother Neena Gupta was tensed and panicked about the divorce of her daughter Masaba.
How did Masaba Gupta & Satyadeep Misra relationship start?
Masaba Gupta met Satyadeep Misra while shooting for the show "Masaba Masaba" for Netflix in 2020. Satyadeep played the role of her X-boyfriend in the show. And in this their dating start. The couple announced their relationship officially on Instagram.
Whereas Satyadeep Misra had married Aditi Rao Hydari earlier. Then he took divorced Aditi in 2013.
Masaba Gupta marriage to Satyadeep Mirsa (second husband) on 27 January 2023
All right after lots of heart break Masaba & Satyadeep decided to give their relationship another chance. The couple married secretly in the presence of 80-85 guest. Masaba & Satyadeep wore pink dress. The couple was looking adorable.
Must-Read Love Story
Conclusion
Because Neena Gupta spent her life as a single mother. And her daughter's upbringing was challenging. Somewhere like her mother Masaba's destiny is unfortunate in love. From falling in love to marriage and divorce Masaba felt traumatized. Although her love life is incomplete. But the career is bright.