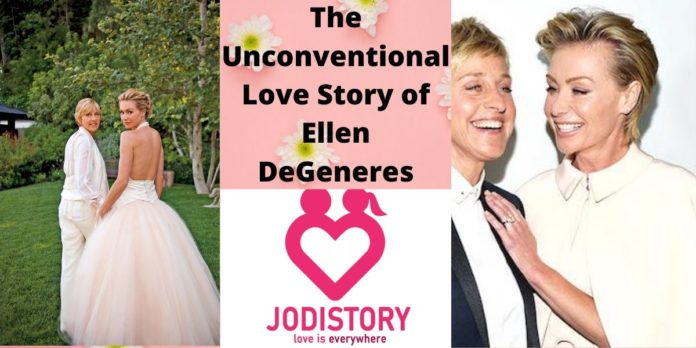 Love is blind. No age, no flaws, no gender not even society's blasted rules matter when one is in love. Ellen DeGeneres Love Story proves it. Ellen DeGeneres and Portia De Rossi are one of the most long-lasting couples of Hollywood. Not only they've had an exceptional career but an exceptional lesbian love story too.
How did the two defy rules in love? Scroll down to unleash the answers.
Must Read the following:
Ellen DeGeneres Love Story is "love at first sight"
The tale began in 2000. The duo met at a party and Rossi fell for Ellen in the blink of an eye. Ellen also felt the spark between them. However, it took years for them to actually confront their feelings towards each other.
Ellen had already opened up about her gay status. But, Portia was in a relationship with Francesca Gregorini did not reveal her relationship. But, then fate reconnected the duo and hence an unconventional tale began!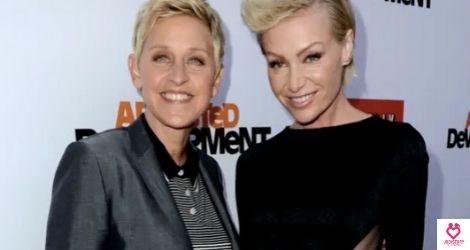 Ellen and Portia start dating
The duo started seeing each other in December 2004. In 2005, they opened up about their relationship. For Portia, it wasn't an easy thing to do. She was afraid that her gay status would affect her career.
However, Ellen's support helped her overcome her insecurities. The couple moved in together in 2005 and decided to take their relationship to the next level.
Ellen DeGeneres and Portia De Rossi's marriage
In 2008, California's Supreme Court overturned the ban on same-sex marriage. The couple in an interview revealed about their impending marriage.
On August 16, 2008, the brides exchanged the sacred vows. The wedding took place at their Los Angeles residence. The intimate ceremony saw the presence of only 19 people which included their close friends and family.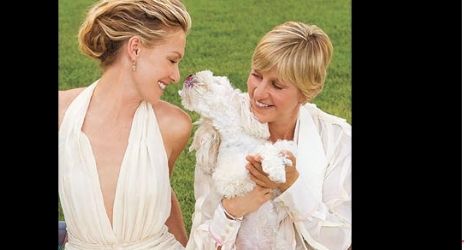 Life after marriage for Ellen and Portia
Portia officially changed her name in 2010 from Portia De Rossi to Portia Lee James DeGeneres. However, her professional name is still the same. Around 2013 the divorce rumours started circulating but Ellen claimed those as baseless.
The couple hasn't got children but shares the love for dogs. When asked about being mothers, they say, "We already are." They've got a puppy named Kid. The two see each other as best friends in love who never lie to each other.
Till date, the couple's going strong with the bond strengthening with each passing day.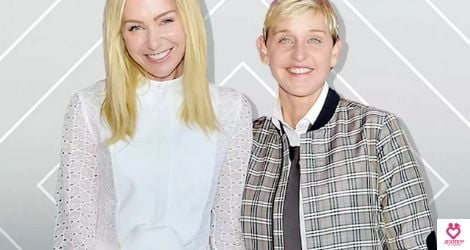 Must Read the following:
Conclusion
Surely Ellen DeGeneres Love Story is unconventional yet adorable. The couple gives major couple goals to people. They preach about accepting love as it is and embracing every aspect of it. They had to fight against the odds and they did, amazingly well though. No wonder, Ellen DeGeneres and Portia are the most adorable couple of Hollywood.