Kevin Jonas is an American musician, singer, songwriter, actor and entrepreneur. The man rose to fame with the famous rock band Jonas Brothers, alongside his younger brothers Joe and Nick. Danielle Jonas is an American reality television personality and the owner of a jewellery company, Moments. What about Kevin and Danielle Jonas love story.
The man and woman got together when they were quite young and have stayed together ever since. But how did this cute couple meet? Was there a love story? When did they marry? Any scandals?
You'll find answers to all such questions when you scroll down.
How did Kevin meet Danielle?
Kevin and Danielle's first meeting dates back to 23 May 2007. They met while vacationing at the Bahamas. Danielle, a hairdresser, at that time, was spending holidays with her family.
He remembered seeing her on the beach, with a flower in her hair. Kevin was besotted beyond words.
Must Read the following love stories:
Danielle's in a mess
So, Kevin approached Danielle with a request to hang out. She admitted not having a clue about Jonas Brothers (because it was early enough in their career).
Since Kevin lived in L.A that's a thousand miles away, she found herself in a mess. She did not want to waste her time with a boy (whom she was probably never going to see again) while vacationing with her family.
But the 19 yr old popstar kept pursuing her.
Kevin obtains Danielle's phone number
Kevin charmed his way to her older sister and apparently, got Danielle's phone number. He actually figured out which flight she was boarding and what time it was landing.
As soon as she landed in New Jersey, he called her and thus, began a blossoming love story between the two.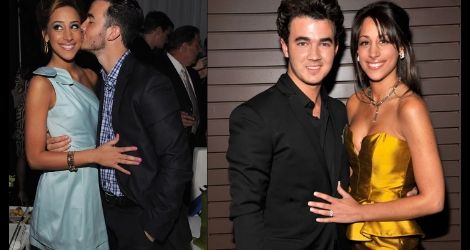 Kevin starts cyberstalking her
Kevin did not want to let Danielle go out of his sight. He was aware of the fact that when you meet somebody, you're supposed to call two or three days later.
But the man trusted his instincts and kept chasing her. Kevin cyberstalked her and later stated the incident as creepy and a little overboard.
She avoided him twice but later she agreed.
Nick Jonas prophesies Danielle as his sister-in-law
In the Jonas Brother documentary, Chasing Happiness, the show captures a really sweet camaraderie between the two.
When Kevin is talking to Danielle on the phone, his younger brothers keep disturbing him with pro-dating tips.
Kevin snapped at them but it's the last part that strikes through the heart.
Nick defends himself by claiming that they got excited just because," She's your wife."
Kevin's grand proposal on July 2, 2019
After performing for a show in Vancouver, he took an overnight flight to New Jersey. It was a tough night for him because he was going to ask the biggest and the most important question of his life.
On early Wednesday morning, he appeared at her doorstep with a three-carat-cushion-cut-diamond ring.
Danielle couldn't explain her feelings (shocked, surprised and of course, ecstatic, al at once). For a while, she didn't see the ring because she couldn't believe what he just asked her.
Obviously, Danielle said yes 500 times super fast to the grand proposal, making Kevin the happiest man in the world.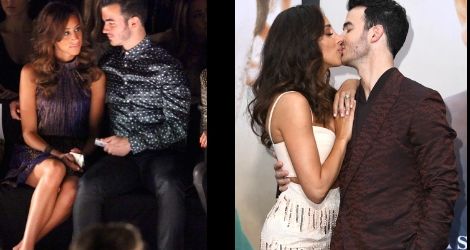 Kevin and Danielle Jonas Love Story began
Shortly after their engagement, the couple wanted to tie the knot.
However, people ill-advised them just because they were young. Though there was no pressure or rush to get married, the couple decided to do it anyway.
Kevin and Danielle's wedding
The couple exchanged vows on Dec 19, 2009. The traditional wedding ceremony took place, Oheka Castle, with 400 guests in attendance.
Danielle wore a strapless tulle and Chantilly lace Vera Wang gown complemented with a silk and crystal flower in her hair.
The flower was the one she wore when the gorgeous duo met for the first time.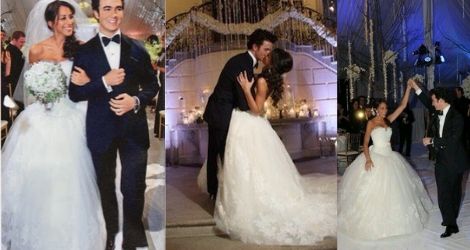 Kevin Jonas Kids: The Jonas Family
The adorable couple is blessed with two daughters. After the couple settled in their new Morris County home, they welcomed their first child, Alena Rose in February 2014.
Alena had the privilege of becoming an elder sister when the couple welcomed their second daughter. Valentina Angelina arrived in the family in October 2016.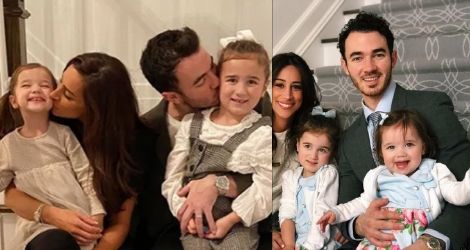 Must Read the following love stories:
Kevin and Danielle's " A happily ever after"
The husband and the wife have a perfect family, perfect home and obviously love to hold it all together. The couple has always been open about their profound love for each other.
And its love that keeps them going strong. Hope you enjoyed reading Kevin and Danielle Jonas love story what you think?