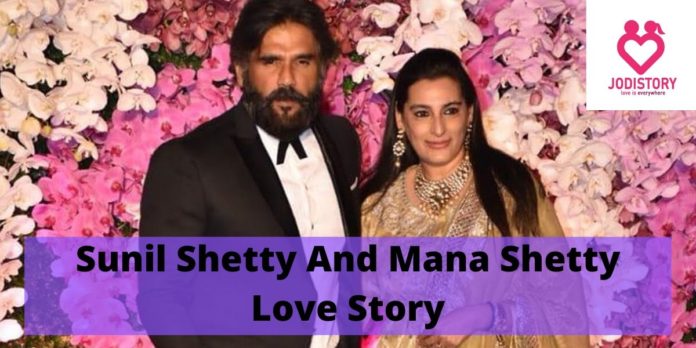 Who doesn't know Sunil Shetty? The action hero Suniel started his Bollywood career in the year 1992. His first film was Balwaan – a different Bollywood potboiler in which he featured as an action hero. In the year 1994, Sunil had his best performance in Dilwale in which Ajay Devgn was also an action hero made him a superstar. Sunil's performance in this film made him be the nominee of the Filmfare award. Between all this he also has an epic love story. Sunil Shetty And Mana Shetty Love Story is full of a fairy tale. Are you excited to know all about their love story? If yes then stay tuned with us and make your time memorable. In this article, we will be discussing about how Sunil Shetty And Mana Shetty Love Story started. When and where they married.
Sunil married Mana in 1991, after a fascinating 9 years of relationship. And they are together for about 30 years. would go on to be his wife for over 25 years.
How they met? Love at first sight
Suniel was a long-haired full of swag boy when he came to see Mana for the first time at Pastry Palace. Suniel Shetty and Mana struck a romantic place for the first time at a party in the year 1982. At this Mana was still in her late teens, while Suniel was just 21. He astonished by seeing the beauty of Mana.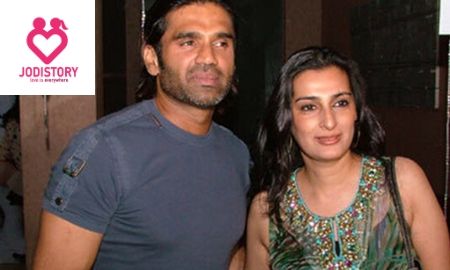 must read love story of –
It was not the very first time they know came to each other by their common friends, "She was different," said Suniel in a talk show. After a few more meets and Shetty realized that he has to share his feelings with this pretty girl.
Suniel then asked his common friend to organize a party and to invite Mana. After that party, when the duo went on a bike ride together in the romantic night, they both realized that they had fallen for one another.
Their Cultural Differences
They both started dating each other and came closer day today. But Mana's name was a Monisha Kadri due combination of to a typical Gujarati Muslim father and Punjabi Hindu mother. While Suniel was from a Tulu-speaking majority of Karnataka.
This big cultural difference affects their love life.They both worried that the wedding might crumble owing to recognized stark cultural differences.
It took 9 years for the pair to get approval from their parents for marriage. The cute duo decided it was time to get married in 1991.
Sunil Shetty And Mana Shetty Marriage
The pair got married in the year 1991 . Suniel is one of that celeb who got married before coming to Bollywood. Remembering the wonderful days of her marriage, Mana said:
"Our wedding was a great fun – it was about ten-day function!"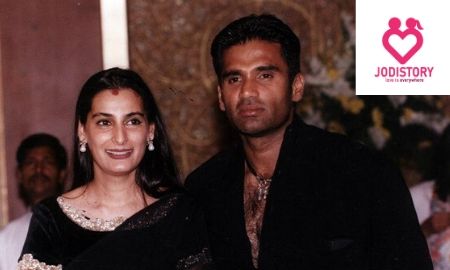 After a long nine years, we totally came to understand how much fun the wedding would have been. And both decided to tie the knot on the day of Christmas.
Happily Married Life
The pair had their very first child, daughter Athiya Shetty, in the year 1992, and had a son, Ahan Shetty, in 1996.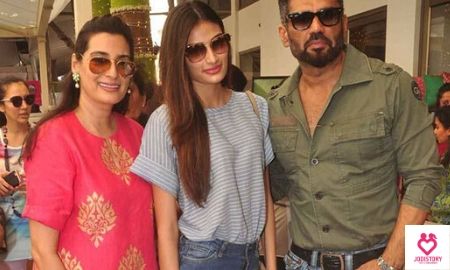 Suniel Shetty and Mana have been together for about 30 years , and they have never let fame to be fade in their love. Mana Shetty has spoken about how though he became an actor. After he became her partner. He is a simple man who never let his celeb status altered him as a person. Mana also adds that Suniel Shetty has always given her the flexibility and freedom to pursue her own dreams.
must read love story of-
Mana currently founded her own company of interior design and architecture. She is also running an NGO. Mana even has home-decor stores and is manager behind her husband's various business ventures viz. restaurants and hotels.
Conclusion
Though their cultural differences don't make them apart which is possible because of their True Love. They both know each other very well. Sunil Shetty And Mana Shetty Love Story is a perfect example of long term togetherness and faith in each other. We wish them the very best for the coming years. Comment down your views on their love story.