Are you an Ariana Grande fan? Do you keep wondering what is Ariana Grande Love Story Timeline With Husband Dalton Gomez? The power of Ariana Grande's career makes her one of the biggest stars on the planet, and with that comes a lot of publicity regarding who she is dating. Well, did you know that she mentioned a few of her ex-boyfriends in the song "Thank you, next"? She even got married secretly, which broke the hearts of millions of her fans.
Along with her early ascent to fame, the lady with the iconic ponytail and smooth singing is also well-known for her infamous dating history. Ariana appears to switch up her lovers more than her appearance!
A number of famous people have been in relationships with Ariana Granda. A few of whom she has collaborated with, and a couple of short-lived whirlwind romances have taken place too. From Jai Brooks to Big Sean and Mac Miller. Ariana has explored a lot of love options before settling down in the final love story.
Currently, she is happy in a relationship with real estate agent Dalton Gomez. How did her relationship timeline look? Ariana got married after her desperate attempts to find true love.
So, let's look at Ariana Grande Love Story Timeline With Husband Dalton Gomez. And find out the complete list of celebrities she dated before getting married!
Must Read Love Story
1. Ariana & Graham Phillips (2008-2011) first love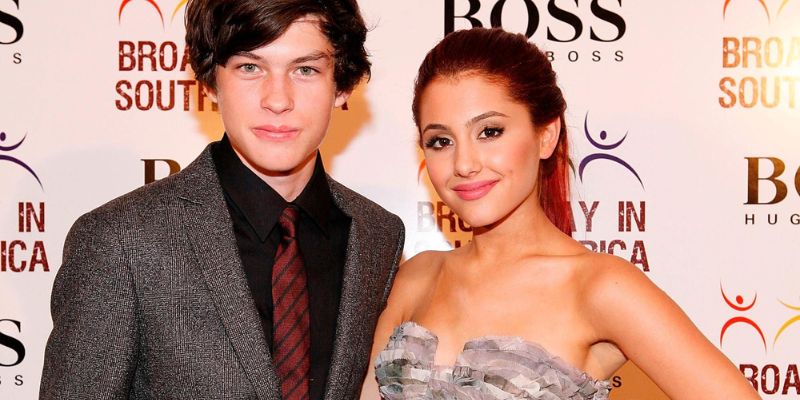 Following his first appearance on The Good Wife on CBS. Graham Phillips gained not only fame as an actor, but also the "God is a Woman" singer's heart. Ariana Grande's first and probably most popular boyfriend was Graham, as they started dating in their teens somewhere in 2008.
The pair wrote a song together named "Stick Around" during their work together on the sets of Broadway 13: The Musical. Following a year of friendship, Phillips and Grande started dating.
Ariana & Graham peacefully split in December 2011 after three years of dating. Which included a joint appearance at the 2010 Emmy Awards and countless duets. It was the first breakup in Ariana Granda's life.
2. Jordan Viscomi (2011-2012)
In 2011, Ariana started dating her Victorious backup dancer after her breakup with Graham. Before breaking up in February 2012, they dated for just a few months. The breakup left Ariana shattered as rumours say that Jordan had used her to climb the career ladder and gain popularity.
Ariana admitted in the reality show Just Jared that it was a "horrible, horrendous breakup." She also said, "I was crying through hair and makeup like I couldn't even pull myself together."
Therefore, guys, it is advised not to date your co-workers. It just gets more complicated!
3. Avan Jogia (rumoured to date in 2012)
Following her separation from Jordan, Ariana's on-screen kiss with her co-star went viral online. This led to speculation about her dating Avan Jogia.
While there hasn't been any formal confirmation of a real-life romance between the two, Ariana did admit on international TV that Avan was a great kisser.
4. Jai Brooks ( 2012-2014) is perhaps broken heart Bf of Ariana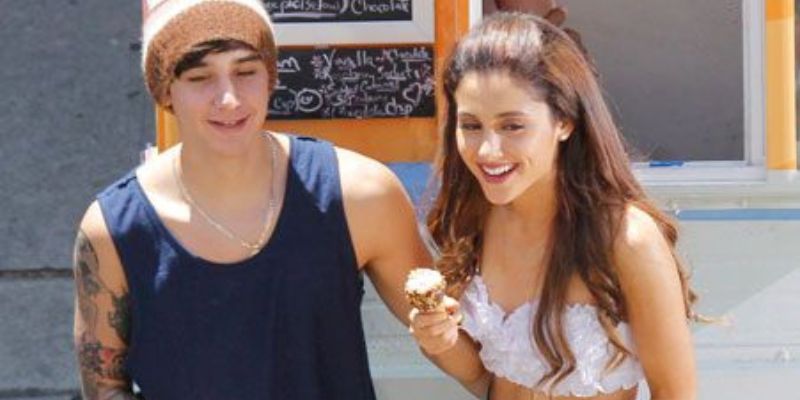 This is the first time that Ariana tried a long-distance relationship with the YouTube sensation Jai Brooks back in 2012. But they shortly broke up in the middle as Jai claimed Ariana had cheated on him with Wanted co-actor Nathan Sykes.
Jai had posted a slamming message which wrote, "Yes, I was cheated on. Yes, it does suck. Yes, I was left for another man. Nathan may be a top bloke or a sweet person, but what he did was just completely wrong".
Somewhere Jai was taunting Nathan. According to Jai, the reason behind his breakup was Nathan.
Further Jai in his social media post referred to Nathan.
"He interfered with my life and did not respect my relationship; his actions caused me to not be able to sleep at night and not see the world as a beautiful place.
Nathan, if you read this, when you hold her hand, you better hold it tight because you are holding my world. I do wish you two happiness and good life and hope everything works out."
Their relationship went through a hell of ups and downs. It didn't end peacefully either. There was a verbal fight between the fans of the couple due to the rumors that Jai didn't support his girlfriend during her grandparents' death.
After a brief separation, the couple got back together in early 2014 for a brief relationship. They dated for around six months before discreetly splitting up once more.
5. Nathan Sykes (2013-2014) became the reason for Ariana's earlier breakup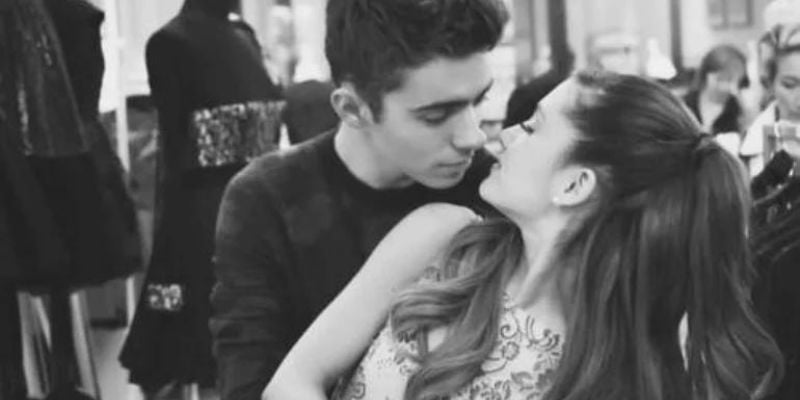 We will never know if Ariana was really cheating on Jai with Nathan or not. Shortly after breaking up with Jai, Ariana moved on with Nathan into a short-lived relationship. In February 2014, however, she confirmed that the two had a mutual breakup due to their busy schedules.
She confirmed in an interview that her relationship with Nathan ended on good terms and that they remained friends after the split. Whereas Jai considers Nathan his romantic culprit. Because Nathan stole her love of life Ariana Grande.
6. Big Sean (2014-2015) choose DRUG over Ariana Grande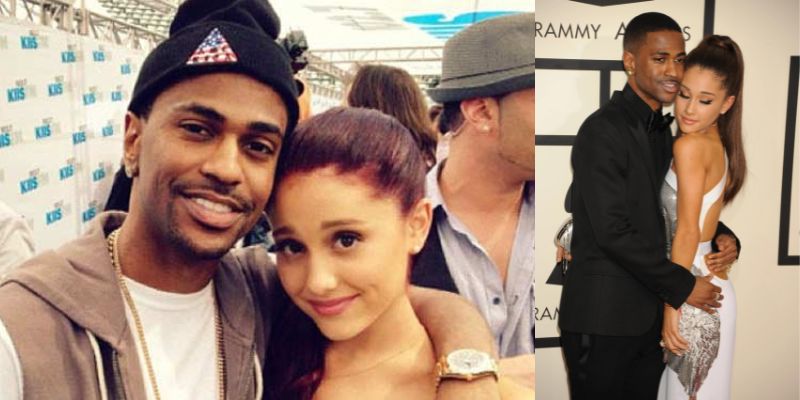 Ariana changed her boyfriend more than her makeup LOL! One after another OMG! Nonstop dating in Ariana's life. What can we call it? Topsy-turvy love life or anything else?
Ariana's relationship with Big Sean first gained media attention when they entered holding hands at the Grammy Awards in 2015. Big Sean banged up a romance with Ariana after his divorce from Naya Rivera in 2014.
In the months following Ariana and Big Sean's collaboration on Right There and Best Mistakes. The couple built a strong bond of affection for one another.
However, after dating for eight months, the couple broke up in April 2015. Rumour has it that this was due to conflicts in work schedules.
7. Ricky Alvarez (2015-2016)
Ricky and Ariana tried to keep their relationship as private as possible. But a scandalous CCTV footage of Ariana licking a doughnut outside a store and kissing Ricky went haywire viral. This is how her fans came to know about their relationship.
She later broke up with Ricky after dating him for almost a year in April 2016. She also confirmed that nothing was wrong between them. The relationship was just not working, and they are still friends.
8. Mac Miller (2016-2018)
This time Ariana had to break up with Mac Miller because of drugs. Oh, shit…what a piece of bad luck. In Ariana's life, love did not tired of giving a broken heart memory again and again.
At first, Ariana and Miller were just buddies who made music together. The couple was first seen holding hands in Encino, California, during a romantic sushi date in August 2016. That's when the couple came out about their relationship.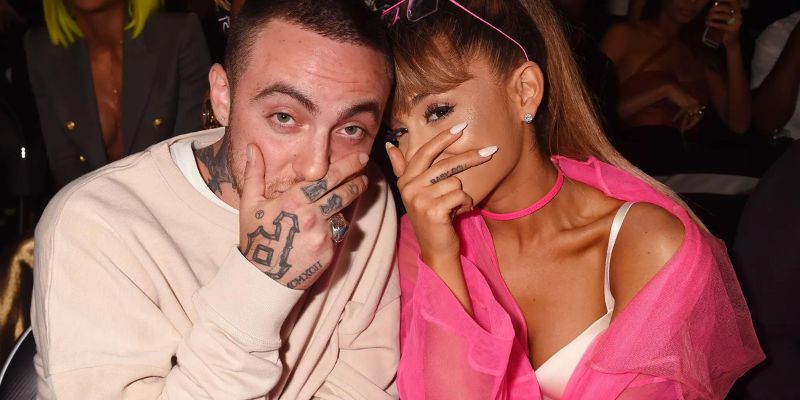 Mac Miller used to overdose on drugs and grow toxic in the relationship. Despite all the attempts by Ariana to support him, they had to split up 2 years later in 2018.
A few weeks after Ariana made their breakup official, Mac was detained on suspicion of driving under the influence of drugs. At this, a furious Twitter user accused Ariana of being at fault for his dangerous actions.
9. Pete Davidson (2018-2019) the last boyfriend of Ariana Grande
You can consider Pete Davidson the last boyfriend of Ariana Grande. Pete Davidson and Ariana Grande had a fast-paced romance in 2018 that culminated in getting engaged.
But it wasn't meant to be. Ariana thought to give the relationship a final shot. But fate has planned it another way.
After learning of the death of her ex-boyfriend, Mac Miller, Ariana felt that her connection with Pete was developing too soon. She needed time to process his death.
The 28-year-old singer eventually said in a Vogue interview that her relationship with Pete was "unrealistic" and, therefore, they had to split up. Ariana Grande and Pete Davidson are allegedly breaking up after five months of dating.
After 9 breakups Ariana thought to take a last romantic chance.
10. Finally Ariana Grande Love Story is going happily with husband Dalton Gomez (2020-present)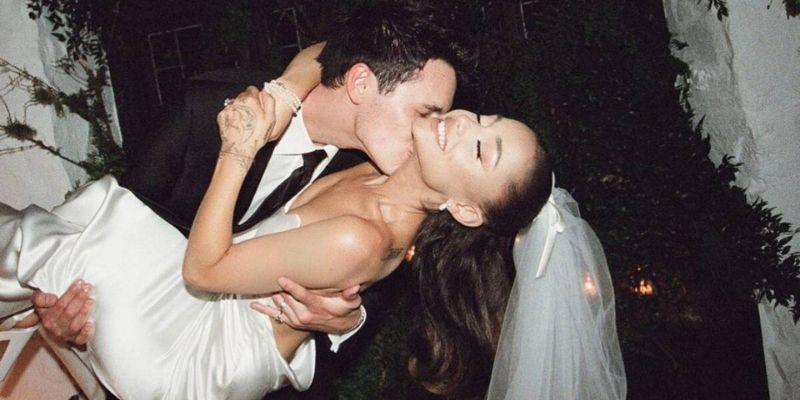 After tons of broken heart feelings, break up and move on to the dilemma. Finally, God heard the prayer of Ariana. She got her prince charming in 2021. Yahoo! celebration time came in Ariana's life.
Ariana had been dating Dalton since January 2020. Just a month later, she was spotted kissing a mystery man. Finally the mystery man became her prince charming!
In the first lockdown, they spent time quarantined together, and their romance grew stronger. After that, Ariana made the boldest decision of her life. They decided to make their love story official.
In a secret ceremony on May 15, 2021, Ariana Grande married Los Angeles real estate agent Dalton Gomez, whom she had been dating for over a year. They were seen together in her songs like "Stuck With U." It is also rumored that she brags about her sex life with her husband in the song "Positions."
Must Read Love Story
Conclusion to Ariana Grande Love Story Timeline With Husband Dalton Gomez & 9 Ex-Boyfriends
As you can see, the American sensation and Grammy Award-winning singer Ariana Grande has struggled a lot since her teen years just to find true love. She went through a lot of failed relationships but kept her hopes up for love. This is how her love stories with so many celebrities ended up bringing her to the love of her life. She is finally living the love life she has wanted since her teenage years and is happily married to Dalton.