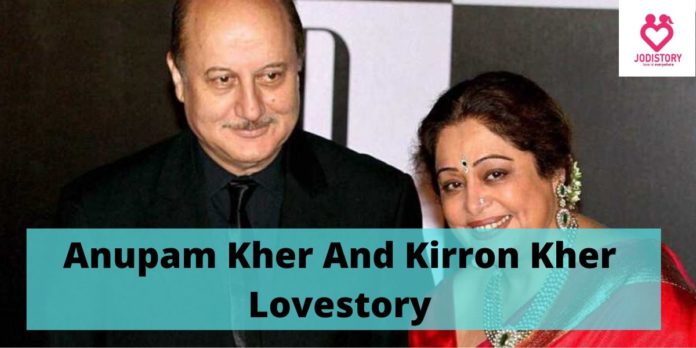 Well, Anupam and Kiran Kher needs no introduction. They are amongst the famous celebrity of Bollywood. In the past few years, Anupam's work in Indian cinema has given many characters from villain to comedian. Kher started his acting as a theatre actor and then he becomes a host of the talk show. While on the other side Kiran Kher had some iconic roles in Bollywood. Well, this all may be aware of their social life but many of them are unaware of their love life. They both had an adorable love story. So are you excited to know Anupam Kher And Kirron Kher Lovestory?
If yes then stay tuned with us and enjoy their love story. Anupam's marriage to Kirron has been doing good for over 3 decades. Scroll down for more
Both were already Married
Anupam and Kirron were married before they met each other. Anupam was not happy with his arranged marriage in the year 1979. On the other hand, Kirron Kher was also married to a businessman in Mumbai Gautam Berry for about five years. Gautam and Kirron had a son, Sikandar together.
How they met for the First time
Anupam Kher And Kirron Kher Lovestory began when they met in Chandigarh. They both in the same group, Chandigarh Theatre Group. Anupam who was not happy with the wedding met Kirron as a good friend in the year 1980. Both then visit a lot together for various shows and plays.
must read Love story of –
They were very good and close friends, but inside both knew that their friendship would surely turn into romance one day. Kirron on her friendship adds: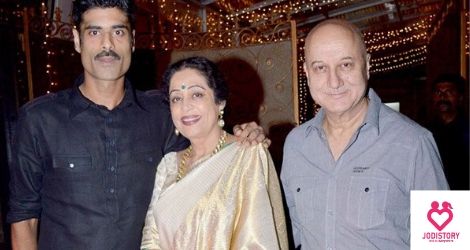 "We both were in the theatre in Chandigarh and were the best of friends. I know everything about him but he did not know about me, up to the extent of knowledge which women he was planning to patao. It was fun and we both worked together well too. But we had no attraction towards each except friendship."
To get a great acting proposal, Kirron Kher came to Mumbai in the year 1980 and met her first husband. After knowing him, he marries him in 1980.
Who Proposed first?
After marriage Kirron was life was not smooth. Both were going through the same personal problems. And as they were sharing the same passion for acting, they two were in love. Anupam Kher was the one who hurriedly expressed his feeling and proposes Kirron. Remembering that Kirron said:
"Anupam came and knocked on my door, and claimed, " I want to talk to you." He then told, "I think I have fallen in love with you." And immediately there was this immense, intense turn, chemistry exploded".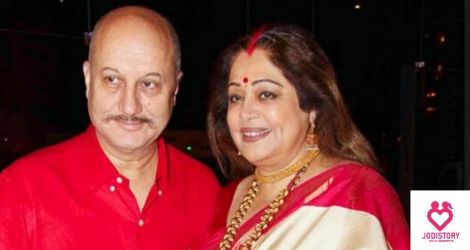 "I had divorced and married him. He had nothing then."
Their Wedding
Anupam and Kirron married in 1985. Two of them had taken divorced from their respective husband/wife by then. It was a close ceremony in the Gurgaon, and they called every good friend from their theatre community.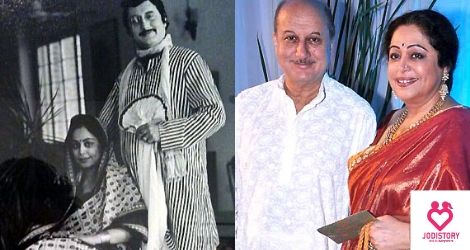 After getting together for forever, the newly married couple moved together to Mumbai along with Sikander, Kirron's child from the first marriage. Kirron retained the charge of Sikander after her divorce from Gautam and offered her 'Kher' surname to Sikander.
Opposites forever
Anupam is much more simple while Kirron loves to decorate herself. Kirron belongs to a well-off family, and Anupam was a middle-class background boy. They both are just opposites of each other and this is the reason they are happy from their married life.
must read Love story of –
Kirron adds in one of the talks:
"But we are full opposites… I'm a control freak and the organized one whereas he's the calmest and forgetful one. I'm always fighting with him when he usually forgets to put the toothpaste cap back on or when he forgets to lock the bedroom door."
Conclusion
As we know opposites attract they both are a perfect example of it. Knowing all the odds, the pair had warm chemistry with each other. They both are friends before husband and wife. They are together for 32 years. We wish them the very best for the coming years. We hope you loved Anupam Kher And Kirron Kher Lovestory. Comment down your views.