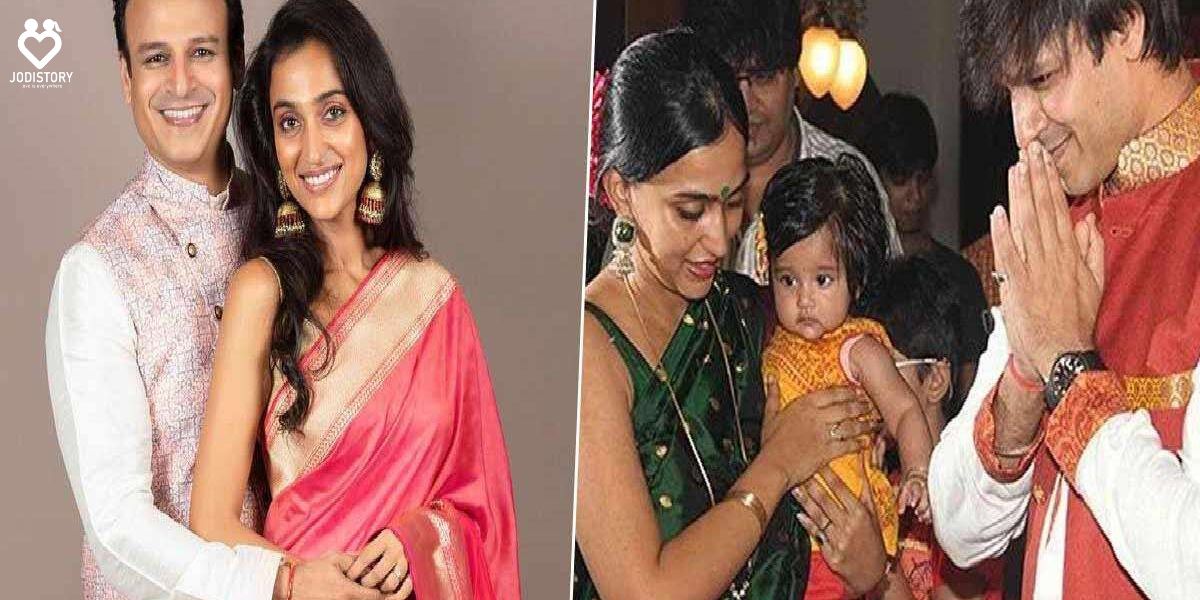 Who does not know Vivek Oberoi, a handsome actor in Bollywood? If you have seen movies like Masti,Grand Masti,Kaal, then you must remember Vivek Oberoi. But today we are not here to talk about his movies or acting. We are here to read about his personal life. Yes, it is time to know about his love, breakup, broken heart, and TRUE LOVE of life. Scroll down to enquire about Vivek Oberoi and Priyanka Alva's Love Story. It was the talk of the town back then!
Both of them had an arranged marriage. Their Love story proves that true love can be seen in an arranged marriage also. Vivek Oberoi wasn't ready for the marriage with Priyanka Alva.
But, something happened which couldn't stop him to fall in love with her! Come, Let us know more about their love story.
Who are Vivek Oberoi and Priyanka Alva?
Vivek Oberoi was born on 3rd September 1976 in Hyderabad, Telangana. He was born into a Punjabi family. Vivek's father, Suresh Oberoi is a Punjabi and his mother is a Tamilian. So, he is also fluent in the Tamil language!
Vivek Oberoi made his debut in the film "Company". He also starred in the films like "Kaal", "Dum", "Saathiya" etc. People used to love his presence on-screen. He looked so dashing and appealing!
Priyanka Alva Oberoi was born in 1983 in Bengaluru. She is the daughter of the former Karnataka minister, Jeevaraj Alva. Her mother is a renowned social worker, Nandini Alva.
Priyanka Alva is a simple and sweet south Indian woman. Looking at her simplicity, Vivek decided to marry her the same year he met Priyanka Alva
MUST-READ LOVE STORIES
Vivek's breakup in 2005 with Aishwarya Rai made him against love and marriage!
Everybody knows how much Vivek Oberoi loved Aishwarya Rai Bachchan. Back then, both of them were the adorable couples of the B-town.
Aishwarya Rai dated Salman Khan before Vivek Oberoi. She faced a lot of violence and torture when she was with Salman Khan. After she broke up with him, her career was shattered!
People started talking badly about her! Then, Vivek Oberoi was the one who held her hands during times of hardship. He adored Aishwarya Rai at that time.
Vivek Oberoi was so serious about her that he wanted to marry her! But, suddenly Vivek Oberoi was shocked by the news that Aishwarya Rai is marrying Abhishek Bachchan and they have been dating for so long! Vivek Oberoi and Aishwarya Rai broke up in 2005.
Because of this, Vivek Oberoi was hurt and broken from the inside. His belief in love and marriage got shattered! He got hatred against "Love". After that, he went to London and started living alone there!
Vivek Oberoi met Priyanka Alva in Florence, London in 2010
Though Vivek Oberoi was not interested in love and married life. But, his mother was concerned about it as a typical Indian mother does!
She used to ask Vivek Oberoi to look at some girl for marriage and he used to refuse every time! One day, Vivek Oberoi's mother insisted he meets a girl named Priyanka Alva who was also in Florence at that time.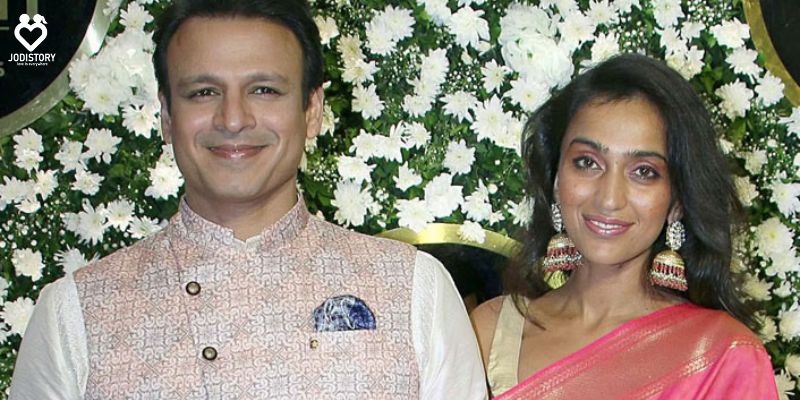 Vivek Oberoi refused at first. But, because his mother insisted a lot on him he had to meet her! Then, he decided that the time when he will meet Priyanka. He will just do a formality and will portray himself so badly that she refuses to marry him!
Both of them met in Florence in a restaurant and everything went against Vivek's plan! He was amazed by Priyanka's simplicity. She came to meet Vivek Oberoi with no makeup and nothing too classy!
Vivek Oberoi couldn't stop himself from falling in love with that sweet girl. Moreover, the way she talked to Vivek Oberoi. It took away his heart! The next day he decided that she is the woman with whom he will live the rest of his life and told his mother about this!
In just 20 minutes, he fell in deep and true love with Priyanka Alva. The same year he finalized to marry her.
Vivek Oberoi and Priyanka Alva's marriage in 2010
Vivek Oberoi and Priyanka Alva decided to marry in Bangalore, Priyanka's hometown! On October 29, 2010, the wedding ceremony was held. It was a rich and lavish marriage!
Both the bride and the groom were dressed in expensive Indian wedding attires. Vivek Oberoi wore Tarun Tahiliani's wedding trousseau and Priyanka wore a maroon lehenga with precious stones in it.
She also wore jewellery that was made up of crores of rubies. They spent around 1 crore on the wedding decoration. It was a Punjabi and south Indian mixed-theme wedding. The whole decoration was royal-themed!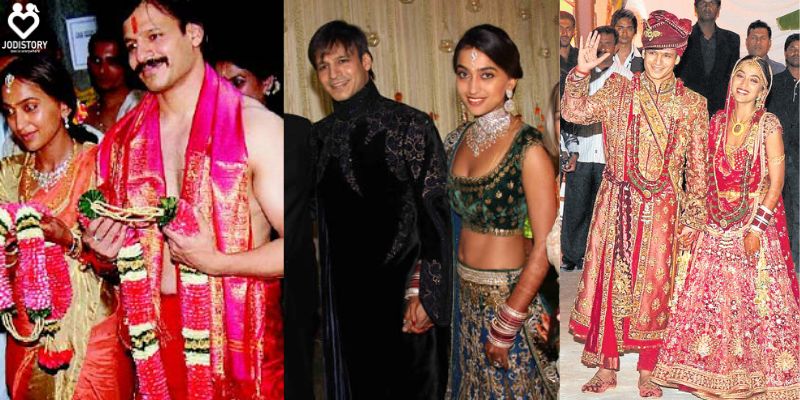 The catering, Mandap decoration everything was so lavish! Can you believe that the couple spent 11.45 crores on their wedding invitation card?
The invitation card was made up of Ganjifa. It is the most expensive painting of Karnataka in which the words are scribbled with gold!
Oh My God, Vivek Oberoi made his marriage the memorable one for everyone!
Vivek Oberoi's children, a son, and a daughter
In the year 2013, after 3 years of their marriage. Priyanka Alva and Vivek Oberoi had a baby boy. They kept his name as Vivaan Veer Oberoi.
It was a happy moment for them as a couple. Now, they became parents so it was also a huge responsibility for them!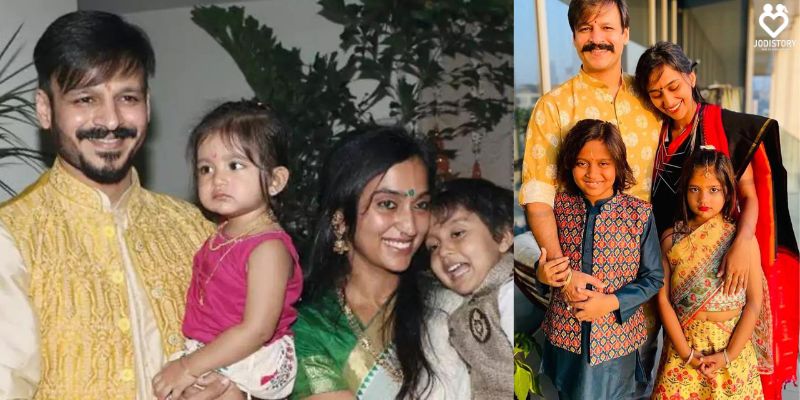 Later, in 2015 the couple was again blessed with a beautiful baby girl. Her name is Ameyaa Oberoi. She is the youngest child and very cute!
In an interview, Vivek said that his daughter doesn't like it when he kissed anybody else in films! Ameyaa is obsessed with her father and loves him so much.
FAQ's
How Vivek Oberoi met his wife?
Vivek Oberoi met his wife Priyanka Alva in Florence, London.
Who did Vivek Oberoi marry?
Vivek Oberoi marries Priyanka Alva daughter of former Karnataka Chief Minister.
How many kids does Vivek Oberoi have?
Vivek Oberoi had two kids. A son and a daughter. Vivaan and Ameyaa.
MUST-READ LOVE STORIES
What message do Vivek Oberoi and Priyanka Alva's Love Story give us?
Vivek Oberoi was in his phase where he was away from the feeling of love, affection and attraction! He simply wanted to live alone throughout his life.
But, if someone is blessed by a soulmate in this world then they meet him or her anyhow! The same happened with Vivek Oberoi. Priyanka Alva and Vivek Oberoi didn't have any connection but are husband and wife now! That's strange and it is what is true love!
Priyanka Alva made him fall again in love. Made him drown in the feeling of affection and togetherness! A right person is enough to make anybody heal from pain and grief.
For Vivek, Priyanka was the right person for him! Vivek Oberoi and Priyanka Alva's Love Story gives us many love lessons!
What lesson did you learn from Vivek Oberoi's Love Story? Share it below in the comments section!