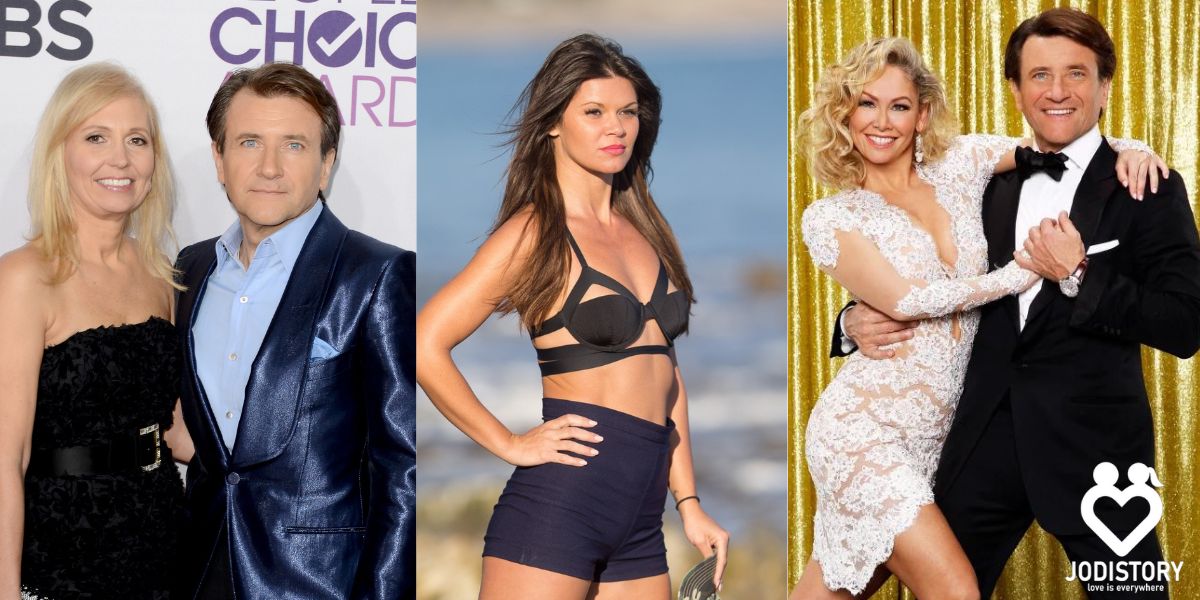 Sometimes people give up on love and life after getting their hearts broken. And often they become hopeless. The thought of loving once again is most scary and difficult to think about. Robert Herjavec and Kym Johnson's love story is similar to this fact.
Imagine having a very peaceful married life with amazing kids. Now imagine that your mistakes take it all away from you. Quite scary isn't it?
Sadly, Robert went through a divorce and gave up on finding love again. To find out what happened in Robert Herjavec and Kym Johnson's love story, continue reading this title.
Who is Robert Herjavec?
Robert Herjavec is a Croatian business professional. He is one of the sharks in ABC's Shark Tank. He was born in 1963. Robert is the founder of The Herjavec Group. This is a company based on information technology and computer security.
He has appeared as a regular on the Canadian series Dragon's Den from seasons 1 to 6. He loves to play golf and run. One of his passion is car racing.
Unfortunately, sometimes love makes us go through very harsh moments. Robert Herjavec had to go through many such events.
MUST-READ LOVE STORIES
Robert Herjavec's first wife, Diane Plese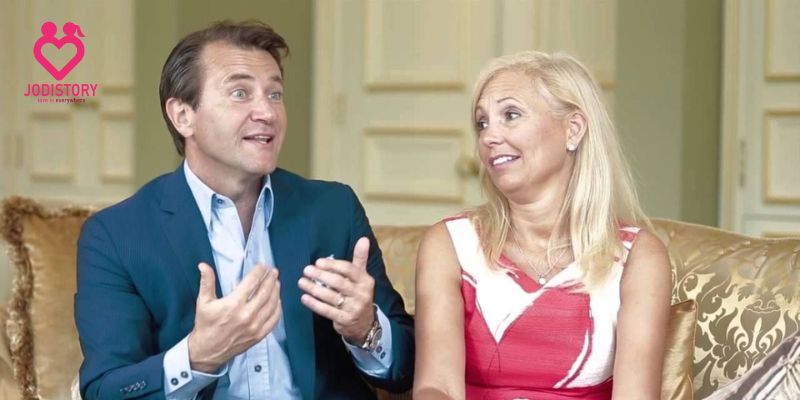 Diane Plese is an optometrist. She completed her college degree in the 70s. Plese was born in Canada in 1962 to an immigrant family that came to Canada from Croatia. Diane was a very brilliant student.
Robert Herjavec & Diane Plese's first meeting in 1988
Diane first met Robert in 1988 in an eye clinic. Since they both shared a Croatian heritage, they got to talking. They started bonding during their first meeting really easily. Additionally, It was quite natural for both of them.
Robert Herjavec started dating Diane Plese
After the first meeting, the couple started going on many dates. Dating made them realize that everything between them is working smoothly. So they made it official and came into a relationship with each other.
Plese was very realistic and Herjavec was happy, excited, and motivated. Easily, they balanced out each other's traits. They officially dated for two years.
Diane Plese & Robert Herjavec's Marriage in 1990
After two years of dating, Robert and Diane got married in 1990 at a Croatian church in Mississauga, near Toronto. They took their vows and started building a life together.
Robert Herjavec & Diane Plese's three children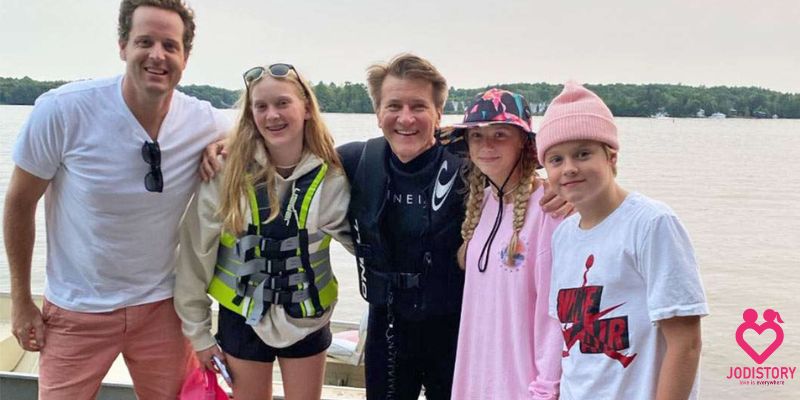 The couple welcomed their first child, a son, Brendan, in 1993. After Brendan, they had two daughters, Skye and Caprice in 1996 and 1998 respectively. Initially, the kids had a modest lifestyle until Herjavec sold BRAK Systems in 2000.
Since they got rich Diane left her job. Happily, she became a full-time mom while the kids went to private schools.
After 24 years of marriage, Robert cheats & divorces Diane Plese in 2014
Twenty-four years long marriage gives a notion of a strong relationship. However, when Robert cheated on Diane with Danielle Vasinova in 2014 it showed the reality. The couple got divorced in 2015.
Diane was unaware of his infidelity in 2014. But when she finally came to know a heated divorce battle took place. Of course, Diane wanted as much as she could in her divorce settlement.
Unfortunately, Diane just couldn't live with Robert anymore. His affair ruined the entire family. Robert's kids also stopped talking to him. He has said that he contemplated killing himself.
Unstable relationship between Robert Herjavec & second girlfriend, Danielle Vasinova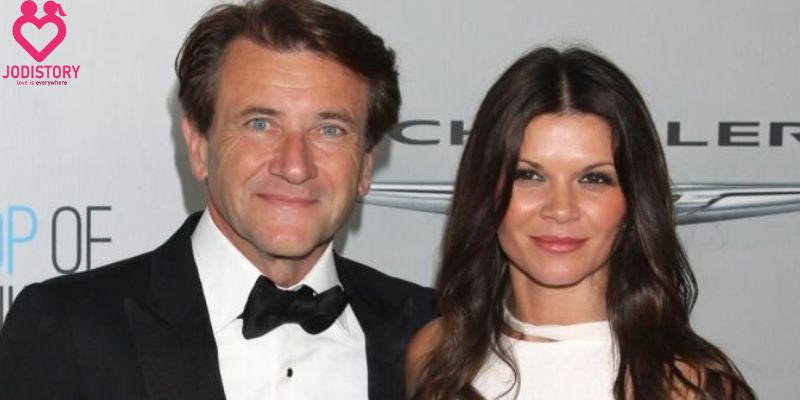 Robert and Danielle's relationship wasn't very stable. Unfortunately, Robert wanted to end things with Vasinova.
However, she didn't want to leave him at any cost. But in the end, Robert made the final call to leave her. According to a report they had a turbulent relationship that only lasted a year.
Robert Herjavec's third girlfriend, Kym Johnson
Kym Johnson is an Australian and professional ballroom dancer. She has appeared in Dancing with the Stars as a professional dancer. She was previously engaged to an Australian cricket player, Shane Watson.
Kym was born in 1976. She actively participates in many movies and events.
Kym Johnson & Robert Herjavec's met on Dancing with the Stars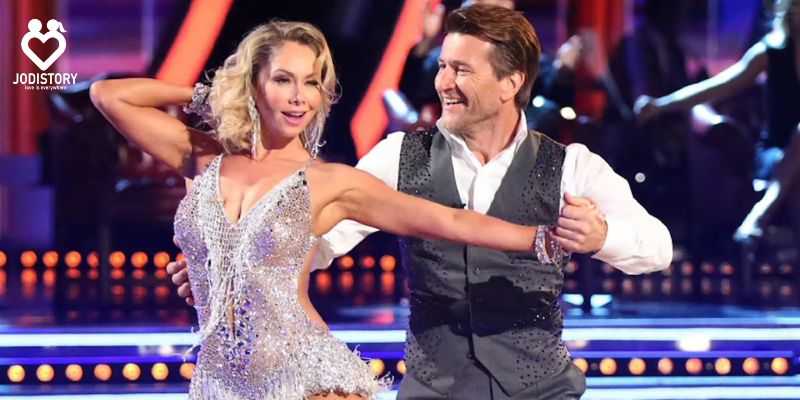 Robert went on Dancing with the Stars as a participant. He instantly fell in love with Kym Johnson when he saw her. Since he was recently divorced at that time it was a surprise that he fell in love so easily again.
The couple was eliminated from the show during the eighth week. The couple started dating in 2015. In this way, Robert Herjavec and Kym Johnson's love story begins.
Robert Herjavec proposed to Kym Johnson in 2015-16
Johnson clearly remembers the day Robert popped her the question. He was very thoughtful and sweet with his proposal. The whole house was covered in flowers. On the rooftop, there was a swan, fairy lights, and a ring.
Also, Kym mentioned that Herjavec had been acting weird all week! Probably he was just working up his nerves to propose. When Robert got on his knees and popped the question Kym just kept on crying.
Finally, he had to ask her thrice before she said yes! After that, he took her to a room where Kym's mom had come from Australia.
Robert Herjavec & Kym Johnson's marriage in 2016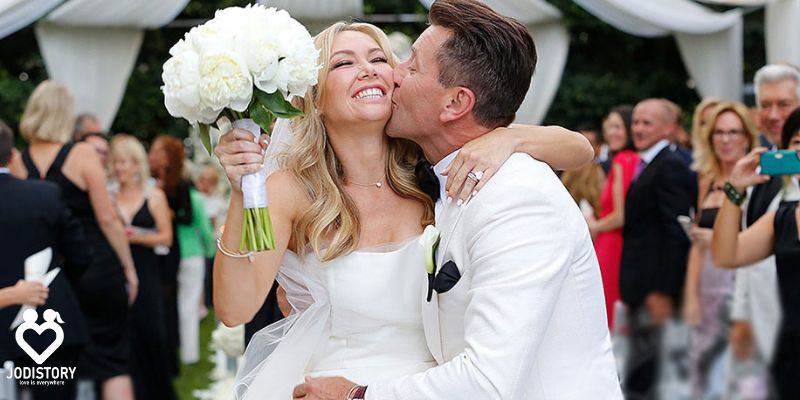 The couple married on 31st July 2016. They married in front of close friends and family at Four Seasons Hotel in Lose Angeles. And then Robert mentioned that he never thought that he would get married.
Moreover, he was scared that he'd end up becoming an old bitter cat guy. But in the end, he just wanted to connect with someone. It was just so effortless with Kym for him.
Robert Herjavec & Kym Johnson's children
After two years of marriage, the couple welcomed twins into their lives. The two beautiful children are Hudson and Haven.
MUST-READ LOVE STORIES
Did Robert Herjavec have kids with his first wife?
Yes, Robert has three kids from his first wife, Diane.
Did Robert leave his wife for Kym?
Robert cheated on his first wife with a model, Danielle Vasinova. He met Kym later.
Is Robert Herjavec happily married?
Yes, he is happily married to Kym, after his divorce from his ex-wife, Diane.
How long has Robert Herjavec been married?
Robert Herjavec has been married since 2016 to Kym Johnson.
Thoughts on Robert Harjavec's relationships
Robert Harjavec's love story sheds light on the fact that life is uncertain. Sometimes the partner you've spent half of your life with cheats on you. And sometimes when you've left all hope, you'll find true love again.
So one should not lose hope and get disappointed. After all, love brings endless hope and new beginnings. Lastly, you just have to wait for them.