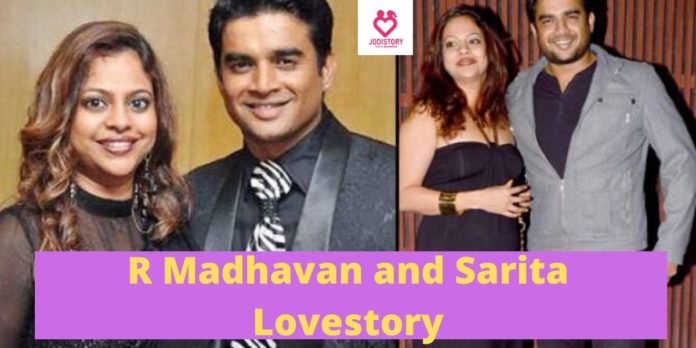 Did you remember the Farhan of 3 Idiots? Today we are here to have a discussion on R. Madhavan. He has his famous for his Hindi as well as Tamil films. In the Tollywood, he was often called by the name of the 21st-century chocolate boy. He became popular after the success of romantic drama Alaipayuthey made by Mani Ratnam. The movie established him as the romantic and cute hero, but Madhavan is also known for his high acting skills – which he showed in films like 3 Idiots and Tanu Weds Manu. Between all this, he had a joyful love story. Most of you may be unaware of R Madhavan and Sarita Lovestory. Are you excited to know all about his heartwarming love story? Then don't go anywhere. Stay tuned and we are here to make your time wonderful. Know about their marriage and married life.
Madhavan is married to his long-time love Sarita Birje, in the year 1999. They have dated for about 8 years. Scroll down.
How they met?
Madhavan is brilliant at speaking. Consequently, He became a teacher in his public speaking courses. He started drawing students from all corners of the city. One day at his public speaking session Madhavan met Sarita Birje. Sarita was a young woman whose aim was to become an air hostess.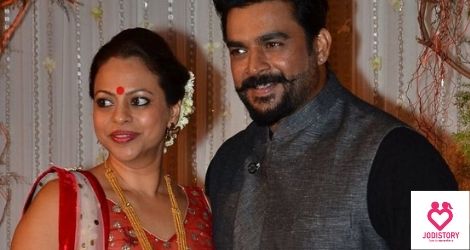 must read love story of –
Madhavan's sessions were very helpful to Sarita. He was recommended by her relatives. As she was thinking to try for an air hostess interview, she decided to attend the workshops.
How Sarita Birje asked Madhavan Out For A Date
In the year 1991, Sarita joined his personality development sessions in Maharashtra. After classes, she cleared her air hostess interview and gave thanks to Madhavan. And asked him for dinner, Madhavan said:
"I was just teaching a personality development class in Kolhapur Maharastra when I met her. Sarita was planing for a job in airlines and attended my workshops. When she bagged the cat, she thought it was in part, due to my sessions and took me to a 'thank you' dinner. That's how it all started."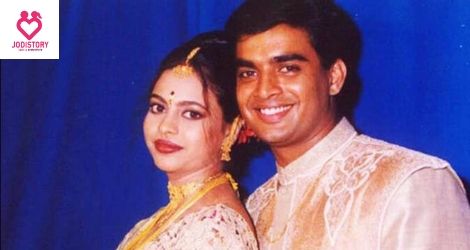 About R Madhavan and Sarita first date, Madhavan said:
"She was my student and one day she asked me out on a date. I was a dark man and thought it was a good opportunity. I didn't know if I would ever get married so I just grabbed on to the opportunity and married her."
They both became good friends and soon their love story began.
R Madhavan and Sarita wedding
Moreover, after eight years of a long relationship, R Madhavan and Sarita decides to tie a knot for forever in 1999. Their wedding was full of Tamil wedding traditions.Their wedding was in Chennai.
In which their close friends and family were only guests. These sweethearts tie the knot before R Madhavan gain popularity in the entertainment industry.
Their Children and Happily Married Life
The couple gave birth to their son, Vedanta in the year 2005. The chocolate boy, R Madhavan became popular in the film industry after his wedding to Sarita. His very first Tamil film, where he played the lead role, is Alaipayuthey.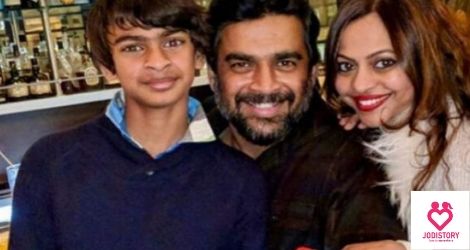 The film came out in the year 2000, and for this, he was given a Filmfare for the best male debut. He made his much-appreciated debut film in Bollywood was Rehnaa Hai Terre Dil Mein with Dia Mirza in the year 2001.
must read love story of-
Madhavan also shares his view on married life
"After a lot of years of wedding, too many questions only cause irritation and I never ask Sarita(wife) where she is going, with whom or when she will be back."
Conclusion
R Madhavan and Sarita Lovestory is just like an interesting film script. They both make a perfect duo. And are happy in their own world. They love to live a simple life together. Furthermore, We wish them the very best for the coming years ahead. I hope you all loved the R Madhavan and Sarita Lovestory. Comment down your views.