When the news of Madhuri Dixit's decision to marry to came out, it spread rapidly like a fire across the forest. Not to mention, it broke the heart of millions. Madhuri Dixit was at the peak of her career when she decided to step down from her throne. However, there are many who don't know the entire tale. Hence the Dhak Dhak Girl- Madhuri Dixit's love story with Dr Shriram Nene is worth reading!
Scroll down to have a look for the details!
Must read the following:
Madhuri Dixit's first meeting with Dr Nene
Madhuri first met Dr Nene in Los Angeles at her brother's party. Dr Nene was unaware of the blockbuster status of Madhuri Dixit. He practised as a cardiovascular surgeon in Los Angeles, California
For Madhuri, it actually proved to be a good thing, because, for the first time, someone would treat her as a normal human being rather than be awed by her star-persona. They chatted for a while and Madhuri found it awesome.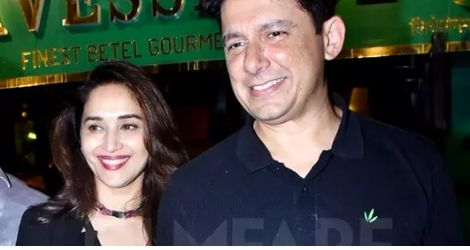 Madhuri and Nene off to mountains and rides
After their first meeting, they met again. The credit to arrange their second meeting goes to Dr Nene. He offered Madhuri to take her for a ride on the mountains. Madhuri agreed immediately.
At first, Madhuri didn't find it difficult. But after some time, she gave up and they returned back. The two met started meeting more often.
Madhuri Dixit's love story arranged by her family.
Despite the love stories she portrayed in her movies, she let her family arrange her love story. Her family actually had their "kundalis" matched and then decided to approve the match.
Neither Madhuri nor Dr Nene objected because they've known each other quite well for some time.
Surprisingly Dr Nene brought C.D's of Madhuri's films and watched it. He fell a little more for her.
However, it came as a shock to everyone when Madhuri decided to give up her career for marriage. But for Madhuri, " she was in love" so nothing else mattered.
Madhuri Dixit and Dr Nene's marriage
Everything about their marriage was kept a secret. From the wedding date to the wedding venue everything was a mystery.
On October 17, 1999, the couple exchanged the sacred vows in an undisclosed location in the U.S. A day later, Madhuri's Public Relations Manager announced their marriage.
Amidst the media-frenzy hyped attention, Dr Nene took Madhuri to Hawaii for their honeymoon. After coming back to India, Madhuri's family hosted a grand reception for the B-Town world.
Madhuri decided to settle in Los Angeles with her husband after completing her assignments.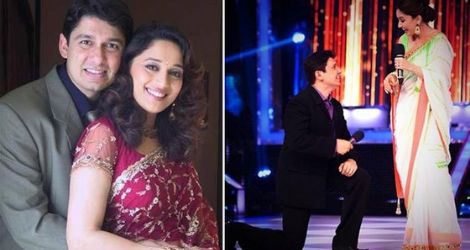 Life after marriage for Madhuri
Despite Los Angeles being called as the Mecca of the world cinema, Madhuri settled for a quiet life. She enjoyed her life as a housewife.
Opting for street- shopping or long walks and enjoying her days as a commoner.
Surprisingly, Dr Nene felt awed by her star status when B-town celebs would pay a visit to his wife at their Los Angeles home.
Madhuri Dixit and Dr Nene's children
The happy couple welcomed their firstborn, Arin in 2003! In 2005 they welcomed their second son Rayaan.
For Madhuri, marital bliss was paving its way in her life.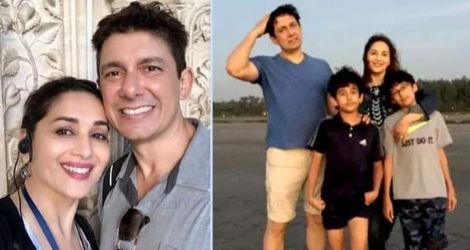 The relocation to Mumbai
After 12 long years, Madhuri along with her husband and her children relocated to Mumbai. She decided to opt for the telly world so that she could spend more time with her family.
Dr Nene took a position in a municipal treatment. He always understood the fact that marriage is like a "give and take" relationship.
Must read the following:
Conclusion
Together as a couple, as professionals, and as parents, they live a happy and stable life. They teach and learn from each other keeping their marriage afloat. Hence, no wonder, Madhuri Dixit's love story is an inspiration to all!