Love is … when childhood sweethearts become Mr. and Mrs.. Love is … a relationship that's come a long way. This belief will sound more promising when you get to know the love story of Messi. A story that shows true love still exists. A love story difficult to reconstruct by the hermetism of its proatagonists. A love story worthy of a movie. Come with me to read Lionel Messi love story.
There are many couples in the world but only a few have a love story quite like Messi's. Because everyone dreams of having a love story like this.
Who doesn't want to marry someone whom they know and love from childhood?? In today's world where commitment is so rare, its simply a dream for everyone.
So, without making you wait for long, here is the dreamy love story of the couple. Lets know, why did the best football player fall in love with the daughter of a supermarket owner.
Hold you heart to know everything about the cutest love making couple. Go on reading…
Must-Read Love Story
Lionel Messi love story Started In 1996
Lionel Messi, a young boy who just dreamed to become a football player born on 1987 in Rosario, Argentina. Antonella Roccuzzo, a cute and beautiful girl born on 1986 in Rosario, Argentina.
It happened in the house of Lucas Scaglia, who was a cousin of Antonella and a friend of Messi. The first time they met was when Messi was nine and Antonella was just eight-years-old.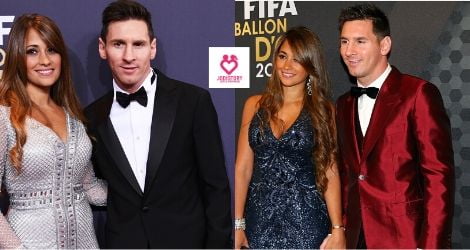 One day, Lucas and Messi were playing playstation. They were in the middle of the game, and the girl came to ask if they needed anything.
The girl was none other than Antonella. At the first glance, flea was paralyzed with the eyes of the young girl. Right then Messi knew he wanted to be with her forever. The two kids became friends. But…
But Life Separated Two Little Hearts of Lionel Messi & Antonella
The two young hearts became close friends. Yes, friends from neighbourhood. Friends of Rosario. They were just kids. But one day, life separated them.
It was in 2000, when Messi's father, Jorge Messi decided to travel with all his family to Barcelona. The only intention was, his son would wear the colors cule.
After this, Messi and Antonella stopped seeing each other for a while. They tried to keep in touch but their contact soon cooled off. Without a fluid communication, the relationship between the two almost dissipated.
A Tragedy Re-formed A Solid Friendship
It was in 2005, when a friend of Antonella died in a traffic  accident.Antonella was just 17 and had a very bad time.
She spent several days without going to school. The tragic death of Antonella's friend led to the renewed meeting of Antonella and Messi.
As soon as Messi got to knew this, he quickly travelled to Argentina to be at her side. He was there to comfort her through the way.
Like a character from a novel, Messi feel quickly for Antonella. It was then that their relationship progressed, but they chose to keep it private.
Messi & Antonella Confessed love to stay together
Love again bloomed. It was authentic, it was reciprocal, but it was also in the distance. Messi returned to Barcelona, while Antonella began to study Odontology at the Nation University of Rosario.
It was not until Messi had turned 21 that the relationship became known. Antonella's friends says that she revealed her relationship with Messi to them on July 20, 2007.
The relationship remained at a distance for almost 3 years. The confirmation that the relationship was established happened before the 2010 world cup in South Africa.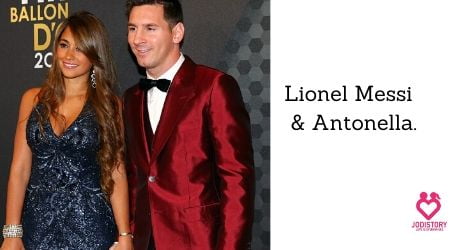 The kisses between the two demonstrated much more than just love. It's the confirmation of a beautiful story, a long relationship, the calmination of a marriage.
Do you know, despite of being a sweetheart of the greatest player of football, Antonella does not like football?? Yes, its true. She gets bored with football.
Grand Wedding of Lionel Messi & Antonella
So, finally the day came for which all Messi fans were waiting for. The wedding was a good direction. It was no short of big things. Antonella also couldn't hide the fact that it was the most important day of her life.
The wedding was held at the City Centre Rosario complex and the Pullman Hotel. Many footballing stars came to attend the wedding.
The two childhood sweethearts becomes one. So, now we congratulate Lionel and Antonella on getting married after a dream relationship of 21 years.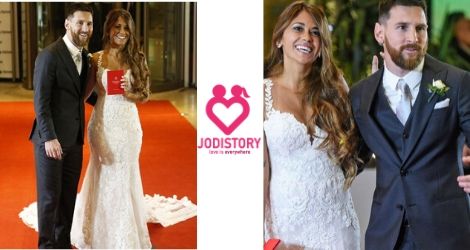 Lionel Messi family
On June 2, 2012, in a celebration, an open secret was confirmed. Antonella was pregnant with the couple's first child. Thiago, the first child was born on November 2, 2012.
Later in 2014, Messi confirmed on social media that they were expecting their second child. Mateo, the couple's second heir arrived in the world on September 11, 2015.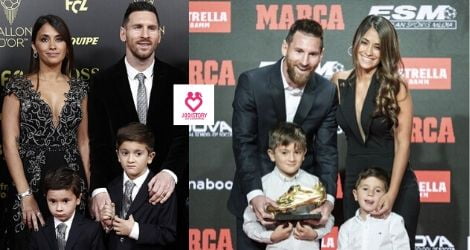 The couple is already blessed with their two angels and is expecting with their third child who will be named Ciro.
The Immortal Lionel Messi love story
At the moment, the superstar of football, Messi is incredibly happy with his life. Antonella is the luckiest girl in the world because she married her childhood sweetheart.
It is evident that the lives of Messi and Antonella were destined to be one great story. Messi knew that he loved her and Antonella has the sufficient patience to wait for him.
We wish them luck for their future and wish they live happily and peacefully forever and ever..!!