Juhi Chawla and Jay Mehta love story will inspire you. Juhi Chawla, a diva was a Bollywood sensation back in the 1990s. She is one of the most vivacious actresses of Bollywood. She started her career as a model. Then Juhi tried her hand in Bollywood. She received numerous praise for her roles in the movie "Qayamat Se Qayamat Tak". Juhi Chawla announced her arrival by taking Bollywood by storm. From winning the 1984 Miss India Beauty pageant to winning two Filmfare awards, her journey is inspirational.
In all her movies whether it was " Hum Hain Rahi Pyaar Ke " or "Deewana Mastana", she was always able to thunderbolt the audience with her performance. This Bollywood Diva has also contributed to Punjabi, Malayalam, and Telugu films.
Jay Mehta is an entrepreneur. He owns The Mehta Group. He is an Indian Businessman. His business has branches not only in India. But also internationally in countries like Canada, Africa, and even The United States. His business deals in a wide range of goods and services including sugar, cement, and, engineering. Juhi Chawla and Jay Mehta love story will leave everyone in admiration.
Must read love story
How Did Juhi and Jay Met?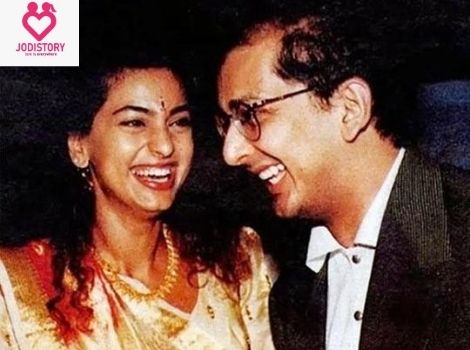 There's a quote that states that" some couples are destined to be together " and whenever we see this couple it seems to be true. It was actually destiny that took charge of Juhi and Jay's life. The story of their meeting is an interesting tale.
Shooting for the movie "Karobar" Juhi was going to South Africa by the Director of the movie. Juhi was playing a leading role in the movie "Karobar". As if like destiny was smiling on both of them.
Jay and Juhi met each other for the first time on the set of the movie "Karobar".The Director of the movie, Rakesh Roshan introduced Jay and Juhi as Jay was his dear friend.
They met a couple of times during the course of the movie.  But always limited their boundaries to being friends and nothing more. Jay was already married to Sujata Birla.
Sujata wat the sister of fellow industrialist Yash Birla. She was very devoted to her husband. The two went on to become good friends and shared a lot of things in common, but Jay remained loyal to his wife and Juhi committed to her work.
Death Of Jay's First Wife and New Love Story Began
Jay lost his wife in the plane crash. He broke down in pieces. The pain lingered around his soul as if it's home of trouble. That was the time Juhi became his backbone. She helped Jay to come out of the trauma.
That he was going through and was a shoulder he could always rely upon through the entire grieving and healing process – the most difficult time of his life as he puts it.
This brave woman pulled him out of those hard times. She gave it her all to make him happy again. The way Juhi was caring and showing feelings of empathy towards him.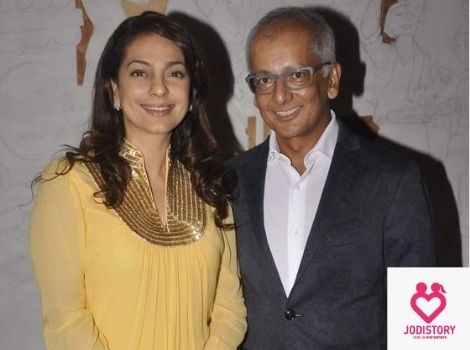 During the most mentally disturbing time of his life made Jay fell for her as he saw that she is such a pure soul. Juhi Chawla and Jay Mehta love story were about to begin.
The most interesting part of the tale is the fact that Juhi was at first reluctant to go out with the businessman when he first approached her. Juhi wasn't inclined towards him in the beginning.
But as they started spending a lot of time together. The ad started meeting each other at regular intervals. They came closer with each passing day. Eventually, Juhi also changed her mind and ended up falling for him. The way he cared about her influenced her heart. "Juhi and Jay's love story began".
Juhi and Jay Started Dating and Juhi Chawla and Jay Mehta Love Story Taking A Major Turnback
Jay granted a fresh start and Juhi fully understood and appreciated her. It was clear that the next step was for the two of them to marry and start the next chapters in their lives. So, they decided to marry each other because they were so happy together and so sure about each other.
But as we know true love is never easy. There came a major turn in "Juhi and Jay's love story". she lost her mother in a car accident. Her heart broke into pieces and her life turned upside down.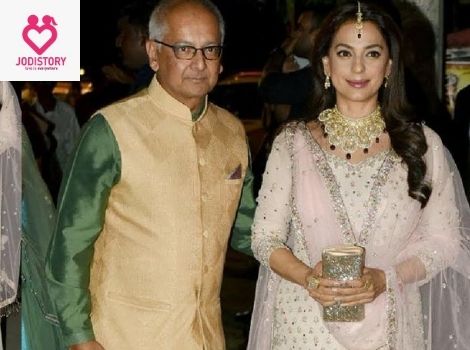 While she was not even over from the trauma of her mother's demise. Unfortunately, her brother also took his last breath. She lost all her hopes. Frequently had trouble concentrating and had a loss of interest. Had an inability to feel happy and it is of course because she lost two of her family members.
All her wedding plans and dreams came devastated. While she was traumatized, there was this one man who always had her back, that is Jay. The empathy he showed towards Juhi made her come out of all.
Juhi and Jay's Hidden Marriage and Children
They finally decided to not delay their marriage anymore. While they planned to have a grand marriage, circumstances made them marry each other covertly. It was a concealed marriage.
They kept their marriage a very big secret. It was such a rest assured secret that no one got to know about. It became public when Juhi expected to have her first child.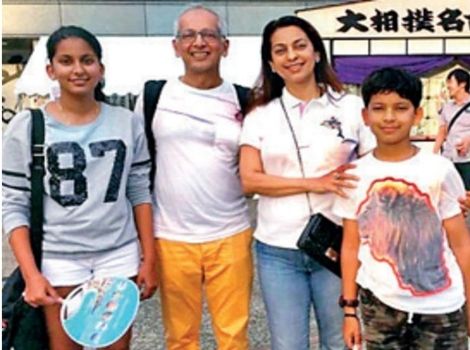 For some time, Juhi decided to take a break from work. After a very long period of time, she came back to the industry. After her come back, in no time she gave two super hits "Gulaab Gang " and "My Brother Nikhil".
Juhi Chawla happy family, a result of Juhi Chawla and Jay Mehta Love Story – Full of struggles
The couple at present have two kids named " Jahanvi, 17 years old " and "Arjun, 15 years old". Recently, Jahanvi has graduated from Dhirubhai Ambani International School, Mumbai and Charterhouse School, Surrey, England. Arjun is still a student.
Lessons We All Can Learn:-
We all somewhere imagined that Juhi's marital journey is like a fairytale. But no it wasn't! It was full of struggles and crises. But the best part is that all these problems brought the couple closer. They proved to the world the value of commitment. After knowing their love story, everyone gets to know that The universe fights for the souls to be together.
Must read love story
They teach us if you truly love someone you should value both their happiness and sadness. Always make their sadness and happiness as your first priority. There's a quote that "The heart that meant to love you will not leave you when you are low, rather will love you harder at your lowest to fight back hard times " and when we look at this couple it seems to be true.