Karisma Kapoor is a name in the B-town industry, which requires no introduction. With he graceful dancing moves, pretty face and exemplary acting skills, she is a household name. However, Karisma Kapoor Love Story is not so perfect. The actor has suffered ugly heartbreaks and endured several scandals. How did her love story go awry? Come with me to read Karishma Kapoor's Love Story & marriage life.

Karishma Kapoor, the first daughter of the royal Kapoor family was born to break the norms. Karishma had gone against the family principles and joined the Bollywood industry as a lead actress. She also had a love life full of bumps.
From the very beginning, Karishma has always broke stereotypes in her life. Karishma was one of the top actresses of her time. Over a decade she ruled Bollywood. Also, she was one of the highest-paid actresses of her time. During her acting career, she got involved with some of the lead men of Bollywood.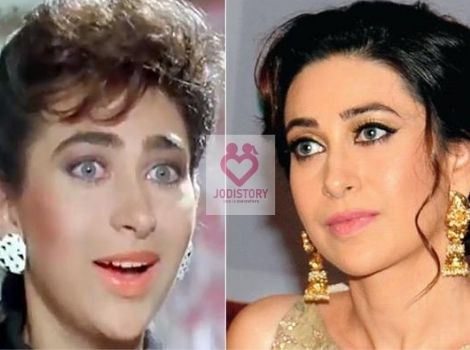 Must read Love stories
Karishma Kapoor's first 'love affair':
Just like her childhood, Karishma's career was also a bit rough in the initial days. But after 'Raja Hindustani' everyone started to notice her as an actress. But her love life was not a smooth one. During her shooting of 'Jigar' and 'Suhag', there was a big rumor of her dating her co-actor Ajay Devgan.
Many sources say that during the shooting they both became really good friends. The friendship brewed into a relationship after they started dating.But soon the couple broke up. Do you want to know the reason behind this?
Sources say that Karishma came to know that Ajay was cheating on her. Reports say that Ajay was also dating Raveena Tandon at that time. Though Karishma has always introduced Ajay as just a 'good' friend, the conjecture says it differently.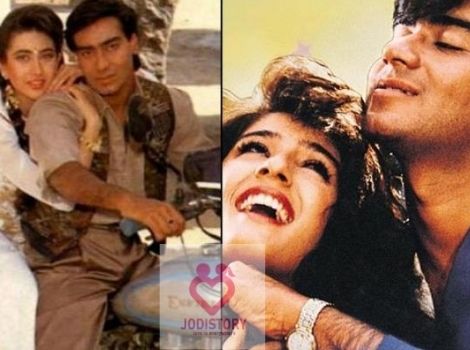 Karishma Kapoor's incomplete engagement with Abhishek Bacchan:
After breaking up with Ajay, Karishma had another relationship with Abhishek Bacchan. The two most dominant families were about to become a big family. Abhishek and Karishma had an engagement on Amitabh's 60th birthday in October 2002.
The news was a complete shock for the media and the fans. Some sources say that they both had dated for 5 years before the engagement.
Karishma was on top of her career graph. But Abhishek was about to debut his film career. And more interestingly Abhishek's debut film was with none other than Karishma's sister Kareena.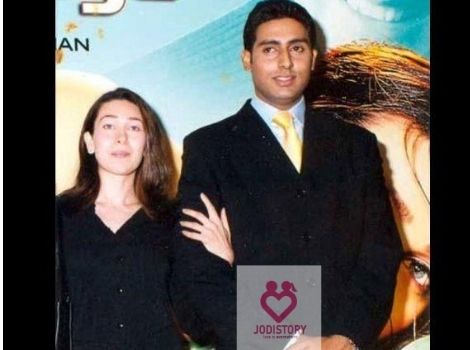 But things didn't turn out as planned. Just after a few months, the couple broke up the engagement. Just like the announcement of the engagement, this too was a surprise for the media. There was no explanation from the families about the reason.
Don't you think it is strange? The Kapoor-Bachchan scandal was the most controversial one, till date. By the way, Karisma Kapoor had established herself as a successful actress, Abhishek was still struggling to find his feet.
After the broken engagement, there was a lot of gossip about Karishma's mother Babita. Some rumor said that Babita was the reason for calling off the engagement. Many say that Babita wanted financial security for her daughter and wanted a prenup agreement for her daughter. But it is evident that this didn't go well and they both had to separate their pathways.
Karishma Kapoor married Sanjay Kapur
After her forced separation from the man she loved, Babita again forced Karishma to marry Sanjay Kapur. This time also her mother Babita forced her to meet this rich businessman from Delhi just for the sake of financial status.
On her mother's insistence, she met with Delhi-based businessman, Sanjay Kapoor. He was previously married to Nandita Mahtani, a fashion designer by profession. The news of Karisma and Sanjay's impending marriage went viral, barely after 10 days of Sajay's legal separation with his first wife
On September 29, 2003, Karisma and Sanjay tied the pious knot in a grand ceremony. A day prior to the wedding, the Mehendi and the Chooda ceremony took place. Since Sanjay Kapoor is a Sikh, the wedding happened in a traditional Sikh style.
It was a grand wedding arranged at her late grandfather Raj Kapoor's cottage. Almost everyone from the Bollywood attended the wedding except the Bacchans.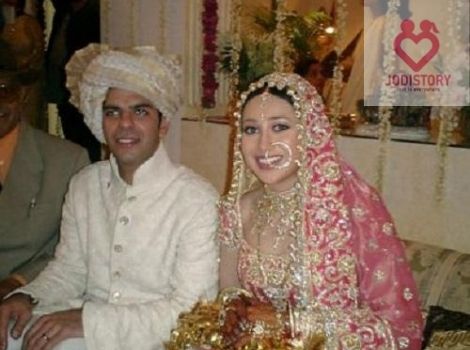 But it seems that Karishma's destiny was different. They both divorced each other in 2014. They both have accused each other of many complaints. Let's talk about some of the allegations Karishma and Sanjay put against each other.

Reason behind Karishma Kapoor divorce
There were a lot of controversies about Sanjay having an affair with his current wife Priya Sachdev. Sanjay even stated that Karishma had only married him for his wealth and was on a rebound after her broken engagement. Similarly, Karishma accused Sanjay of having an extramarital affair with Priya.
She also added that Sanjay was in a live-in relationship with Priya. And it was during the period of her married life. It was very upsetting to hear that Sanjay and her mother also tortured Karishma mentally and physically during her pregnancy.
Despite having this ugly fight, the duo has two beautiful children named-Samaira and Kiaan from their 10 years of marriage. They filed their divorce case in 2010 and after many nasty fights, they divorced each other in 2016. The court gave custody of the children to Karishma and soon she moved to her mother's house.
Must read Love stories
Karishma Kapoor living alone with children
It is pretty evident that Karishma had a hell of a journey in her love life. After her bitter divorce with Sanjay, there was a short span of a rumor of her dating Sandeep Toshniwal, CEO of a Mumbai-based pharmaceutical company. The duo was even spotted together in many places. But the present scenario is different.
Recently there is a whole lot of talk about her separating the paths with Sandeep. In an interview, Karishma's father said that Lolo(Karishma's pet name) is right now only focusing on her children.
He also added that Karishma is a wonderful mother and she wants to raise her kids right. Her friends also reported that Lolo is not in a state of remarrying now as her previous experience was not so delightful.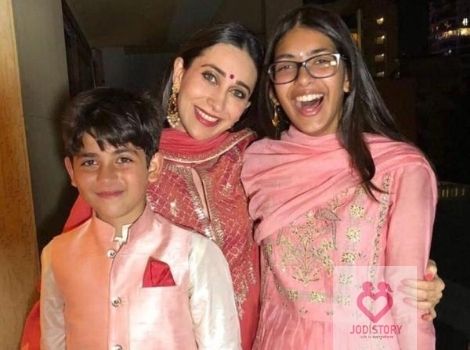 Obviously, Karishma had a roller-coaster journey of love. But in every situation, she has proved herself as a self-made, strong, and fierce woman. And that truly shows her enduring personality. We really hope that Karishma has a better and less bumpy life with her beautiful children. I think Karishma Kapoor's Love Story & marriage life is full of happy and sad moment.