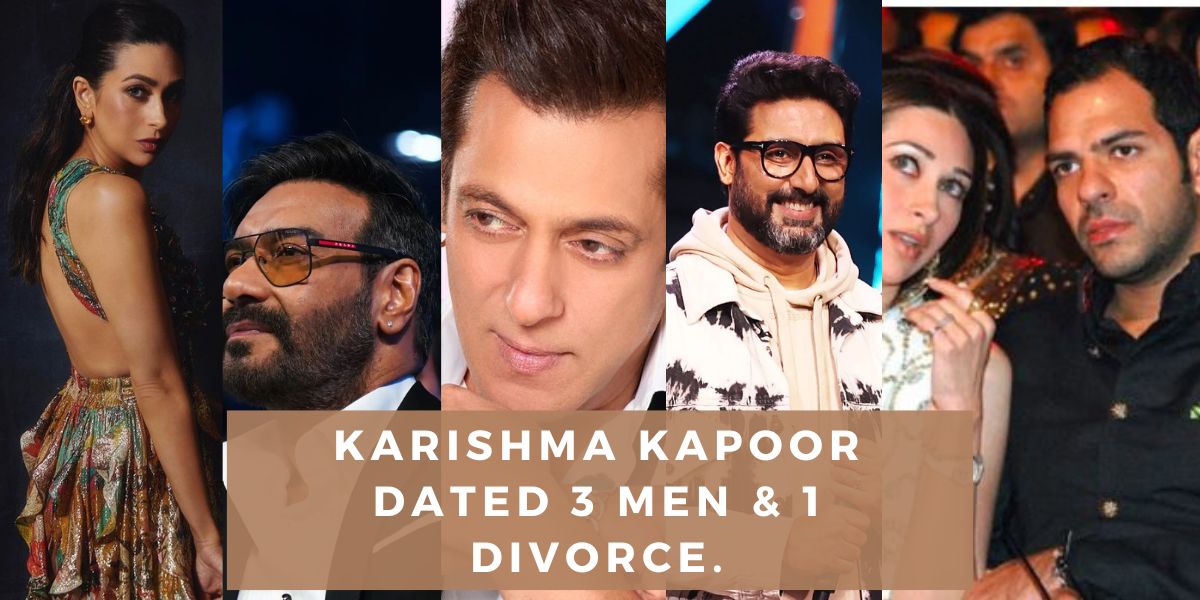 Kapoor Khandaan is one of our Bollywood industry's most beloved film families. From Ranbir Kapoor to Kareena Kapoor, the family has given us many talented actors and actresses. But did you know that Karisma Kapoor was the first daughter of the Kapoor family who dared to enter the Bollywood scene? However, Karisma Kapoor's love story, marriage & affairs history remains ugly and incomplete.
From the very beginning, Karisma has always broke stereotypes in her life. Karisma was one of the top actresses of her time. For over a decade she ruled Bollywood. Also, she was one of the highest-paid actresses of her time.
During her acting career, she got involved with some of the leading men of Bollywood. Read our article below to know about Karisma Kapoor's love story, marriage & affairs are full of dramatic and heartbreaking endings.
Who is Karisma Kapoor?
Karisma Kapoor is a name in the B-town industry, which requires no introduction. With her graceful dancing moves, pretty face, and exemplary acting skills, she is a household name.
Karisma Kapoor was born in 1974. She is the daughter of Randhir Kapoor and Babita. She is the older sister of actress Kareena Kapoor. Her debut movie was Prem Qaidi in 1991.
Some of the most successful movies of Karisma Kapoor are Jigar (1992), Anari (1993), Raja Babu (1994), Coolie No. 1 (1995), etc. Her most memorable performances are in romances like Raja Hindustani (1996) and Dil To Pagal Hai (1997), which made her the star she is today.
It is time to scroll down to read Karisma Kapoor's love story marriage & affairs in details.
MUST-READ LOVE STORIES:
Karishma Kapoor's first love affair, Ajay Devgn (1992-1995)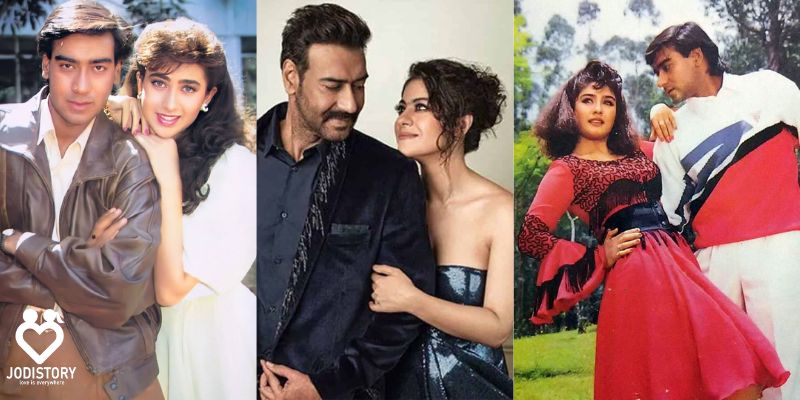 Just like her childhood, Karishma's career was also a bit rough in the initial days. But after 'Raja Hindustani' everyone noticed her as an actress. But her love life was not a smooth one. During her shooting of 'Jigar' and 'Suhag', there was a big rumor of her dating her co-actor Ajay Devgan around 1992.
Many sources say that during the shooting they both became really good friends. The friendship brewed into a relationship after they started dating. But soon the couple broke up. Do you want to know the reason behind this?
Sources say that Karishma came to know that Ajay was cheating on her. Reports say that Ajay was also dating Raveena Tandon at the same time. Undoubtedly, it was humiliating and heartbreaking for Karisma to be treated like that.
However, Ajay did leave Raveen after a while to give all of his love to Karisma. But their love story was just not meant to be as soon Ajay got involved with Kajol in 1995 and then broke up with Karisma.
It looks like Karisma was only an option for Ajay the whole time. Though Karisma has always introduced Ajay as just a 'good' friend, the conjecture says it differently.
Karisma Kapoor's second love affair, Salman Khan (1996)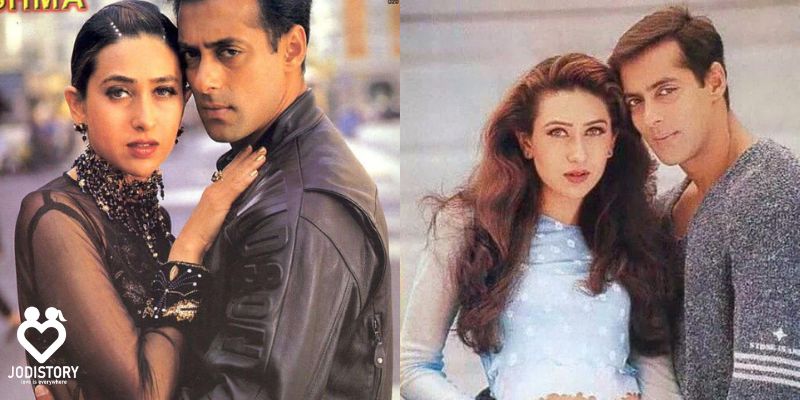 Karisma Kapoor was very broken after her break up with Ajay Devgn. Soon she started getting linked romantically to David Dhawan and Govinda as she used to do many movies with them. We cannot say if these rumors are completely true or not though.
Just like these rumors, Karisma was also linked to Salman Khan. They developed a romantic relationship on the sets of their movie Jeet in 1996. However, this relationship failed to turn into anything huge and ended within a short span of time. But the two of them still maintain a very close and healthy friendship with each other now.
Karisma Kapoor's relationship & broken engagement with Abhishek Bachchan (1997-2002)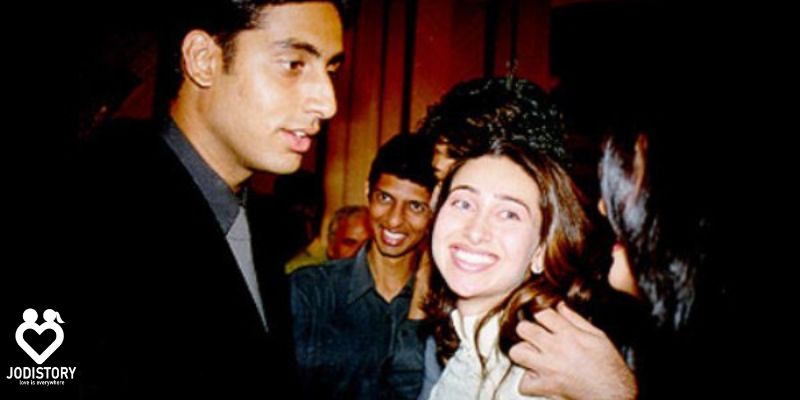 After breaking up with Ajay, Karisma had another relationship with Abhishek Bachchan. The two of them belonged to the most dominant families and were about to become a big family.
The two met at Abhishek's sister, Shweta Bachchan's wedding who was marrying Nikhil Nanda. The sparks flew between them and they developed a very romantic relationship with each other.
Soon, Abhishek and Karisma had an engagement on Amitabh's 60th birthday in October 2002. The news was a complete shock for the media and the fans. They both dated for 5 years before the engagement. Jaya Bachchan even declared Karisma as her daughter-in-law.
Karisma was on top of her career graph. But Abhishek was about to debut his film career. And more interestingly Abhishek's debut film was with none other than Karisma's sister Kareena.
But things didn't turn out as planned. Just after a few months, the couple broke up the engagement. Just like the announcement of the engagement, this too was a surprise for the media. There was no explanation from the families about the reason.
Don't you think it is strange? The Kapoor-Bachchan scandal was the most controversial one, to date. By the way, Karisma Kapoor had established herself as a successful actress, and Abhishek was still struggling to find his feet.
After the broken engagement, there was a lot of gossip about Karisma's mother Babita. Some rumors said that Babita was the reason for calling off the engagement.
Many say that Babita wanted financial security for her daughter and wanted a prenup agreement for her daughter. But it is evident that this didn't go well and they both had to separate their pathways.
Karisma Kapoor's forced marriage with husband Sanjay Kapoor in 2003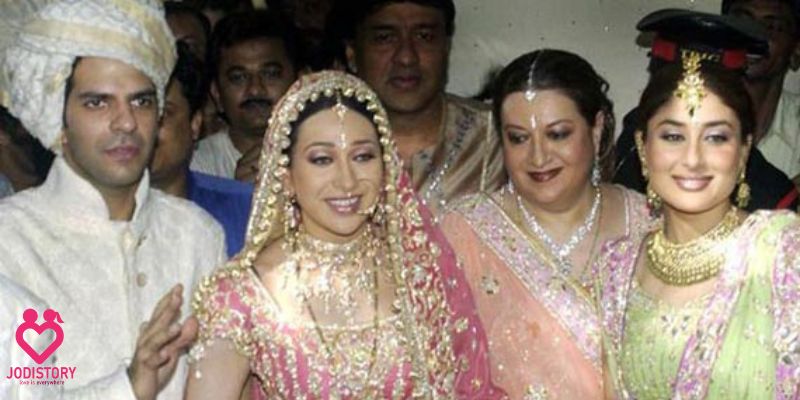 After her forced separation from the soulmate she truly loved, Babita again forced Karisma to marry Sanjay Kapur. This time also her mother Babita forced her to meet this rich businessman from Delhi just for financial status.
On her mother's insistence, she met with Delhi-based businessman, Sanjay Kapoor. He was previously married to Nandita Mahtani, a fashion designer by profession. The news of Karisma and Sanjay's impending marriage went viral, barely after 10 days after Sanjay's legal separation from his first wife.
On September 29, 2003, Karisma and Sanjay tied the pious knot in a grand ceremony. A day prior to the wedding, the Mehendi and the Chooda ceremony took place. Since Sanjay Kapoor is a Sikh, the wedding happened in a traditional Sikh style.
It was a grand wedding arranged at her late grandfather Raj Kapoor's cottage. Almost everyone from Bollywood attended the wedding except the Bacchans.
Karisma Kapoor & Sanjay Kapoor's children
Karisma & Sanjay's destiny was different. After seven years of being married, the couple shockingly separated from each other in 2010. By then, Karisma and Sanjay had become parents to two lovely children named Samaira and Kiaan.
Samaira is their first baby girl who was born in 2005. Kiaan was born in 2010 just when the couple was deciding to separate from each other. But what could have happened that made a second-time mother Karisma separate from her husband?
Soon the couple divorced each other in 2014. They both have accused each other of numerous charges. Let's talk about some of the allegations Karishma and Sanjay put against each other.
The reason behind Karisma Kapoor & Sanjay's divorce in 2014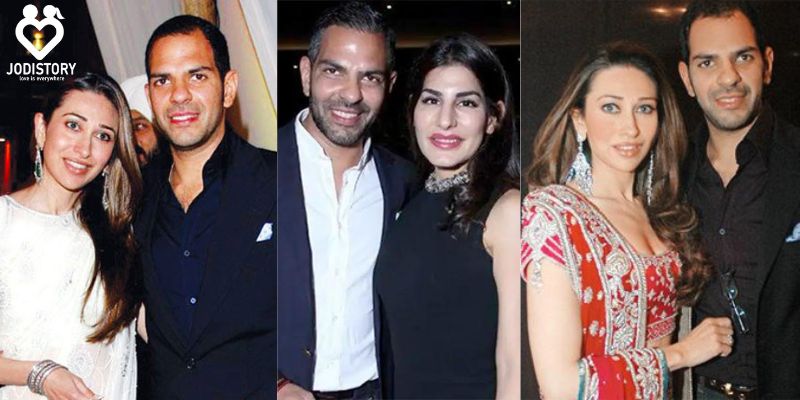 There were a lot of controversies about Sanjay having an affair with his current wife Priya Sachdev. Sanjay even stated that Karisma had only married him for his wealth and was on a rebound after her broken engagement. Similarly, Karisma accused Sanjay of having an extramarital affair with Priya.
She also added that Sanjay was in a live-in relationship with Priya while being married to her and fathering her two children. And it was during the period of her married life. It was very upsetting to hear that Sanjay and her mother also tortured Karisma mentally and physically during her pregnancy.
Sanjay was also sleeping with his first wife even after marrying Karisma and when she tried to confront him for this he beat her up. He went as far as selling her off on their honeymoon with one of his friends. He also used to force Karisma to sleep with his friends. The court gave custody of the children to Karishma and soon she moved to her mother's house.
Karisma Kapoor's new affair after divorce with Sandeep Toshniwal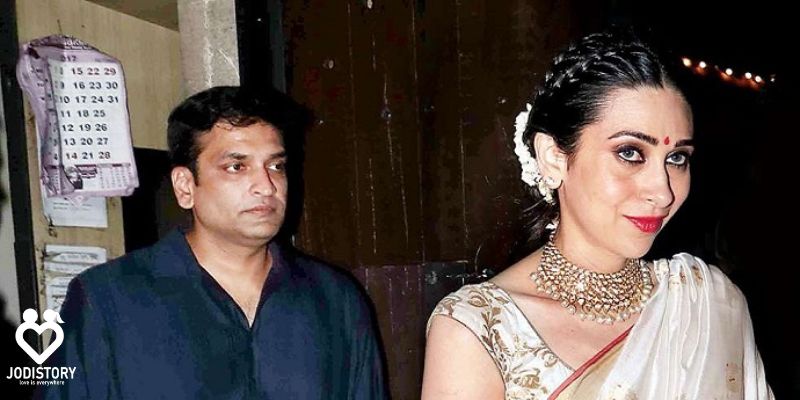 It is pretty evident that Karisma had a hell of a journey in her love life. After her bitter divorce from Sanjay, there was a short span of rumor of her dating Sandeep Toshniwal, CEO of a Mumbai-based pharmaceutical company. The duo was even spotted together in many places. But the present scenario is different.
Recently there is a whole lot of talk about her separating the paths with Sandeep. In an interview, Karisma's father said that Lolo (Karisma's pet name) is right now only focusing on her children.
He also added that Karishma is a wonderful mother and she wants to raise her kids right. Her friends also reported that Lolo is not in a state of remarrying now as her previous experience was not so delightful.
On the other hand, her ex-husband Sanjay Kapoor went ahead and married Priya Sachdev and made her his third wife. This worked as a piece of evidence in Karisma's favor as she knew that he was cheating in their marriage with Priya.
Who is the ex-fiance of Karishma Kapoor?
Abhishek Bachchan is the ex-fiance of Karisma Kapoor. They broke their engagement in 2002.
What is the truth about Karishma Kapoor's marriage?
Karisma Kapoor was forced to marry Sanjay Kapoor in 2003. He cheated on her with his current wife, Priya Sachdev.
Did Karishma and Salman ever date?
Karisma Kapoor & Salman Khan dated very briefly in 1996 after her break up with Ajay Devgn.
Which actors did Karishma Kapoor date?
Karisma Kapoor has dated Ajay Devgn, Salman Khan, and Abhishek Bachchan. She is sometimes linked to Govinda and David Dhawan but those are just false rumors.
Why did Abhishek Bachchan not marry Karishma Kapoor?
It's said that Karisma's mother Babita wanted her future to be financially secure so she asked the Bachchans for a prenup to which they disagreed and they broke off the engagement.
What happened to Karishma Kapoor on the wedding night?
On her honeymoon, Karisma Kapoor was auctioned off by one of her husband's friends.
MUST-READ LOVE STORIES:
Thoughts on Karisma Kapoor's love story, marriage & affairs
Karisma's love story, marriage & affairs clearly show us that separating from a loved one is always quite painful. Imagine loving a person with all your heart for so many years just to say goodbye to them in the end.
Should we listen to our parents and let them intervene in our love life? Do they really choose the best partner for us? The short answer here in the case of Karisma Kapoor is no.
Her mother, Babita might have thought that she is taking a decision that was best for her daughter but it really wasn't. It was quite the opposite. After breaking an engagement, she went through mental as well as physical torture. She got cheated on, fought a divorce battle, and is enduring lifetime trauma because of bad decisions.
Obviously, Karisma had a roller-coaster journey of love. But in every situation, she has proved herself as a self-made, strong, and fierce woman. And that truly shows her enduring personality. We really hope that Karishma has a better and less bumpy life with her beautiful children.