Who does not know Gauhar Khan? The TV sensation, album girl " Zaroori Tha". We love her for beauty, style & gorgeous look. So Gauhar Khan does have an amazing love story. I know you are eager to read about her relationship & personal life. She announced her engagement with Zaid Darbar. Zaid Darbar is the son of singer Ismail Darbar. Gauahar Khan and Zaid Darbar Love Story is one of its kind.
Must read love stories
Who is Gauhar Khan & Zaid Darbar?
Gauahar Khan is an Indian actress, model. She entered the 2002 Femina Miss India pageant as a model to begin her career.
Zaid Darbar on the other hand is an Indian actor, influencer and content creator. He began posting humorous and lip-syncing videos to his TikTok account, which helped him immensely in terms of fame. He excels at dancing as well, frequently posting his dancing skills on his own YouTube page.
Famous model and actor Gauahar Khan, who was also the winner of the reality show Bigg Boss season 7, has chosen her life partner. By profession, he is a dance choreographer and influencer. In addition, he aslo is a famous Tik Toker.
How did Gauahar Khan and Zaid Darbar first meet?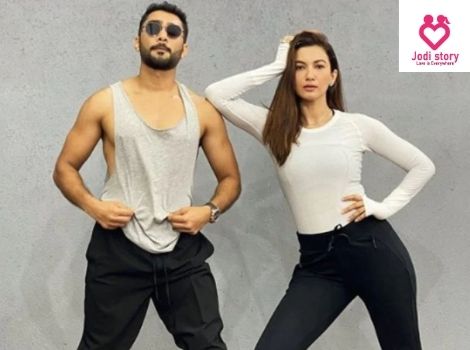 Well, the lockdown indeed was a moment of crisis, but it also was a game changer for many. As we all were confined and limited to the four walls of our homes, many started an online business, many explored their hobbies, and many found several ways to increase their productivity.
But let's also not forget the part where we all got indulged in social media. In addition, we got time for ourselves. We got to know ourselves, our tastes, and our passions.
This lockdown also marked the beginning of many exciting, intriguing yet true love stories.
Gauahar Khan and Zaid Darbar's love story is another fairy tale that started in lockdown.
Their first meet was at a random grocery store during the lockdown period. Although at that time Gauahar did not pay much attention to Zaid. She just bought what was needed and headed back home.
A few days later she received a DM (Direct Message) from Zaid and the friendship began. Zaid there won Gauhar's heart by calling her the 'most beautiful woman.
Gauhar khan had many affairs & Ex boyfriends earlier
Previously Gauahar Khan had an affair with actor Kushal Tandon. The duo fell in love with each other on BigBoss season 7.
Gauahar Khan and Kushal Tandon dated for a long time, eventually breaking up.
According to some reports, the major cause for their breakup was religion. According to reports, Kushal was asked to change from Hinduism to Islam by Gauahar Khan.
How did Gauahar Khan and Zaid Darbar fall in love?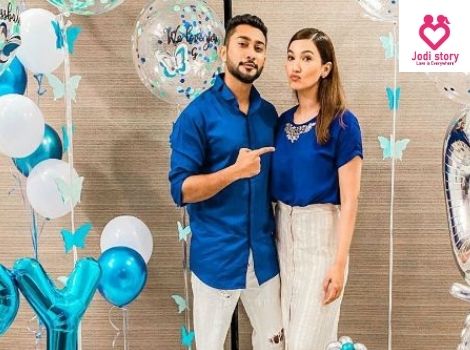 Soon the romantic couple started dating each other. Their relationship began and soon they started going out on dates, and on dinner nights. Gauhar & Zaid used to hang out even during the lockdown.
Gauahar Khan and Zaid Darbar's friendship turned into a serious relationship slowly and gradually. The rumors about Gauahar and Zaid's love affair continued for a long time.
But the rumors gained height when Zaid shared a photo with Gauahar on his Instagram in the month of August 2020. Their budding and flowering romance kept making headlines, but Gauahar did not make her relationship with Zaid public.
How did Gauahar Khan and Zaid Darbar come into a serious relationship?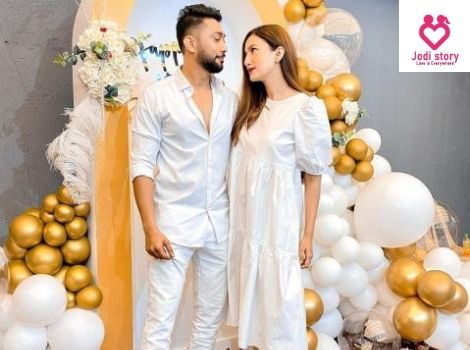 Although the couple had dated only for a few months, Zaid already knew she was the one. They were in a hurry to marry.
When Zaid's father, Ismail Darbar asked his son if he was sure about her, he replied, "Daddy, meri jo duayein thi, uska asar hai Gauahar" He added, "I know for a fact ki Gauahar ko mere paas unhone hi bheja hai."
On her next birthday, Zaid planned a surprise party for her. He poured his heart out on social media while sharing pictures of his lady love's birthday.
In this post, Gauahar had commented saying thank you for the best birthday party ever.
And this added fuel to the couple's never-ending love.
Gauahar Khan on her relationship with Zaid Darbar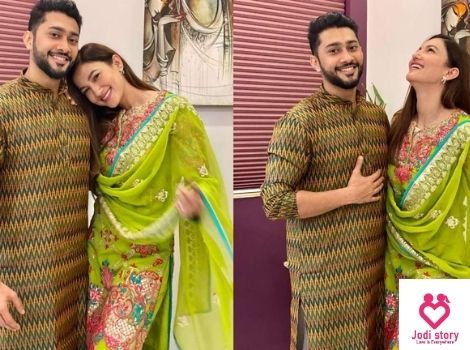 Gauahar had been silent on her relationship with Zaid, but, on Zaid's birthday, she shared a heartwarming post that revealed her feelings for him. Both their families are also very happy with the couple's union.
In fact, Zaid's parents were very joyful after meeting Gauahar. Zaid's mother, Ayesha also liked Gauahar very much. She saw a genuine partner in Gauahar for her son.
Gauahar Khan and Zaid Darbar's Engagement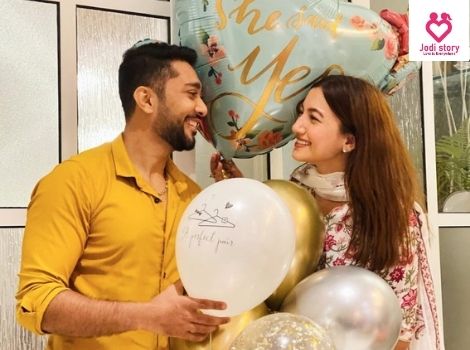 Gauahar Khan and Zaid kept sharing their dance videos. On the other hand, their fans kept showering their immense love on them.
On November 5, 2020, the couple shared a photo on their Instagram accounts showing how Zaid proposed Gauahar.
They are looking at each other affectionately in the photo. She has a heart-shaped balloon in her hand saying, "She said yes".
Gauahar Khan and Zaid Darbar's Marriage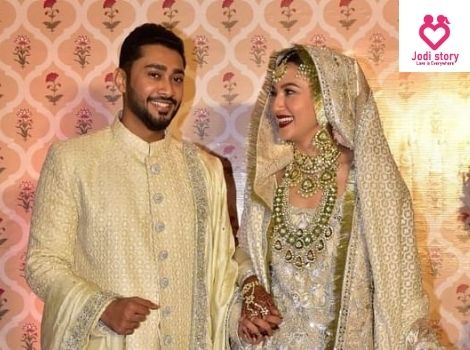 Gauahar Khan and Zaid Darbar have been trolled continuously for their relationship because of their age gap. Gauhar is 10 years older than Zaid Darbar. But it is said love does not see color, age, gender, or religion.
But as they say, love has no bounds and thus finally the couple got married on 25 December 2020. They tied the knot of marriage and are very happy together.
Zaid & Gauhar had a lavish wedding with selected family members & friends.
Must Read Love Story
Conclusion on Gauahar Khan and Zaid Darbar Love Story
Gauahar Khan and Zaid Darbar Love Story is beautiful and one to remember forever. Their love not only has proved all critics wrong but also gave their fans major goals.
In a nutshell, this story not only entertains us but it also teaches values. Values that are essential if you want to find eternal happiness. The story teaches us to follow our heart. Last but no the least never give up on your partner.