Dharmendra is one of the legendary actors of B-town. Hema Malini is the Dream Girl, one of the most eligible spinster back then. What happens when The He-man falls hard for the Dream Girl of Bollywood? Mind you! when the hero is already married and has a perfect family? Dharmendra and Hema's love story is a controversial one, discussed and debated years ago.
Despite several hurdles, the pair stood strong and refused to give in. And that's what they preach -"If it isn't forever, it isn't love."
Dharmendra's first meeting with Hema
For Dharmendra, it was love at first sight when he saw Hema at a film premiere. She was walking towards the stage, alone and shy.
Dharmendra exclaimed to Shashi Kapoor- "Kudi Badi Changi Hai" (the girl is very pretty) which Hema overheard but decided to ignore.
Must Read the following love stories:
Dharmendra and Hema's love story began with shooting for a song
In the year 1970, on the sets of Tum Haseen Mai Jawaan, they fell for each other. At first, Hema did not respond to Dharmendra's flirtations. But who could resist the charms of such a charming man? Surely no one!
So during the shoot of Mai Jat Yamla Pagla Deewana, Hema realized her feelings for Dharmendra. His graceful dance moves made Hema wear her heart on sleeve for him.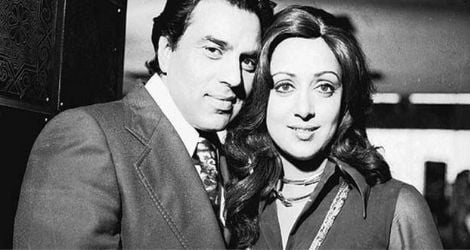 The courtship period
Dharmendra was shooting in Banglore for a movie. Whereas, Hema was in Nasik. But Dharmendra went missing. Boom! Guess what? Hema saw Dharmendra the next day in Nasik.
Apparently the man has driven for straight 24 hours to see her lady-love. He even confessed his love to her. Can a girl ask for more? Clearly not!
During Sholay, Dharmendra would bribe spot boys to meddle with lightning. This would lead to more retakes and a lot of time together for Hema and Dharmendra.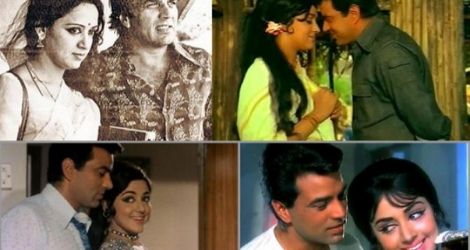 Hema's parent did not approve Dharmendra as a son-in-law
Dharmendra and Hema Malini's love story had to go through a lot. Hema's parent's disapproval towards Dharmendra was one of them.
While shooting for Charas (1976) in Maltas, the cast and crew had to travel together. Hema's father insisted on travelling with them. He ordered his daughter in Tamil so that she would sit in the corner, with her father beside her. But Dharmendra, stubborn and clever, would make some excuse and ultimately made Hema sit in the middle.
Moreover, the couple had to keep their relationship a secret.
The filmy twist- Hema's marriage to Jeetendra
The next problem in Dharmendra and Hema Malini's love story was posed by Jaya (Hema's mother). When she heard about her daughter's affair with Dharmendra, she tried to set Hema with Jeetendra. Jeetendra had a soft spot for Hema but Hema adamantly denied him.
It was to be a marriage of convenience for both families. The wedding would happen at Madras. But evening daily whiffed of the hush-hush wedding, spoiling the plans.
In no time, Dharmendra flew to Madras and took the matter in his own hands. Hema's father was angry beyond words but heeded to Dharmendra's request of alone time with his daughter.
In the room, Dharmendra convinced Hema to not to make a big mistake. When she came out of the room, she called off the wedding. Thus making a narrow escape.
Dharmendra and Hema Malini's wedding
When Prakash Kaur ( Dharmendra's first wife) refused to opt for divorce, Dharmendra had to convert to Islam. The nikah was kept a secret.
Later the couple had an Iyenger style wedding. Since then their love for each other grows strong day by day. They have two daughters from the wedding- Esha and Ahana.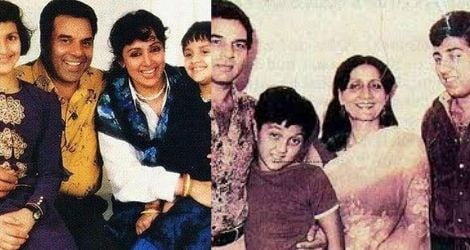 Must read the following love stories:
Conclusion
Dharmendra and Hema Malini had to go through a lot but they overcame emerged victorious against every odd. Striking a balance between career, family and love. Their sizzling chemistry is not the only reel but real too.
Even today, Hema is still "Dream Girl" for Dharmendra. Hence, their journey of love is an inspiration for millions.