Who does not know Rubika Liyaquat? You have seen her in news reporting. Recently she has become a famous journalist for ABP news. Rubika is trending because of her debate with Swara Bhaskar on NRC. And you are willing to know more about her. Ok not to worry let me tell you some of her very sensational love life. Rubika Liyaquat's exclusive love story is waiting for you.
Rubika is a Rajasthani girl. She was born in Udaipur Rajasthan in 1983. After finishing her school education she pursued Mass Communication. During that time, in fact, she had no idea about her bright future.
Rubika Liquayat career
Now she is one of the most famous an renowned news journalists in India. Rubik's name comes after Arnab Goswami, Anjana Om Kashyap, and Ravish Kumar.
Before direct landing on her love life. Let me tell you more detail about her career and richness. Rubika has started her career in journalistss from channel news 24. It was her internship for 3 months in 2003.
In 2007 Rubika started her regular career with Live India. But soon she shifted to the News 24 channel as a news anchor in 2008.
Then Rubina tied to Zee News for further journalism. And after that, she became started rising as a famous journalist.
Rubika Liyaquat Husband (Love Marriage)
It was love at first sight for Rubika Liyaquat and Naved Qurashi. He is also a journalist. In the very beginning, Naved worked at the news channel as a journalist. Then they married in 2012. Now Naved is working in the News Nation channel.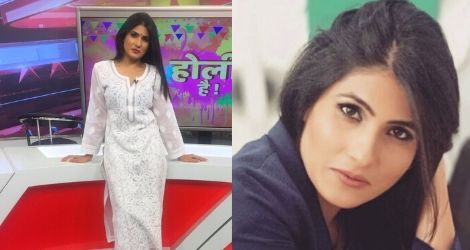 Both the couple has a daughter and a son. Because Rubika does not like to share her personal life. That is why the picture of children is unavailable.
Rubika Liyaquat beauty made her famous
Rubika got beauty with brain. Her beautiful personality is the reason behind her popularity. But she has a wonderful talent for journalism. That is why the whole India has become a fan of her beauty with the brain.
Rubika Liyaquat salary
Rubika earns 3lakh expected salary per month. Although she did not mention her salary openly.