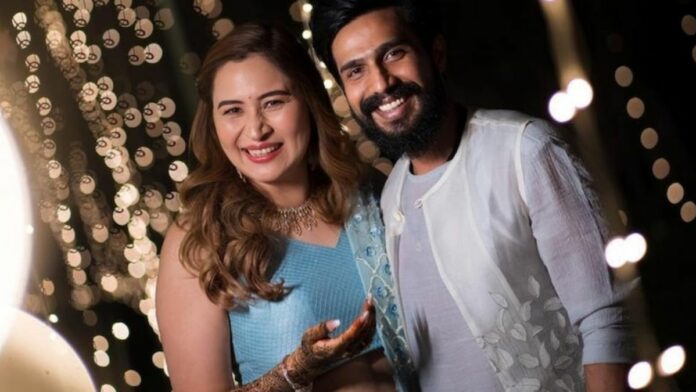 Who says that after marriage no one can fall in love again? Jwala Gutta & Vishnu Vishal's love story has created a different meaning of love in the eyes of people. Generally, love after marriage is thought of as a big taboo. But, they proved to us that life does not mean to get stuck with someone wrong!
Vishnu Vishal and Jwala Gutta were already married to their respective life partners. Though they thought that their married life would be successful. It didn't happen.
Both Vishnu Vishal and Jwala Gutta got separated from their partners and fell in love with each other. Jwala and Vishnu dated each other for years and finally got married to each other. The relationship between Jwala Gutta & Vishnu Vishal was a matter of attention among the media.
Vishnu Vishal and Jwala Gutta were always open about their relationship and were spotted together at different occasions and events. In 2020, when there was a pandemic the couple tied the knot in private and their fans showered love on this news!
Their relationship is a modern-day fairytale and a great example against taboos regarding married life. Let us read their love story in detail.
MUST-READ LOVE STORIES
Who are Vishnu Vishal and Jwala Gutta?
Tamil Actor Vishnu Vishal has done many good films in his career. Films like Silukkuvarupatti Singam, Velainu Vandhutta Vellaikaaran, and Ratsasan, Jeeva tell us that the actor chooses the films wisely.
Firstly, The actor had been in news due to his interview on divorce but he is also in news due to his latest images with the badminton player Jwala Gutta.
On the other hand, Jwala Gutta is an Indian professional badminton player who was born on September 7, 1983, to a Chinese mother and a Telugu father.
She began representing India at international events in both mixed and women's doubles in the late 1990s. She has 316 match wins in both disciplines, the most of any Indian, and was ranked No. 6 in the world at one point.
Jwala Gutta and Vishnu Vishal are quite active on Instagram.
Vishnu Vishal was first married to Rajni but they got divorced in the year 2018
Vishnu Vishal's first wife was Rajini Natraj. The couple has a baby together named Aryan. They took vows in 2010 and divorced each other in 2018. Since then Vishnu has been in a relationship with Jwala for two years.
The relationship between Vishnu and Rajni had been solid. But suddenly everything turned against their bond. Vishnu even stated in an interview that life has no certainties in the context of sourness in his marriage.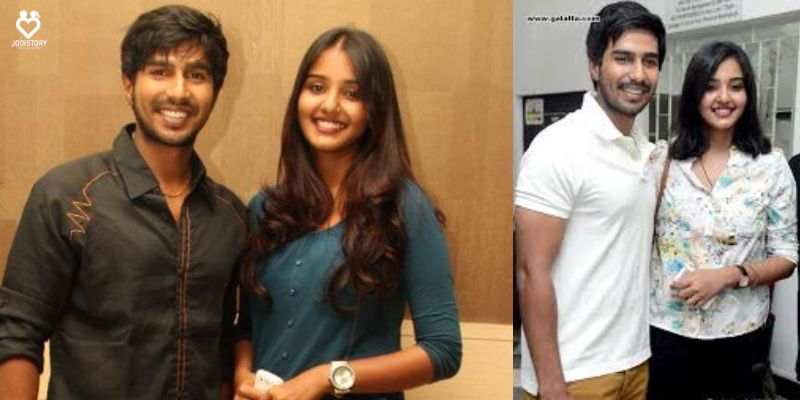 Vishnu Vishal, a Tamil actor, said on November 13, 2018, that he and his wife Rajini had been apart for nearly a year before getting officially divorced. He also stated that he will remain friends with her and respect her decisions.
The divorce was so heartbreaking for him. As Vishnu and Rajni were together for a very long. They were in a true relationship but life turned the table around!
Chetan was Jwala Gutta's first husband but they got separated in 2011
The badminton player, Jwala Gutta on the other hand was in a marriage with Chetan Anand for 6 years. They took vows in 2005 and separated in 2011.
Chetan and Jwala were married for six years, and Jwala recalls how vital it was for them to be respectful of one another's personal development during that period.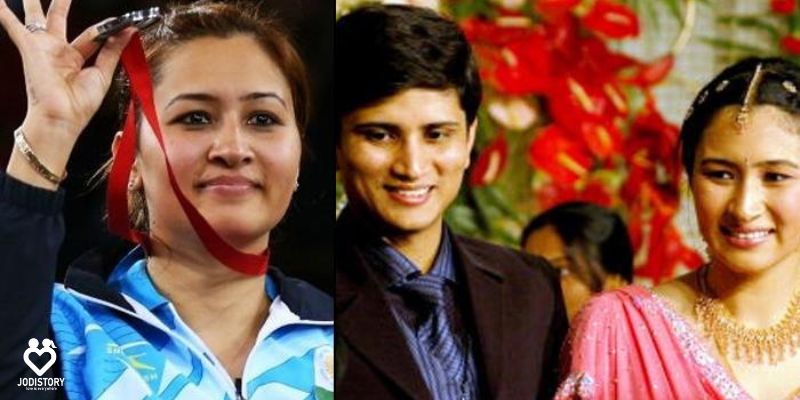 "In a relationship, I'm the giver," she was reported as saying. I'm not a demanding person whether it comes to time or material possessions. When you don't respect me, differences develop. You must develop a partnership without jeopardizing your relationship.
It is very important to understand that true love is present only when respect is there. A couple can only be happy and loving when they truly respect each other.
Jwala Gutta and Vishnu Vishal first met in the year 2017
Jwala Gutta and Vishnu Vishal who is husbands and wife now met in the year 2017. Both of them met at a talk show.
Vishnu Vishal and Jwala Gutta became friends after the talk show. Their friendship had something different! They were together as a friend but the spark between them was more than that!
Jwala Gutta and Vishnu Vishal's friendship was for a year. From 2017 to 2018 both of them were very good friends and soon it turned out into something else!
How did Jwala Gutta's and Vishnu Vishal's love story begin
Jwala Gutta and Vishnu Vishal's love story started in a very romantic way. On the Midnight of Jwala Gutta's birthday, (September 9) Vishnu Vishal proposed to her and the badminton player said yes.
Actor Vishnu Vishal soon announced on Instagram his engagement to the 2010 Commonwealth gold medalist with a picture of a ring and the love of his life. He wrote on Twitter,
"Happy birthday @jwalagutta1 New start to LIFE… Let's be positive and work towards a better future for us, Aryan, our families, our friends and the people around us…Need all your love n blessings guys..#newbeginnings….. Thank you @jainbasanth for arranging a ring in the middle of the night #EngagementRingJugaad."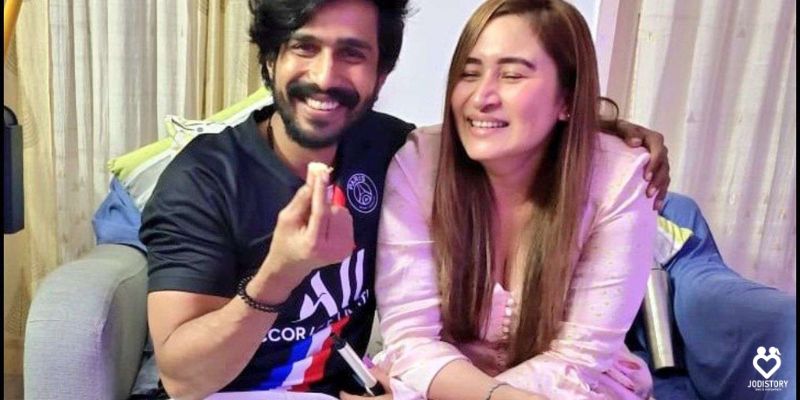 "It was quite sudden and thankfully she said yes," the actor claims about his gesture. When asked about the same, the badminton player responded, "We have been extremely serious for each other for a long time and the engagement is just overdue, it was just a very special surprise on my birthday that I didn't expect."
She wrote on her Instagram by sharing a picture of her and Vishnu, "To new beginnings…… HAPPY NEW YEAR." She then said that she is serious about the actor Vishnu And made their relationship official.
Vishnu and Jwala's long-distance relationship
Jwala Gutta and Vishnu Vishal love story was long distant. As Jwala lives in Hyderabad and Vishnu lives in Chennai they always made a point to meet each other by visiting. Either Jwala or Vishnu would come to each other's cities to meet.
However, during the lockdown, the badminton player confirms that they have been dating for nearly two years and that she hasn't seen him in three weeks. This is the longest that they have stayed apart and were in touch only by video calls or messages.
Distance doesn't matter when there is a true and unbreakable bond between the two. Jwala Gutta and Vishnu Vishal love story is a treat to read for al those couples who are in a long-distance relationship right now. I guess they must be missing their partners after reading this love story, Right?
Jwala and Vishnu's sweet and romantic engagement
The couple surprised the audience by announcing their engagement on social media in September 2020. About the sudden engagement, the badminton player said
"They will soon give a formal engagement party to all their friends and close ones but as it has been two years for them in a relationship so the engagement was only on the cards. We will soon discuss this with her parents as they will have their little wishes and we will do whatever makes them happy."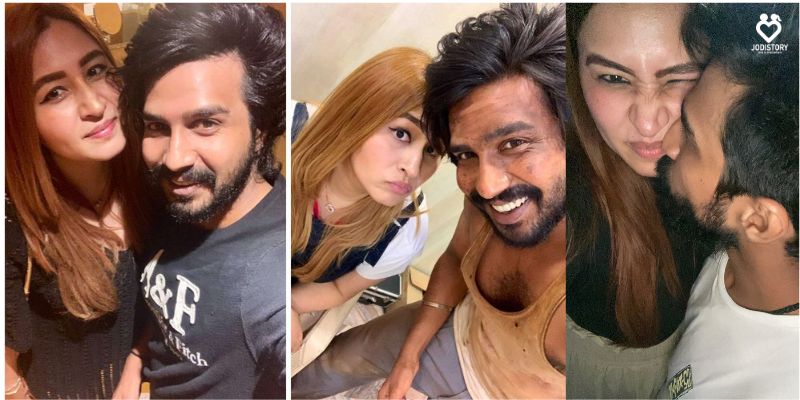 Vishnu and Jwala's great Indian wedding, an inspiring journey from friends till marriage
Before the marriage, Jwala and Vishnu announced their marriage on social media. Jwala writes "We are getting married,"
While the actor writes "Life is a journey… embrace it… have faith and take the leap…Need all your love and support as always…."
On April 22 2021 cricketer-turned-actor Vishnu Vishal married his girlfriend Jwala Gutta. She appeared in a blue and golden saree with heavy detailing on it and Vishnu Vishal opted for traditional attire.
Both looked like fabulous Indian wedding dresses. They took vows and wedding promises in a private ceremony with their close and dear ones in Hyderabad.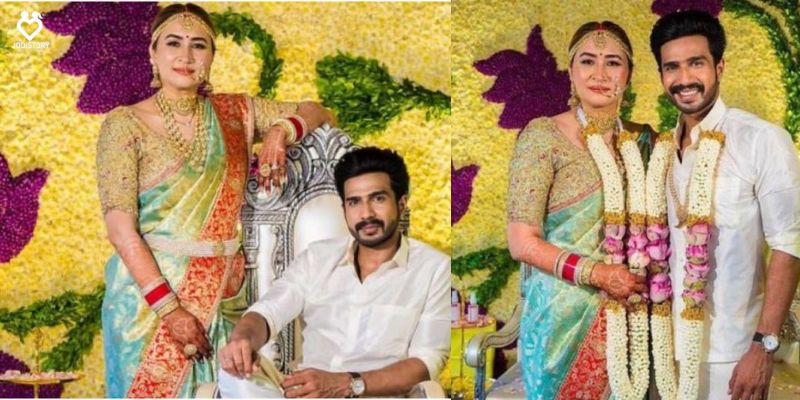 Before the marriage, the couple had the pre-wedding shoot in which they had the haldi ceremony and also had a ball with their friends. In some of the pre-wedding shoots, the badminton player just looked adorable in the Yellow Lehenga and the actor stole the limelight in the black outfit.
For another occasion, the badminton player appeared in a pink embroidered lehenga. She looked just inspiring and beautiful. The photos of the Haldi and Mehendi ceremonies are going viral on Instagram.
Telangana Excise Minister V Srinivas Goud blessed the couple by being present at their wedding. Official wedding photographer Karan Soma shares a special moment from the wedding on social media. In the photograph, the couple looks just adorable and happy. We are happy and pray for good wishes for the couple.
MUST-READ LOVE STORIES
FAQs
Why did Jwala Gutta and Chetan got separated?
Jwala Gutta and Chetan got separated in the year 2011. Jwala said that there were some problems going on between them. She wasn't respected by her and neither was her profession.
Who did Jwala Gutta marry?
Jwala Gutta after getting divorced from Chetan fell in love again. She was in a relationship with Vishnu Vishal. Both of them met at a talk show in 2017. They got married in the year 2020 during the pandemic.
How did Jwala Gutta and Vishnu Vishal meet?
Jwala Gutta and Vishnu Vishal met in the year 2017. Both of them met through a talk show. They remained friends for a year and in 2018 they finally made it public that they are dating.
Conclusion on Jwala Gutta and Vishnu Vishal love story
Jwala Gutta faced a lot in her past marriage due to not getting respect. A marriage or any relationship in this world cannot work if there is no equal respect from both sides.
Vishnu Vishal also faced certain circumstances in his life where his married life started getting ruined. But, it was all gods plan to bring these couples closer. Though they were broken due to their past relationship. But, after meeting each other, Vishal and Jwala realized that they were soulmates.
There is no full stop to the feeling of love even after a heartbreak. They were true soulmates and never gave up on each other even during hard circumstances and busy schedules. Both of them maintained a peaceful and healthy relationship, even though both were from two different walks of life.
Jwala Gutta and Vishnu Vishal's love story from heartbreak to their marriage is inspiring and heartwarming for all of us.
What are your views on Jwala and Vishnu love story? Comment down below!