Babita Phogat and Vivek Suhag Love Story are adorable. Babita Kumari Phogat is an Indian female wrestler. She won the gold medal in the 2014 Commonwealth Games. She also won silver medals at the 2018 Commonwealth Games. This popular Dangal girl also won the 2010 Commonwealth Games. Her never-ending award list also includes a bronze medal at the 2012 World Wrestling Championships. Babita Phogat entered politics by joining the BJP in 2019. She professes to be strongly influenced by Narendra Modi.
Must Read Love Story
Babita is the younger sister of Geeta Phogat. Who won India's first gold medal in women's wrestling at the Commonwealth Games. Babita is the daughter of the wrestler and Dronacharya Award Mahavir Singh Phogat. The film Dangal was released in 2016. It was based on the story of Babita and her sister Geeta.
She has played a very big role in changing the mentality of the nation. Especially the state of Haryana regarding girls. She became a living example of the fact that girls are made not only to sit in the house and do household chores but to run the world. 

Vivek Suhag was born in Najafgarh, Delhi, India. He did his schooling from Delhi Public School. In 2018, he won the Bharat Kesri competition. He loves doing traveling and gymming. He considers Sushil Kumar as his inspiration. Vivek follows a non-vegetarian diet. He is a religious person. Vivek keeps sharing his temple visits pictures through his social media accounts.
How Did Babita Phogat and Vivek Suhag Love Story begin?
Vivek and Babita first met during a wrestling event in Delhi in the year 2014. They met again in Babita's academy of wrestling. Vivek once said he lost his heart to this famous Dangal girl in the first meeting itself. Babita Phogat and Vivek Suhag Love Story began at that moment. He said the best thing he liked in Babita was her simplicity. Babita and Vivek felt a connection with each other in the first meet itself.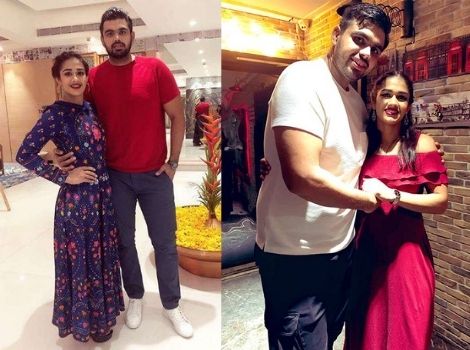 After that, they kept on meeting as both belong to the same field, which is wrestling. In 2015, they decided to tie the knot forever. Soon, both got engaged in a private ceremony. However, it was in June 2019, when Babita had officially announced her relationship with Vivek. She made it public on her official Instagram handle.
She had shared a picture with him and along with her father, Mahavir Singh Phogat. And the elders of the house. Along with it, Babita had written, "@SuhagVivek you know it's official when you get the blessing from my Bapu. It's time for Dilwale to take her Dulhaniya. #love #blessing #myman #engaged #lifeline #myhero .
"This was the day when the world got to know that this famous Dangal girl is in love with someone. Babita Phogat and her fiance Vivek Suhag participated in Nach Baliye 9, Salman Khan Show. Babita and Vivek won the hearts of the audience by their adorableness. On the same show, Vivek proposed her publically.
Making It Forever, Babita Phogat and Vivek Suhag Love Story Also Supported Social Cause
Babita Phogat and Vivek got married in a traditional ceremony on December 1, 2019. Both of them had a very lavish yet private wedding with many ceremonies included. Babita Phogat and Vivek Suhag Love Story turned into a forever fairytale.
Although they had a lavish wedding yet they got married at their ancestral village of Balali in Haryana. We live in a world where dowry is given in the name of gifts and honor of the family.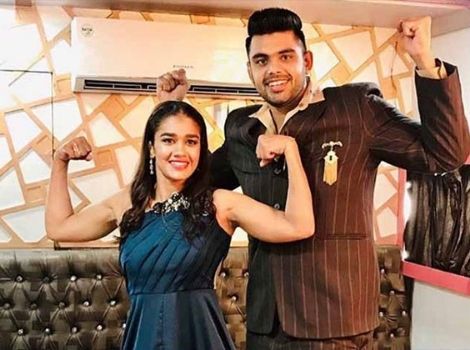 While many of us happily indulge in this tradition of giving 'so-called' gifts. We are forgetting the true meaning of weddings. We are blindly walking the herd walk of destination weddings. But, Gold medalist wrestler-turned-politician, Babita Phogat has given us inspiration. The couple took an extra phera – instead of the traditional seven.
When asked why they did this? They answered." We took an extra phera to support the 'Beti Bachao, Beti Padhao' initiative. It opposes female foeticide and promotes education for girls". While many of us believe in high profile show off party.
The couple inspired us by keeping their guest list selected. Babita wore a very graceful Sabyasachi Lehenga. Her Lehenga was similar to the wedding dress worn by actress Priyanka Chopra.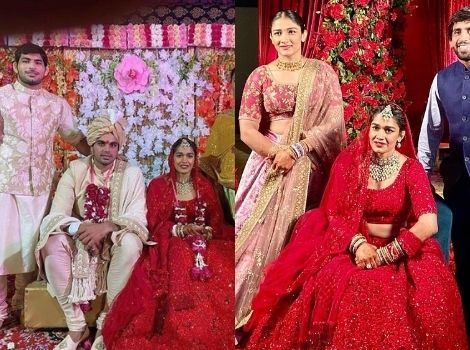 Congratulating her sister on her new journey, Geeta Phogat shared three photos from the wedding with the caption. "My lovely sister Congratulations on your marriage. I hope that all of your dreams come true as you begin this new journey. Many many congratulations to both of you."
Must Read Love Story
Happily Ever After
After three days of their marriage. Husband Vivek gifted a new car to her. The newlywed bride Babita wrote on her Instagram handle. "What better than a new awesome car to start our new journey together. thank you @suhagvivek for this awesome and considerate gift." and shared a couple of pictures with a new car. That was gifted to her by her husband, Vivek. Since then, this couple is more than happy with each other. They are making life worth living together.