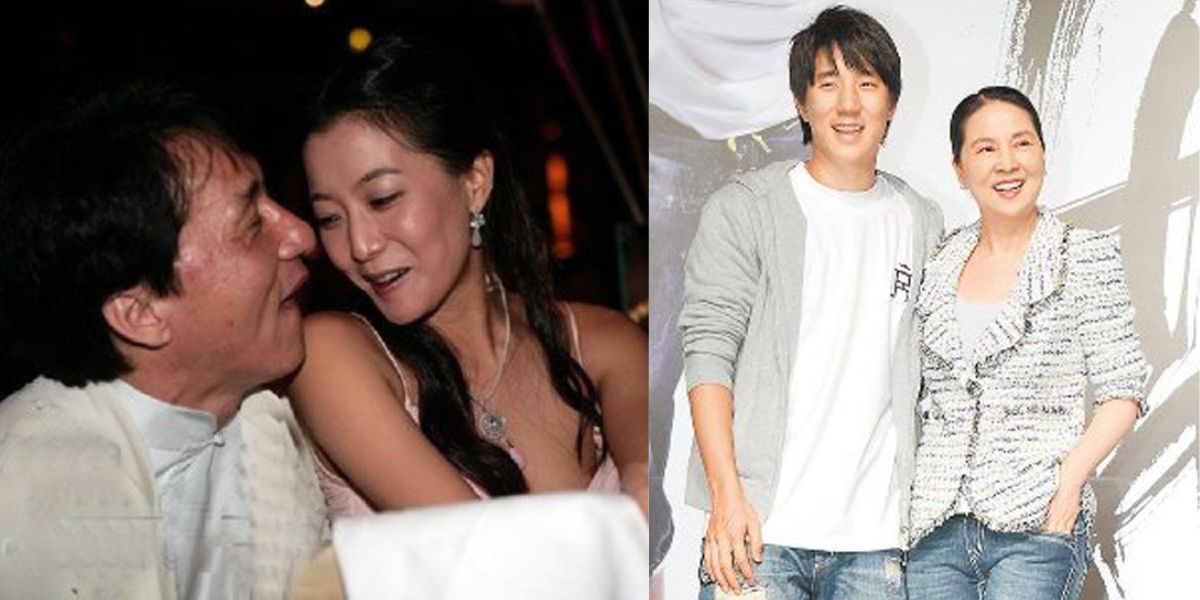 Jackie Chan is a renowned celebrity. He is world-famous for being a martial artist, director, producer, philanthropist, goodwill ambassador for UNICEF, paid endorser for scores of products, and even a Guinness World Record holder for "Most Stunts by a Living Actor." But do you know Jackie Chan & Joan Lin Feng-Jia love story?
Jackie Chan is known for his stunts and action. But this reel-life hero has a real-life love story too. Jackie Chan & Joan Lin Feng-Jia's love story is full of courtship, romance, betrayal, extramarital affairs, drama, and whatnot. Let's have a look at a real-life love story which is no less than a film's script.
Jackie Chan: The Legendary Action Hero
Jackie Chan (born in Hong Kong in 1954) is a legendary actor and martial artist from Hong Kong who has entertained audiences for decades with his comedic action films. He began as a stuntman in Bruce Lee films and went on to become a leading actor in over 150 films, using his impressive athleticism and comedic timing to captivate audiences. He is known for films like Zui quan and Jing cha gu shi and in Hollywood blockbuster movies such as Rush Hour, Kung Fu Panda, and a remake of The Karate Kid.
MUST READ READ LOVE STORY
Chan is also known for his philanthropy and is widely loved for his good-natured personality. Chan's unique style has earned him worldwide fame and recognition as one of the greatest action stars of all time.
Jackie Chan fell in love with his wife Joan Lin in 1981
Jackie Chan fell in love with Joan Lin Feng-jia a Taiwanese actress. In 1981 they worked together & that's the point where their love story begins.
Joan Lin was a very beautiful film superstar in Hong Kong & Taiwan cinema. She was born in Taiwan on June 30, 1953. She began her acting career at the young age of 19.
Is Joan Lin more legendary than Jackie Chan?
Although it may seem hard to believe, Chan's wife, actress Joan Lin, was even more well-known than he was when they first crossed paths, but yes, that's how it is. This is about the time of 1970s, Lin was a superstar and more famous than Chan at that time. Lin also had more fan following than Jackie.
She was in more than 70 movies like Xiao cheng gu shi (1979), He Never Gives Up (1979) and Tang Shan gong fu (1974) before she retired from acting.
Lin met Chan while shooting films
Lin & Chan met each other through movies. They worked together in films when they fell in love with each other. They started dating but kept their relationship lowkey & hidden from all till the time they didn't get married & made it official. The pair has been through a lot together, and they tend to keep a low profile.
Chan fell for Lin's level-headed nature
Lin is down to earth & had a great personality. She was so soft-spoken that everyone used to admire her. Even Chan's team used to like her & were fond of her. He even told about their likeness to Lin in his book "The Love of My Life".
He remembered them saying, "Jackie, she's so beautiful, and such a nice person."
She was a person who was real, friendly, and unpretentious, and she accepted him exactly the way he was. They got along well.
Chan & Lin were different poles
Chan had the opposite personality to Lin. He stated in his book, "Never Grow Up", that he was a cocksure & unruly person at an early age.
Whereas, Lin was a soft-spoken, modest & shy person who was far away from being showy. Unlike other celebs, she wasn't a showoff person. She was loved by all for being real.
Chan married Lin in 1982 because she was pregnant
When they were dating, Lin got pregnant with Chan's baby.This news made the couple wonder how their fans gonna react. For this, they came up with a solution to move Lin to the United States secretly.
Everything worked according to the plan and she left for California. Chan was working, so he did not accompany her. Instead, his manager traveled to America with Lin. Chan was busy in his life & he never went to meet Lin. He didn't pay attention to Lin during the times she needed him the most.
During all such situations, another dreadful thing happened. Chan's manager departed back from California. Now, Lin was all alone in a foreign strange land at a time when she needed to care for the most.
Finally, Chan went to meet Lin In America
In the end, Chan took time out of his busy life & went to meet Lin in a foreign land. When Jackie came to the American shore, their baby was about to be born.
Chan's manager suggested the couple get married. Chan and Lin had their wedding on 1 December 1982 in a private room at a rooftop coffee shop. It was not romantic at all.

Some reports also suggest that Chan was forced by either his parents or Lin's father to get married to her.
Jackie Chan became the father in 1982
On the same night, Chan & Lin's only child Jaycee Chan was born on December 3, 1982. As Jackie revealed, "I married her, and the next day, our son was born. Then I got on a plane and returned to work." He wrote, in his new offspring, "Most babies are ugly when they're born, and Jaycee was no exception,". This shows his meager fatherly pride. Still, he seemed relieved that the child was at least healthy.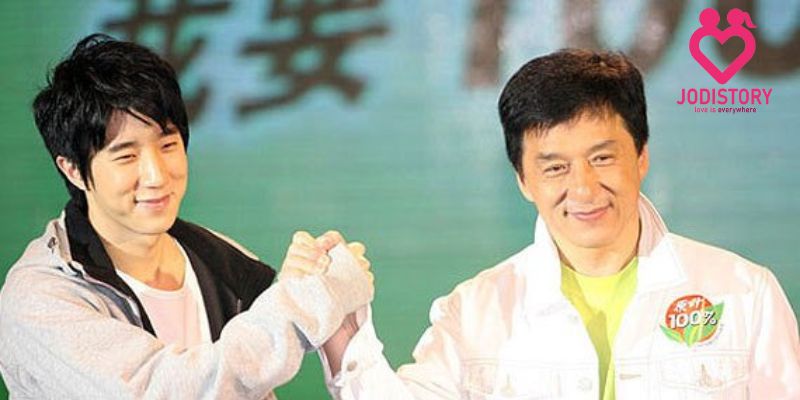 Chan's friend was the apple of discord in his relationship
In his book, he stated that his friend started putting an idea in his mind that Lin is a gold digger without any basis. He used to claim that she is after his money even after knowing the fact that she has made herself. Lin never did anything that can cause suspicion about her.
Chan mentioned in his book, "Although I frittered away my own money like crazy, I never gave Joan access to my bank accounts and made sure that, if we were to divorce, she wouldn't receive a dime."
He knew Lin was a loving and devoted partner and parent, & he was unkind to her. This bothered him to some degree. He mentioned, "I was the wicked one, not her, and also stupid," he said.
Chan cheated on Lin & had an Extramarital Affair in 1999
In 1999, Chan had an extramarital affair with Hong Kong actress Elaine Ng Yi- lei. She was pregnant & had Chan's daughter, named Etta Ng Chok Lam. This news get viral & this landed as a boom in Chan's life & their marriage.
Chan was so embarrassed at the time. "I'd behaved abominably and I'd let her down badly," Chan conceded. He tried to contact them & explain to them everything.
On Chan's request, the three J- Chans-Jackie, Joan, and Jaycee had an awkward family meeting. He had something to confess to them.
Chan said, "I want to apologize to you both". He said this is an "unforgivable mistake" in front of his wife and son.
And the incident changed everything
When Jackie's affair came out he was so ashamed. But Lin still supported him. She didn't shout or argue with him. She even told him that if he want then she & their son, Jaycee will come in support of him.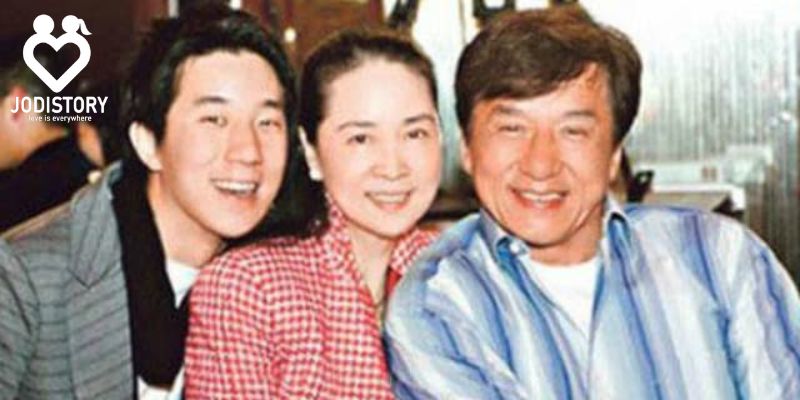 Chan changed his will after that, leaving everything to Lin. It seems as if this incident had brought him clarity about her decency and the unfairness of some of what he put her through.
MUST READ:
Who is Jackie Chan's wife?
Joan Lin Feng-jiao (born 30 June 1953) is a Taiwanese former actress.
Did Jackie Chan get married?
Jackie Chan got married to Tiwanese actor Joan Lin Feng Jiao. They got married in 1982.
Are Jackie Chan and his wife still together?
Yes, Chan & his wife Lin are still together. They got married in 1982 & are still together with each other.
When did Jackie Chan marry?
Jackie Chan got married in 1982 to wife Joan Lin. It was a secret marriage at United States.
Did Jackie Chan have kids?
Jackie Chan has two kids. He has a son with wife Joan Lin & a daughter with extramarital affair. His son name is Jaycee Chan & daughter name is Etta Ng Chok Lam.
Learn from Chan's mistake
Many times we have all that a man needs, but due to our idiotic ness or ignorance, we can't count our blessings. We are so busy running behind useless things that we don't value the gold we have.
We should respect the blessing we have before we lose it. Not everyone is as lucky as Jackie Chan. Jackie Chan & Joan Lin Feng-jia love story teaches us alot.