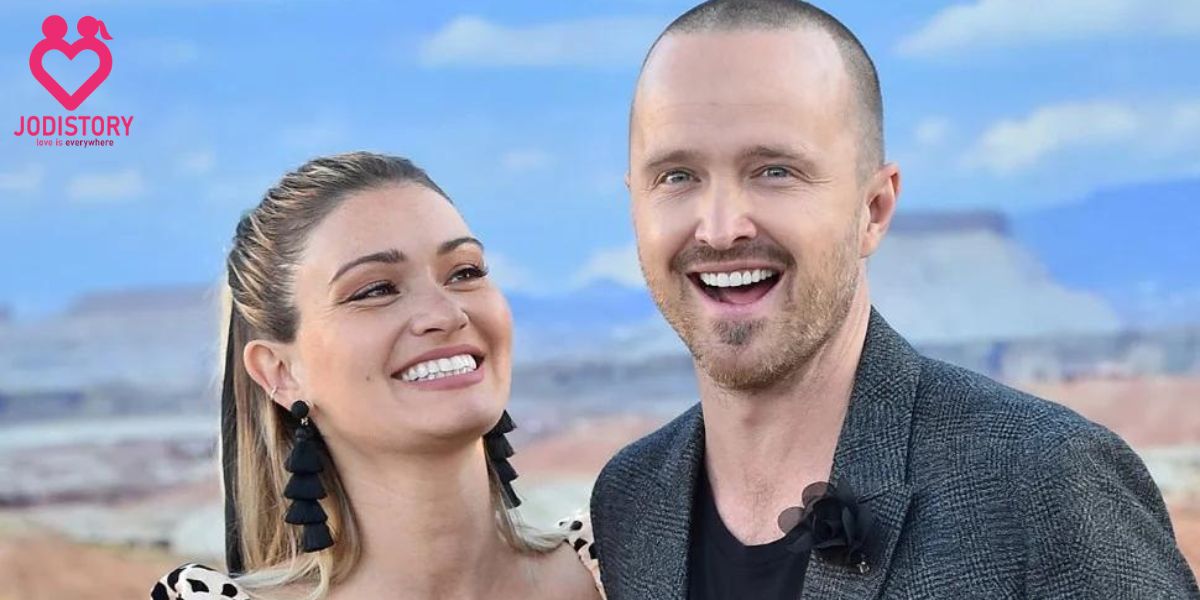 Aaron Paul and Lauren Parsekian are a couple whose love story has captured the hearts of many. Love is just an incredible feeling. Their relationship started with a chance meeting at the Coachella music festival in Indio, California, in 2010. From that moment on, they knew they had something special, and their connection only grew stronger over time. The two fell in love quickly and knew they wanted to spend the rest of their lives together after just one date. In this article, we will take a closer look at Aaron Paul & Lauren Parsekian's love story from their first meeting to their stunning wedding and beyond.
It's a high that only goes high and comes down too but only to go up again. Sound like a dream, right? Imagine that your soulmate is standing right in front of you but you just don't know that they really are your soulmate! That's enough to drive anyone crazy.
Sometimes people meet their soulmate almost instantly and don't even want to wait to fully commit to them. Yes, love like this exists. Read below an incredible tale of Aaron Paul and Lauren Parsekian's love story where they decided to marry each other just after their first date!
Who is Aaron Paul?
Aaron Paul is an American actor. He was born in 1979 and his full name is Aaron Paul Sturtevant. He is best known for his portrayal of Jesse Pinkman in the AMC series Breaking Bad from 2018 to 2013. Aaron also won many awards because of his remarkable performance.
One of Aaron's recurring roles is as Scott Quittman on HBO's Big Love from 2006 to 2011. He has done movies like Need for Speed as well as Hellion in 2014, Eye in the Sky in 2015, etc.
MUST-READ LOVE STORIES:
Who is Lauren Parsekian?
Lauren Parsekian is an American director and actress who is known for the Finding Kind documentary that was released in 2011. She founded the Kind Campaign in 2009 which is an NGO bringing light to girl-against-girl bullying.
It is incorporated in schools as a program. Lauren is of Armenian descent. She was born in 1986.
The first meeting of Aaron Paul & Lauren Parsekian in 2010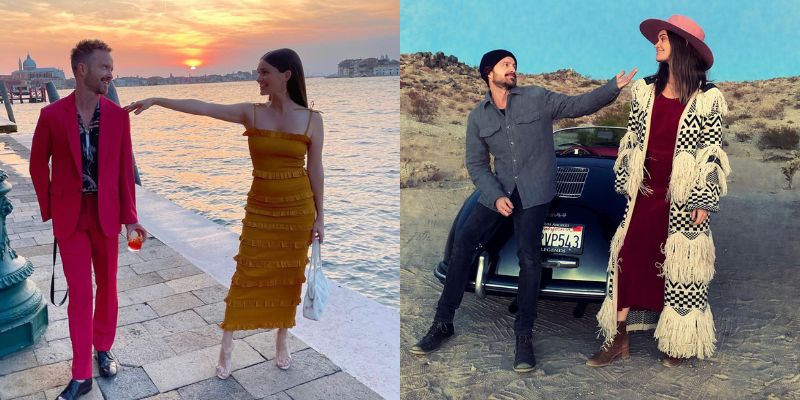 Aaron and Lauren met each other for the first time at Coachella in 2010. But they didn't really hit it off as they did at the Coachella event of 2011.
During their second meeting after one year of meeting each other for the first time, Aaron and Lauren finally felt some sparks for each other. They even had a very romantic first kiss!
The two lovebirds, Aaron and Lauren decided to seize the moment and kissed on the Ferris wheel at Coachella. Definitely a romantic way to have your first kiss! Up high in the sky in the arms of the person you love and desire!
Aaron Paul & Lauren Parsekian wanted to get married after their first date
Aaron and Lauren had their first date in Las Vegas in 2011. Mostly first dates are for just getting to know the person in front of you a little better. But in Aaron and Lauren's case, the first date was more than just perfect!
The couple just jumped inside a cab and asked the driver if he could drive them to the nearest chapel because they wanted to get married! It's so sweet that they felt like spending the rest of their lives together just after their first date. It shows how special their relationship was from the start.
Aaron Paul proposed to Lauren Parsekian in 2012
Even though Aaron and Lauren wanted to get married right away after their first date, Aaron chose to wait for a while and proposed to Lauren on New Year's Day!
Aaron and Lauren were dancing with each other in a courtyard when Aaron proposed to Lauren in 2012. She was extremely excited and happy after that. He truly believes that he is the luckiest man on earth.
Aaron himself declared that he begged Lauren to marry him! He feels that she has a unique magical glow about her that makes her stand out.
Aaron Paul & Lauren Parsekian's marriage in 2013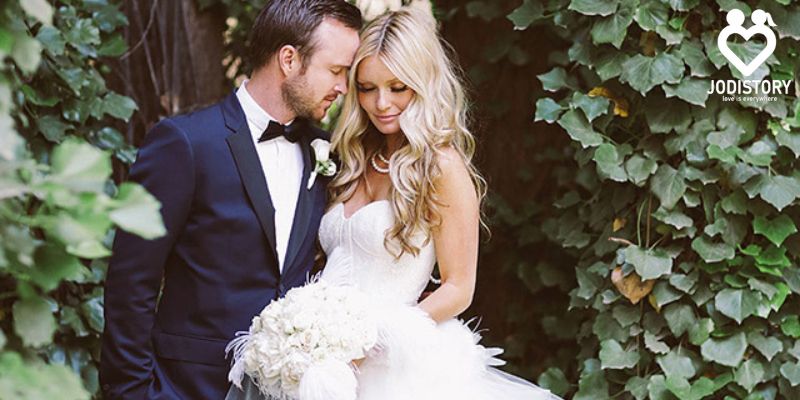 Aaron and Lauren married each other in Cottage Pavilion at Calamigos Ranch in Malibu in 2013. Even on their wedding day, Aaron didn't hold back on his romantic gestures.
Aaron emailed all of his guests before they came to the wedding to learn the lyrics to Beauty by Shivers. He even got the lead singer to come to his wedding.
When the singer started singing Beauty and all the guests joined him, Lauren just wept at this huge romantic gesture made by her husband. It was truly mesmerizing.
Aaron Paul & Lauren welcomed their first child in 2018 & second in 2022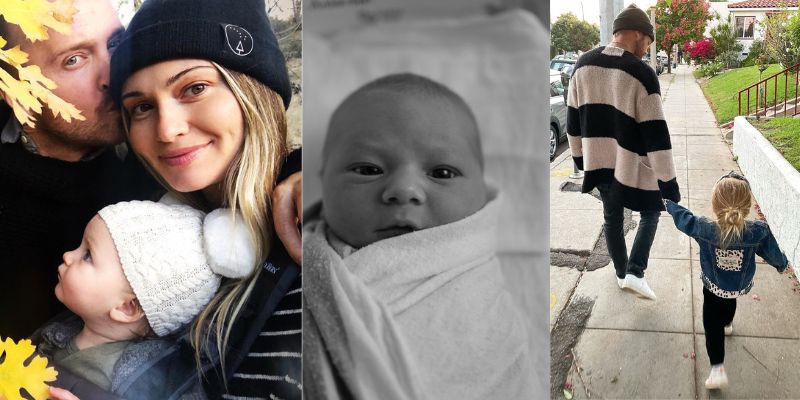 Aaron and Lauren welcomed their baby girl in 2018. They named her Story Annabelle. They both were completely in love with their daughter when she arrived in their lives. Even words couldn't express their feelings and gratitude.
In 2022 the couple welcomed their second baby, a boy. They named their little boy Ryden Caspian. Their daughter Story really loves her little brother Ryden too.
FAQ's
Who is Aaron Paul's wife?
Lauren Parsekian is the wife of Aaron Paul.
Did Aaron Paul have a baby?
Yes, Aaron Paul has one daughter, Story who was born in 2018, and one son, Ryden born in 2022.
How did Aaron Paul and Lauren Parsekian meet?
Aaron Paul and Lauren Parsekian met at a Coachella event.
Is Aaron Paul Single?
No, Aaron Paul is married to Lauren Parsekian in 2013. Aron & Lauren were mad in love that after first date they wanted to get married.
When did Aaron Paul get married?
Aaron Paul got married in 2013 to Lauren Parsekian after 3 years of dating.
MUST-READ LOVE STORIES:
Thoughts on Aaron Paul & Lauren Parsekian's Love Story
In conclusion, Aaron Paul & Lauren Parsekian's love story is for the ages. Their journey is a beautiful reminder that true love can happen when you least expect it. From their by-chance meeting at Coachella to their magical wedding day, Aaron and Lauren have proven that a strong connection, and unwavering support, can make any relationship thrive.
Their story is a testament to the power of love, and their commitment to each other is a reminder that true love is worth fighting for. As they continue to build their lives together, it's clear that Aaron and Lauren's love story is one that will inspire and captivate for years to come.
Aaron Paul & Lauren Parsekian's love story proves that when you finally find the person you love everything becomes perfect from the small moments to the big moments. They go over and beyond just to see that smile on your face.
In a relationship, people show their affection to their partner in many ways. Aaron shows his love to Lauren through some grand gestures. He takes every chance he gets to make her feel special which shows us that the love only deepens when you make your partner feel like they're the only one for you.
Moments are what make memories so never shy away from telling your partner how much they mean to you. Always try to fit in some lovely gestures for your loved ones! They'll absolutely love them and appreciate you for making it all happen! What is your thought on it? Comment it.