Love is a beautiful feeling but can also bring heartache. Love only brings heartache when time and again your partner gives you reasons to be in pain. But with the right person, you won't ever feel the pain in your heart just like in Zoe Saldana & Marco Perego's love story!
Zoe Saldana is a well-known Hollywood actress who has made a name for herself in the entertainment industry with her talent and versatility.
Just imagine having a perfectly fine long-term relationship with no major issues. Sounds like a dream right? But what if down the line you realize that your partner does not want the same things as you? It's ought to be heartbreaking, right?
Having a number of failed relationships can make a person shut down emotionally. But when they meet their perfect fit those walls definitely come down. The same happened with Zoe. Let's see this in Zoe Saldana and Marco Perego's love story.
Who is Zoe Saldana?
Zoe Saldana is an American actress. Her full name is Zoë Yadira Saldaña-Perego. She was born in 1978. She's an integral part of the highest-grossing films of all time which are Avatar, Avatar: The Way of Water, and Avengers: Endgame. Her birthplace is Passaic, New Jersey.
Her career started after she appeared in two episodes of Law and Order in 1999. She appeared in the movie Center Stage in 2000. A tragedy happened to Zoe when she was just nine, her father died in a car crash. She suffers from Hashimoto's thyroiditis for which she follows a dairy and gluten-free diet.
Saldana has since become a household name, appearing in other major films such as the Star Trek and Guardians of the Galaxy franchises. In addition to her acting career, Saldana is known for her philanthropy work,
MUST-READ LOVE STORIES:
Zoe Saldana's first relationship with Keith Britton (1999-2011)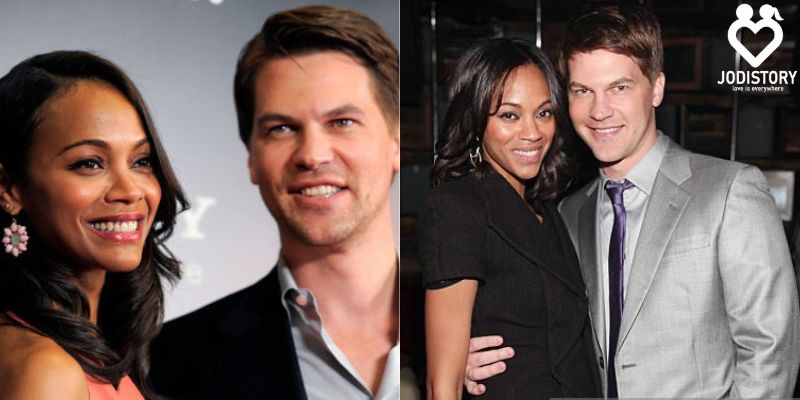 Zoe has been in a relationship with entrepreneur and businessman Keith Britton since 1999. They even started a fashion company together. For eleven long years, they were in a relationship.
The couple was really thrilled to announce their engagement in 2010. However, the engagement never turned into a marriage or even a marriage proposal.
Soon the couple split up and broke off their engagement in 2011. She badly wanted to have kids with Keith but for a very long time, he wasn't ready.
When Keith was ready to have kids, Zoe couldn't find the time to make it happen and so they never reached a point where they could start a family.
However, Zoe doesn't have any regrets about her breakup with Keith as she did what she felt was right for the time being. She respected his decisions and waited with him and she is very proud of that.
Zoe Saldana's second relationship with Bradley Cooper (2011-2012)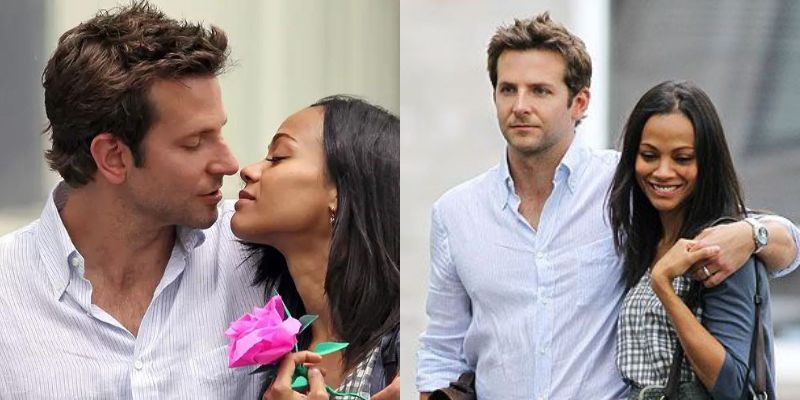 Zoe and Bradley starred in a movie together in 2011 called Two Words. She had just broken up with Keith, an 11-year-long boyfriend, and fiance. But she and Bradley started their relationship quite early.
They both were really doing great until things started to become cold and soon in 2012 they decided to break up with each other. So the relationship took no time to end just like it took no time to start.
Zoe Saldana's third relationship with Marco Perego and first meeting (2013-Present)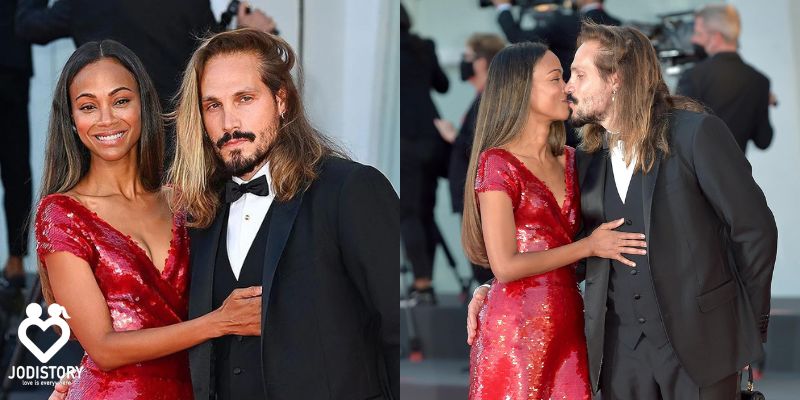 Zoe finally met the love of her life Marco in 2013. They met each other on the flight to New York. She didn't even look at his face when she instantly felt a connection with him.
She only looked at the back of his head as he was sitting in his seat. He turned back to look at her as they both felt something right at that instant. They felt as if they were meant to be.
Zoe never believed in love at first sight but after meeting Marco things changed for her and she started believing in it all even though it didn't offer any logic to her.
Marco Perego is a producer & director. He was born in Italy in 1979.
Zoe Saldana & Marco Perego wedding in 2013
Zoe and Perego were deeply in love with each other. The idea of being married to each other occurred to the two of them soon after they started dating. They got married in 2013 in London. So finally it was meant to be! They got hitched and it was beautiful.
Their feelings behind getting married to each other came really naturally and when they felt like they wanted to marry they went ahead and did it within three weeks. It was all very quick and meant to be for this amazing couple.
They both were really excited to share a new life with each other. True love always finds a way and theirs did as well.
Zoe Saldana and Marco Perego children
In 2014 Zoe and Marco welcomed two wonderful twin boys into their lives. It was truly a blessing and they both were beyond happy. After wanting kids for years Zoe was finally a mother. It was a big moment for her.
The couple welcomed their third baby boy in 2016. He was named Zen Anton Hilario. They always try to remind their identical twins to not forget about their little brother Zen and to include him in all the activities and play with them too!
Zoe and Marco are raising their three sons in a gender-fluid environment. They don't follow the traditional rules of matriarchy and patriarchy. Both Zoe and Marco play the bad cop and good cop for their sons alternately.
Marco Perego's true love for Zoe Saldana
Marco is in so much love with Zoe that he even went as far as getting Zoe's face tattooed on his arm forever. It was one of the most romantic gestures anyone could've done for their partner and Zoe absolutely loved it.
One of the greatest things he ever did for his relationship took his wife's last name. She told him that he would be emasculated by his community and men. But Marco simply told her that he didn't care.
He simply just looked at her and asked her why she was so afraid. If a wife takes up the name of her husband then it should be completely okay for a husband to take up his wife's name. So Zoe and Marco brought a new change through their relationship.
FAQ's
How did Zoe and Marco meet?
Zoe and Marco met on a flight to New York. She only looked at the back of Marco's head as he was sitting in his seat. He turned back to look at her as they both felt something right at that instant. They felt as if they were meant to be.
Who is Zoe's husband?
Marco Perego is Zoe's husband. He is the producer & director known for his remarkable work in The Absence of Eden, Burn to shine.
Is Zoe Saldana still with her husband?
Yes, Zoe and her husband Marco are still together. Zoe started dating Marco in 2013. They were so mad in love & did wait so much. The couple got married in 2013 since then they are living happily.
Did Marco Perego take Zoe's last name?
Yes, Marco proudly took Zoe's last name Saldana out of love for Zoe. Now his name is Marco Perego Saldana.
MUST-READ LOVE STORIES:
Thoughts on Zoe Saldana & Marco Perego's love story
Zoe Saldana and Marco Perego's love story is one of a kind. They're truly a modern couple who are just not existing and living in their small happy family bubble.
The couple is actively trying to bring change in the modern world through their thoughts and ways of parenting. Their love surpasses the limits of society which are truly commendable.
Undoubtedly they make a couple that's inspirational and teaches important values to the entire world through their loving and supportive relationship. While they keep their personal life relatively private, they have been open about their love and admiration for each other in interviews and on social media.
Overall, their love story seems to be one of deep commitment, respect, and love for each other and their family. Share your thought in the comment box.