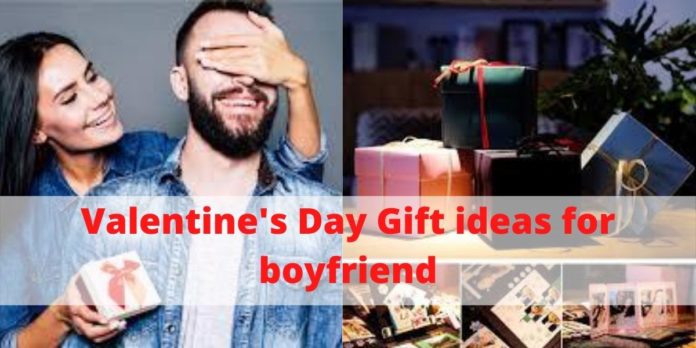 Valentine's day has always been a special occasion for all couples worldwide. This is the day when we celebrate 'LOVE'. We always want to gift or present something special to our special one. But, even after hours of mind blogging and product searching we don't get that one unique gift apart from roses, teddies or chocolates. Especially when it comes to Valentine's Day gift ideas for boyfriend. Because apart from wallets, deodorants, and watch, it's hard to find an extraordinary gift while online shopping.
Are you too bored of this so common gift stuffs? And looking for new, trendy, and cool valentine's day gift ideas for your boyfriend? But there's also a budget constraint for you? Don't worry we are here at your rescue suggesting 11 best pocket-friendly and unique gifts from Amazon.
Must-read tips:
Here's the list of top 10 Valentine's Gift Ideas for boyfriend
1.Enchanted Mirror Greeting Card from OYE HAPPY
Many people themselves try to make a card in the race of making it special and extraordinary. In spite of hard work, the outlook of the desired greeting card comes something entirely different. Plus, it takes a lot of time from our schedule. This unique greeting card embedded with a mirror inside will surely bring a smile on your boyfriend's face.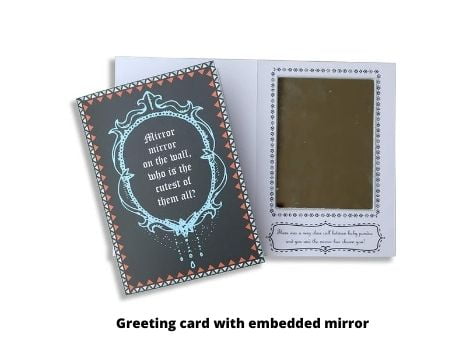 Pocket friendly ( in the range of 150-200)
Ready-made
It comes with an envelope and is elegantly gift-wrapped and carefully packaged to keep the mirror safe during shipping
A cool technique of reminding your loved one how cute they are with this enchanted mirror.
Size of the card: 17 cm x 12 cm
2.Gold Rose from OFIXO
Why just a bouquet of fresh-smelling roses, gift him this beautiful 24K Gold rose packed in a beautiful purple box and carry bag. The best thing, he can always keep this rose close to his heart.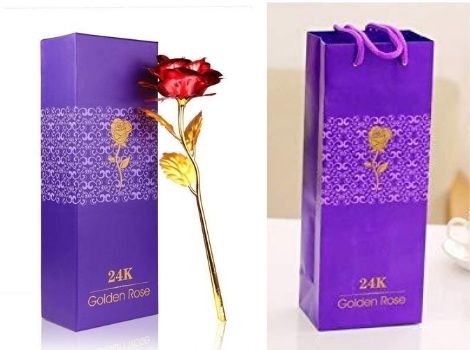 Available at just Rs.149
Adds urban charm to your interiors as we can use it as a room decor
The vibrant gold foiling makes it perfect eye candy!
No additional cost required for gift wrapping because the product comes in dual packaging
Check out the latest love news:
3.Love Messages Box from exciting lives
How about gifting an entire box of cards rather than just a single card. This unique long messages box comes with cute couple-graphics and loves messages.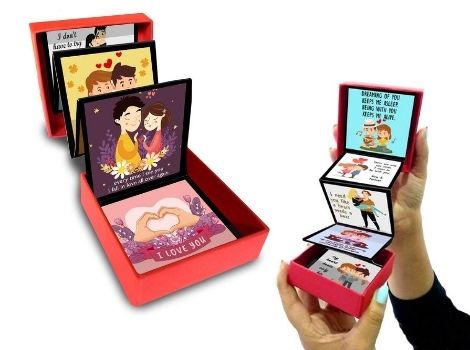 Price range ( up to Rs. 200)
High-quality printed strips
Carries quotes printed on both sides and make a wonderful gift
Box size: 7 x 7 x 2 cm, hence easily can be carried around
The most ideal gift for your loved one
4. McClub Glass Jar with Personalized Secret Love Messages
Wouldn't it be interesting to gift a jar full of sweet love messages rather than a jar of sweet chocolates! This personalized gift comes in a multi-color theme and a classic outlook. After the order placement, you have to mail your personalized message to the dealer and your gift is ready to be shipped.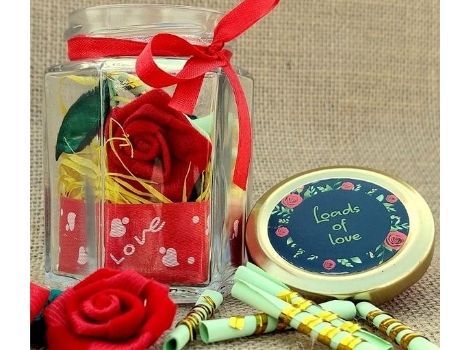 Gift jar contains 5 message papers
The jar is decorated with velvet rose, pearls so it can also be used as a decorative piece
The Jar is packaged in a beautiful net potli bag handcrafted with love
A super classy personalized gift at just rs.300
Jar bottle measures approximately 9cm x 7cm so it is small and super handy
5.Personalized Calendar Key Chain with Name and D.O.B on Metal from Smart Galleria
If your boyfriend keeps forgetting the anniversary date, then this is a must-must gift filled with both sarcasm and love. This unique gift second in personalized series is trendy and looks super cool. Also, you can get his birthday or some other special date printed on this golden key chain.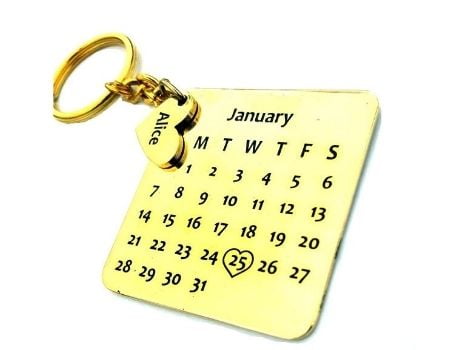 Price range rs.250-300
Intricate designing and hence a classic finished item
Sleek, compact, and lightweight design
Stylish golden color giving a royal appeal
6.Hug Me Quote Printed Blue Cushion
This light-blue colored sleeping cushion has a cute teddy bear graphics designed on it. No need to worry about shipping charges because this product comes under free delivery product from Indigifts. The cushion cover and the cushion filler come separately.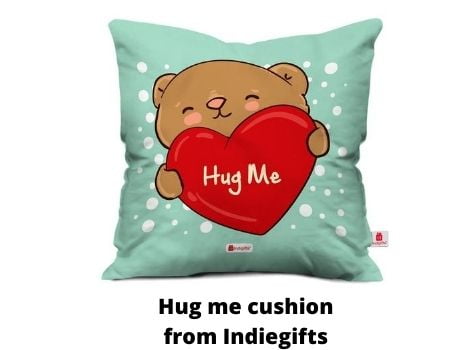 Price Rs.299
Hand washable
No worry about loose stitching because it has seamed stitches
Product guarantee that the color will not fade the way
Small size making it convenient to carry around, therefore easy to manage
Best class fiber giving it supreme bounce, comfort, and softness
Overlap backing makes changing of filler an easy task
Vacuum packed filler which easily retains its shape
Fabrication & materials used- Soft Poly Satin, Black Colored Cotton Overlap Envelop Backing
12×12 inches / 30×30 cms
7.' Love is Growing Old with You'- Printed Fridge Magnet from Family Shoping
It's the best decorative Valentine's Day gift ideas for boyfriend symbolizing long-lasting love. This fridge magnet has a picture of an old couple printed on it.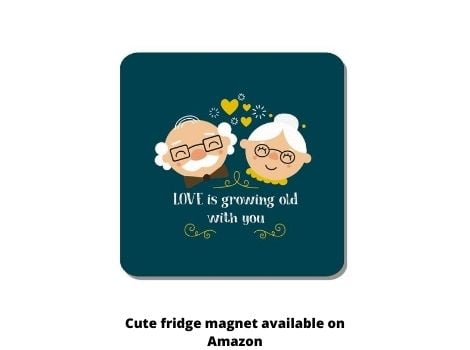 Price Rs.199 with free delivery
Quirky print and lightweight
High-Quality digital print, therefore, an excellent finishing
Super handy as the dimensions are 3.7*3.7 inches
8.Personalized Key Chain from Incredible Gifts India
How about gifting a heart-shaped key chain with a super classic wooden texture…..incredible indeed! In addition to this, the product falls under the personalized gifts category. After you place your order, you have to mail the dealers the image or photo you want to be imprinted. Firstly, this product is heart-shaped, a perfect theme for Valentine's day. Secondly, it's pocket friendly and easily affordable.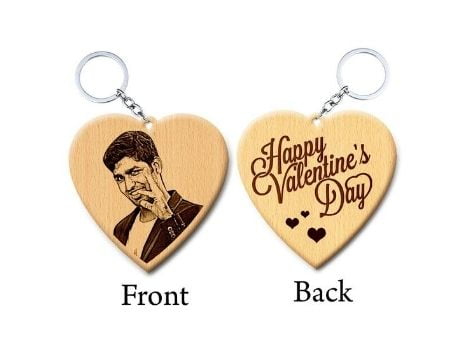 Price range from rs. 200-300
Free delivery available, so no tension for additional costs
Wood material and smooth finish
'Happy Valentine's Day' message written on the backside
Best personalized gift for your loved one
9.Doodle Love in A Jar Premium Hard Bound B6 Diary Notebook
If your boyfriend is a writer or has a habit of daily writing dairy, then this cute notebook goes as a perfect Valentine's day gift ideas for your boyfriend.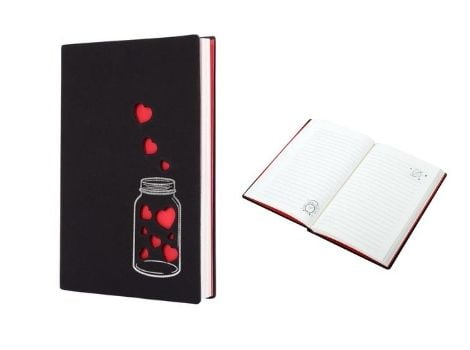 Made in India product therefore the best!
The affordable price of rs.267
Contains 192 natural shade perforated pages with small creative doodles
The black color with unique heart cut-outs on the cover
Hardbound
PU leather
4.75 X 7 Inches
10. Chocozone Kissing Couple on Bench Resin Showpiece
This is so far the most unique gift falling under the showpiece category. Because this cute decorative gift contains two doll structure with kissing expression. Its a 4 star rated product with realistic detailing and finishing.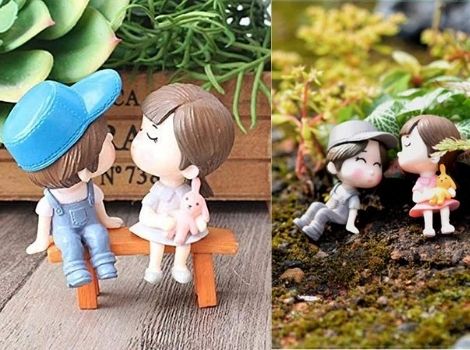 Contains three pieces- two human figures and one bench structure.
Price range – rs.250-300, hence easy to afford
The couple dolls depict feelings of life, like love, care, affection and romance
Product dimension- 5.5 x 6 x 2 cm
11. Desktop Clock: Apple-shaped
This apple-shaped golden desktop clock looks super classy and has a unique appeal. Above all, its a gift that is a hundred percent utilized. A clock is something at which the person constantly looks at for a time. If your boyfriend has this at his study table, then surely he will smile remembering your gift.
Price range: Rs. 740-800
Brass material
Golden color
In addition as a clock, it can be used as room decor or a showpiece
Here's the complete list of the top 11 unique Valentine's Day gift ideas for boyfriend. Firstly, all the above-described articles are rare and something uncommon, which cant be seen as a usual gift article. Secondly, all the listed products are pocket -friendly hence reducing the burden on your budget constraints. Also, if you are shopping for the first time on Amazon, then surely you will win additional discounts too. So go on and choose the best from the above list and celebrate a unique & special Valentine's Day with your boyfriend. Happy shopping!!!