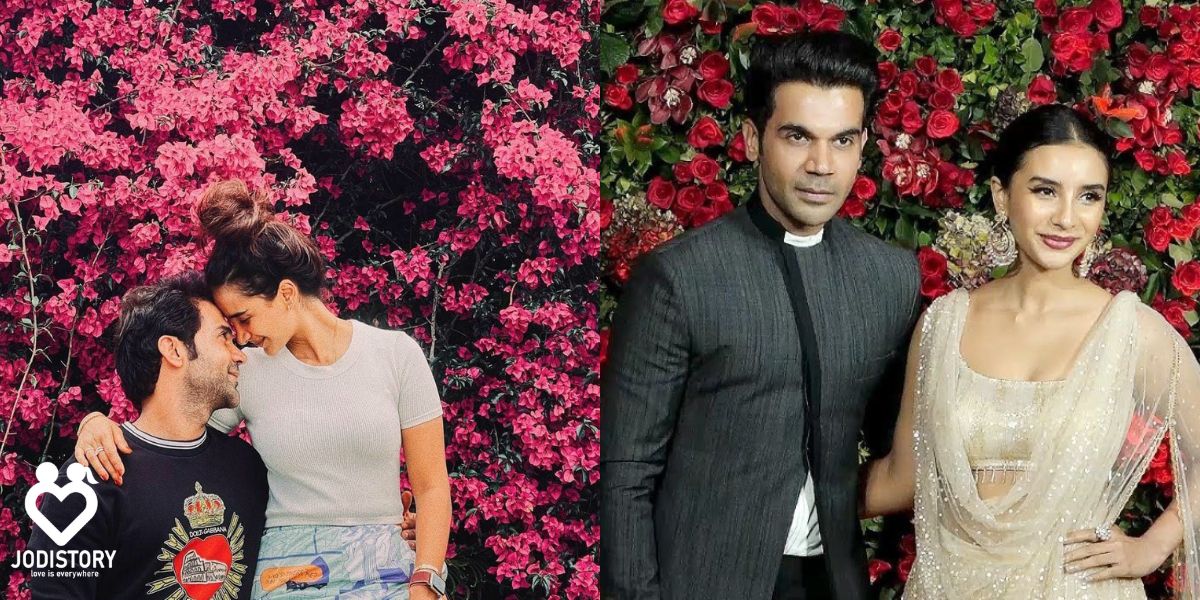 I know you are a fan of Rajkumar Rao which is why you have opened this article. No worries you are going to read his relationship timeline. Love is a wonderful feeling. Have you ever fallen in love with someone after just one look? Rajkummar Rao and Patralekha Paul's love story is half based on love at first sight. Why only half based? Well to know that you need to read this article!
The couple is together for over a decade now. Let's take a look back at Rajkummar Rao and Patralekha Paul's love story. You'll surely find out how their love story exactly started!
Who is Rajkummar Rao?
Rajkummar Rao is one of the most successful actors in Bollywood. He made his debut in the industry through his film Love Sex Aur Dhokha in 2010. Kai Po Che! and Shahid were the movies that gave him a huge thrust in his career.
Rajkummar was born in 1984. He proved his worth in Bollywood and is currently one of the highest-paid actors. Additionally, he's known to be witty and extremely charming.
Rao's career progressed with supporting roles in the films Queen (2014), Aligarh (2015), and Bareilly Ki Barfi (2017).
Not to break any hearts but he is married to Patralekha Paul.
MUST-READ LOVE STORIES:
Who is Patralekha Paul?
Patralekha is an Indian actress who debuted in the movie CityLights opposite Rajkummar Rao. She was born in 1989. Paul made her web debut in+ 2017 with Bose: Dead/Alive.
She is a Bengali beauty who was born in Meghalaya. The actress has not done many movies but still managed to make a prominent mark on the industry.
Initial thoughts of Patralekha Paul & Rajkummar Rao about each other
Patralekha knew Rajkumar from his movie Love Sex Aur Dhokha. She thought that Rajkummar would be as strange as he was in the movie. She wasn't very excited about his personality or attracted to him.
Rajkummar knew Patralekha through advertisements. Even if Patralekha thought that he would be strange, Rajkummar absolutely adored her in return.
Rajkummar Rao wished to marry Patralekha Paul after one look at her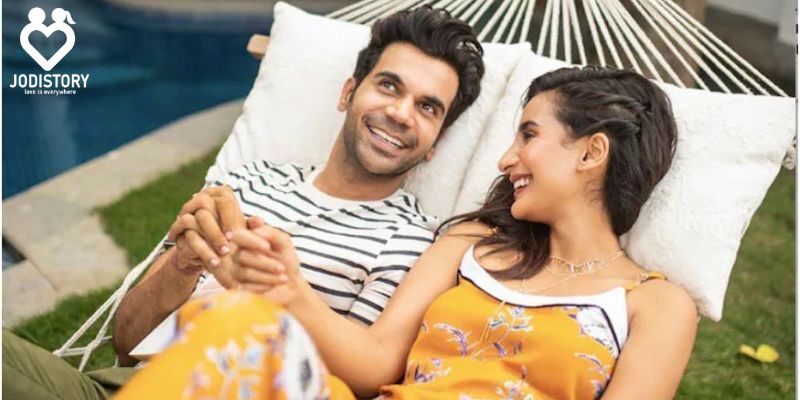 Yes! You read it absolutely right! Rajkummar only saw Patralekha for the first time in an advertisement and instantly felt like marrying her.
On the other hand, Patralekha felt absolutely the opposite about him. In her eyes, his movie Love Sex Aur Dhokha had completely tarnished his image.
Rajkummar Rao & Patralekha Paul's first meeting in 2013
Patralekha and Rajkummar met each other for the first time on the sets of CityLights. Patralekha instantly developed a liking for Rajkummar.
She absolutely loved and respected his passion for acting. Moreover, she used to find his work magical. Patralekha saw all his struggles. She also mentioned that he never gives up.
They had a lot in common. They used to talk about movies all the time in each other's presence.
Rajkummar Rao & Patralekha Paul dated a decade to marry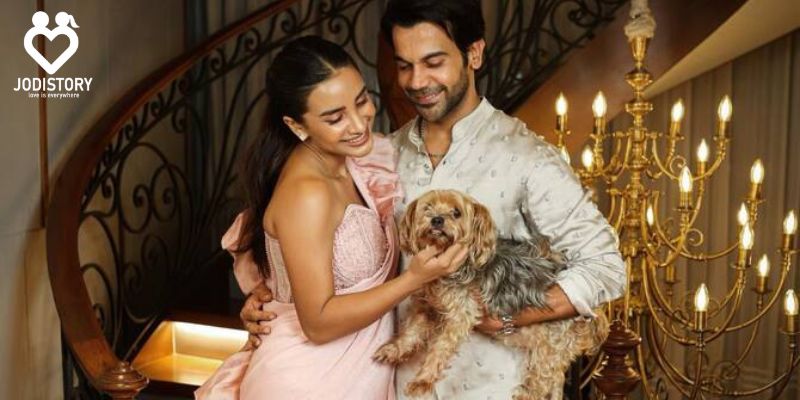 Rajkummar and Patralekha didn't go on any expensive date nights. They just loved to be together and stay in for movies or go for long drives.
They even supported each other by going to one another's auditions. For them, it was like an unspoken but true understanding of what they wanted from each other.
One time Rajkummar ran from the airport to Juhu beach because he was late to see Patralekha! Isn't that just romantic?!
Rajkummar Rao's worldly gestures for Patralekha Paul
Patralekha has a very fond memory of Rajkummar. She had a favorite bag which was very expensive. Now guess who got it for her? If you guessed Rajkummar then you're absolutely correct! He got her that bag when he didn't even have much. This gesture meant the world to Patralekha. She fell in even more love with him.
Some years later that same bag was stolen in London. It broke Patralekha's heart and she called Rajkummar crying. She was very upset because she adored the memories of that purse.
But when Patralekha went back to her room in London, she found the exact same purse on her bed. She couldn't believe the amount of love Rajkummar just showered on her. Patralekha feels that she's the luckiest person to have Rajkummar because of his grand gestures but Rajkummar says that he's the lucky one!
Engagement of Rajkummar Rao & Patralekha Paul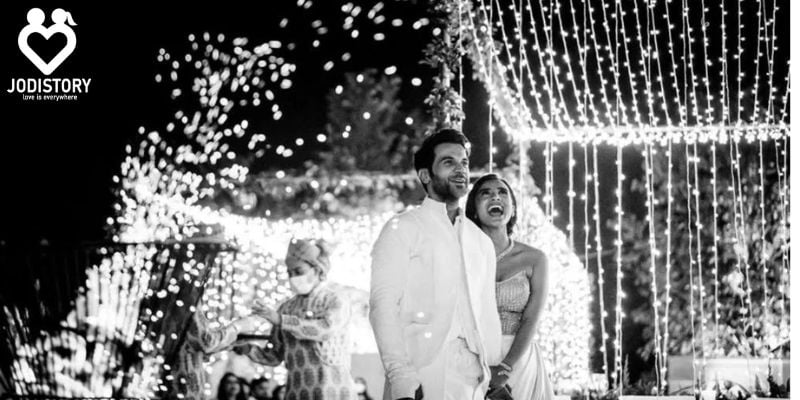 Rajkummar and Patralekha's proposal for marriage to each other was just magical. The couple twinned with each other on their engagement day. They both wore white.
Rajkummar went down on one knee with a ring in his hand and Patralekha did the same! She put the ring on his finger first. After making each other wear their respective rings, both of them got up.
Very sweetly in each other's embrace, they started dancing to Ed Sheeran's song Perfect. It was truly dreamy.
Rajkummar Rao & Patralekha Paul wedding in 2021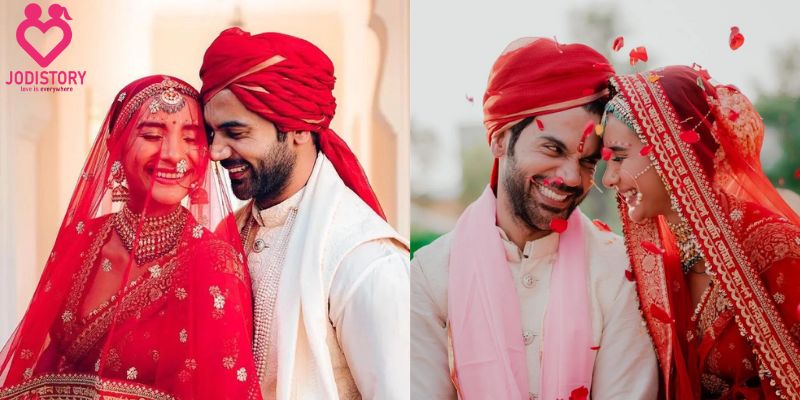 Rajkummar and Patralekha got married to each other on 15 November 2021. They tied the knot in The Oberoi Sukhvilas Spa Resort.
Both of them wore Sabyasachi for the most important day of their lives. They got married after being together for eleven years. It was truly amazing.
For them, they got married to their soulmates.
Is Rajkumar Rao in a relationship?
Yes, Rajkummar Rao is married to his long-time girlfriend Patralekha Paul.
How long did Rajkumar Rao and Patralekha date
Rajkummar and Patralekha dated for about eleven years.
Is Patralekha wife of Rajkumar Rao?
Yes, Patralekha is wife of Rajkummar.
Who is Rajkummar Rao's wife?
Patralekha Paul is Rajkummar's wife.
MUST-READ LOVE STORIES:
Thoughts on Rajkummar Rao & Patralekha Paul's love story
In a world where everyone just replaces their partners rather than sticking with them, Rajkummar Rao and Patralekha Paul's love story truly show the world the real meaning of true love.
They found each other when they were just starting. Both of them didn't have much to offer the other but they stayed for one thing, true love.
Their true love is what let them face the world together as one and made them capable partners for each other. In a relationship like theirs, love blossoms, and partners grow. What do you guys think about their love story? Let us know in the comment section below!