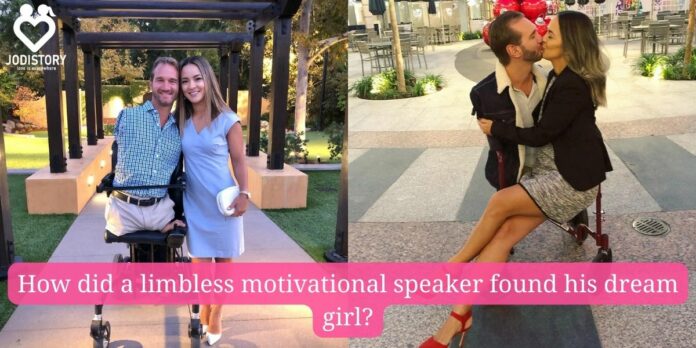 Would you ever leave your partner if they went through a terrible accident or get sick? Probably not right? Love makes you unconditionally bound to a person. And what about falling in love with a disabled person? Does love see disability? Of course not! Read Nick Vujicic and Kanae Miyahara's love story!
Nick is a disabled person who was born with a rare syndrome due to which his limbs never developed. Not having arms and legs is definitely a struggle and it can even pull a person down! Nick faced tough truths of life and even broke down at times. He led a difficult life but decided to not give up on himself anymore!
Nick decided to not give up on himself but actually, he gave up on love. Nick never thought that he would ever find love and believed this. Until one day when he laid eyes on a very incredible woman named Kanae Miyahara. Read Nick Vujicic and Kanae Miyahara's love story.
Who is Nick Vujicic?
Nick Vujicic's full name is Nicholas James Vujicic. He was born on 4th December 1982 to immigrant parents from Yugoslavia. He is an Australian-American Christian evangelist as well as a motivational speaker. Also, Nick is of Serbian descent.
Nick was born with tetra-amelia disorder which leads to the absence of arms and legs. Due to this, he was bullied in his school which led him to attempt suicide by drowning himself in the bathtub but he survived and never attempted it again.
His mother even refused to hold him when he was in the hospital. He graduated from Griffith University with a Bachelor of Commerce degree and a double major in accountancy and financial planning.
Nick has traveled to more than sixty countries for his motivational speech. And inspired millions of children, youth, and businessmen. He is responsible for many, believing in true love. And yes let us have a great look at his romantic love life.
MUST-READ LOVE STORIES:
Who is Kanae Miyahara?
Kanae Miyahara became famous when she married the motivational speaker Nick Vujicic. She was born on December 2020 but her birth year is unknown. She was born in Mexico and also worked as a formal model as well as a nursing student.
Her father is Mexican and her mother is Japanese. Currently, she is a homemaker and loves to take care of her husband and kids. Kanae helped Nick write his book Love Without Limits: A Remarkable True Story of Love Conquering All. Kanae revealed that she used to date men with good physiques but found everything in Nick only.
A Magical First Meeting Of Nick Vujicic & Kanae Miyahara in 2008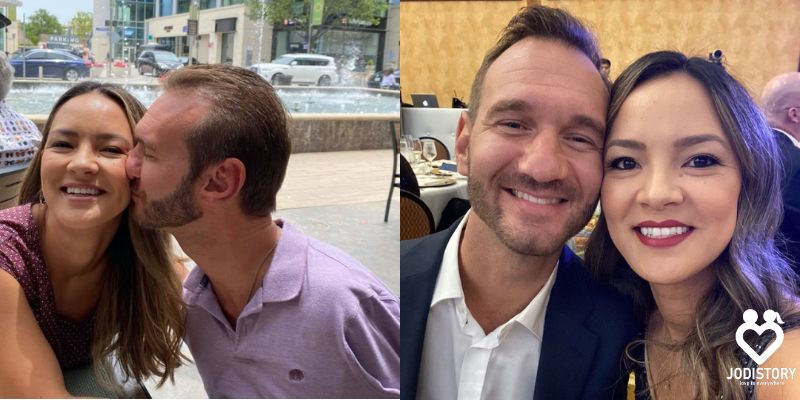 Nick never would have thought that he would fall for a girl during one of his motivational speeches. It was 2008 when Nick was in Dallas for one of his events. He then laid his eyes on one of the most beautiful women he has ever seen. That beautiful woman came to listen to him that night.
Nick had not even a single idea then that this motivational speech will bring true love into his life. Nick met his dream girl Kanae Miyahara on his platform. He could not take his eyes off of her.
They both fell in love at the top of a Bell Tower in McKinney, Texas, at the "Adriatica." When the two of them locked their eyes with each other they could feel the fireworks in their heart and soul.
Moreover, Nick got an opportunity to meet Kanae at the end of the speech. It was a love-at-first-sight moment for Nick. But Kanae was not sure about her feelings. She was battling between feelings of love and infatuation.
Was it love or infatuation that Kanae Miyahara felt for Nick Vujicic?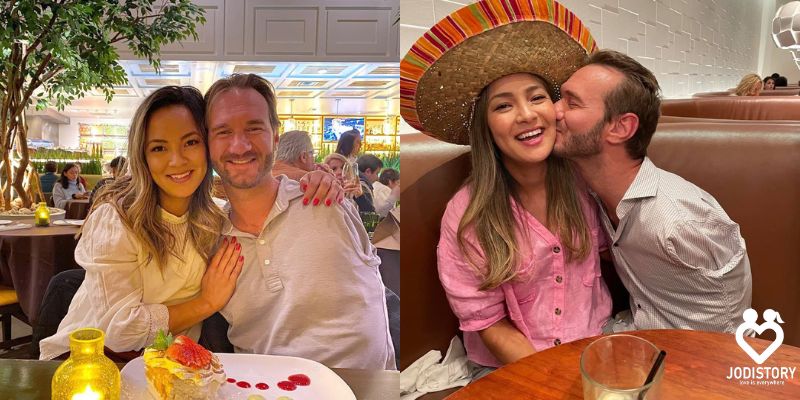 Before meeting Nick, Kanae was in many relationships which were all primarily motivated by sexual and physical attraction. Although her previous boyfriends were not physically disabled time and again Kanae would feel that she is missing something. She never felt whole or complete in her relationships.
Here Nick's rare quality took Kanae's heart. She got what she was expecting in other men and was the qualities she was constantly looking for in Nick. This is how love won over Kanae's heart and when love enters all the other reasonings take an exit because love makes none and all the sense in the world.
After meeting Kanae, Nick was mesmerized by his beauty. Nick took the leap of faith and gave his luck a chance in love.
Nick's friend Tammy worked as the matchmaker in Nick Vujicic & Kanae Miyahara's love story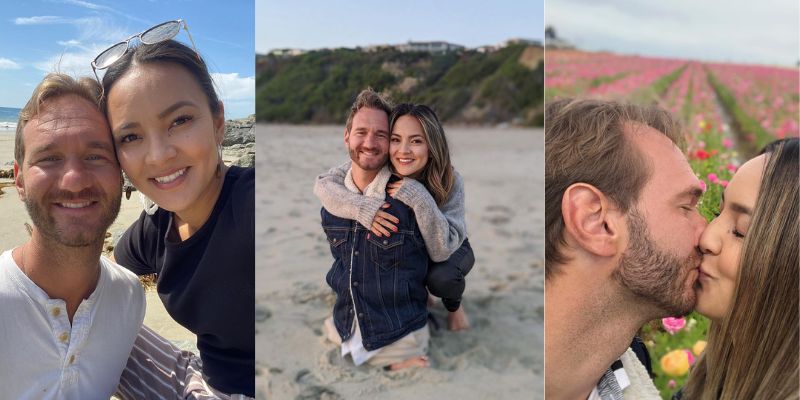 When Nick continued to chat more and more with Kanae he realized that he love to talk to her and listen to her. He wanted to talk to her directly so he asked if he could share his email with her but unfortunately, Kanae declined his request and Nick was heavily disappointed. However, it did not stop him.
When Nick knew he was in love he was in no mood to give up that feeling or Kanae as her possible future partner. He contacted his fellow motivational speaker and friend Tammy to act as the matchmaker for him and Kanae. Kanae used to work with her sister Yoshie as the nanny for Tammy those days.
During his speech, Nick was feeling a lack of concentration for the first time because Kanae was running circles around his mind. He wished to solve his romantic issue as soon as possible. Kanae's kind heart attitude touched Nick deeply. She was just not a simple beautiful creation of god but an epitome of kindness and infinite love.
Kanae Miyahara's sister Yoshie thought that Nick Vujicic loved her not Kanae
Love is not simple and doesn't walk in a straight line too. Love will make you run around in circles and get you lost in its impossible puzzles. Everything was going smoothly in Nick's romantic life except for one small thing that made him run around in circles too!
Nick asked his friend Tammy to let Kanae know about his feelings and forward his email so that he could communicate his feelings to Kanae directly. But instead of contacting Kanae Tammy just forwarded Nick's message to Kanae's sister Yoshie. Crazy, right?
When Yoshie got this message she believed that she is the one Nick is falling for. It would have turned into a whole thing but within a couple of days this misconception was sorted and Yoshie then knew that Nick loved Kanae and not her.
That might have hurt Yoshie a little but she wanted nothing more than her sister Kanae's happiness. So after Nick professed his feelings to Kanae and Yoshie realized that it was all a mistake things would run smoothly right? But that's not the case.
Apparently, Kanae was involved with another guy at that time and was in a relationship with him when Nick told her how he felt about her. She took some time off and wanted to clear up her thoughts and understand her feelings for Nick. Soon she realized that it was Nick who she wants and she broke up with her boyfriend! Nick finally got the girl!
Nick Vujicic got engaged to Kanae Miyahara in 2011 & married in 2012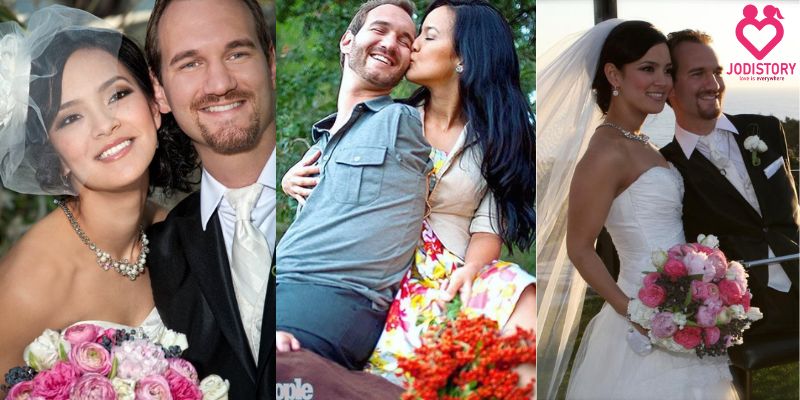 After finally getting his dream girl and falling in love Nick decided to propose to Kanae and make her his life partner forever! He proposed to Kanae on a beautiful yacht in Santa Barbara in 2011! He popped the scary question to her and asked her if she will marry him and Kanae said yes!
Now some people might be wondering how Nick put the engagement ring on Kanae's finger. Well, Nick might not have his limbs but he does have a smart brain and a heart full of love. Nick held the ring in his mouth and put it on Kanae's fingers. He kissed her hands softly and put the beautiful ring on her finger. As the story goes love wins every time and Nick again proved it.
After one year of being engaged to each other Kanae and Nick decided to get married. They looked mesmerizing in their wedding outfits and like a match made in heaven. All of Nick's attempts to get to know Kanae worked and they were finally married in 2012!
Nick Vujicic & Kanae Miyahara's children
The very beautiful couple Nick and Kanae had their first blessed child in 2013. Kanae gave birth to a baby boy named Kiyoshi. He was undeniably the cutest! After two years in 2015, the couple was again blessed with Dejan, their second incredible baby boy.
Soon after two years again in 2017 Nick and Kanae welcomed their beautiful twin girls and named them Ellie Laurel and Olivia Lei. Now they are a happy family of six people ad never looked happier! May god bless them with infinite happiness!
Who did Nick Vujicic marry?
Nick Vujicic married Kanae Miyahara.
How Nick met his wife?
Nick met his wife during one of his motivational speeches.
Who is the son of Nick Vujicic?
Kiyoshi James Vujivic and Dejan Levi Vujivic are the sons of Nick Vujivic.
When did Nick and Kanae get married?
Nick and Kanae got married in 2012.
Does Nick Vujicic have a wife?
Yes. Nick Vujivic's wife s Kanae Miyahara.
MUST-READ LOVE STORIES:
Thoughts on Nick Vujicic & Kanae Miyahara's incredible love story
Love is love. It has no bounds, no limits, and absolutely no conditions. Even today Nick Vujicic and Kanae Miyahara's love story proves that love only looks for a great heart and not great physical attributes!
Also Nick's endless determination and dedication to know Kanae and make her his shows us that when you truly love someone and want to be with them then there's no stopping them from being yours too.
So one should never give up on love. One should also never believe that love is not made for them. Everyone deserves to be loved especially during the hardest phases of one's life. So when you see a person and you know that they're your person and they feel the same hen you should never yourself from going after them.