If 'Love is in the air' on the silver screen i.e. Bollywood these days,the small screen i.e. the TV industry is not too far behind.But, most of our favourite celebrities from telly and film world prefer to stick to the meaning of 'personal life' as personal only. The telly queen, Hina Khan aka Akshara of Yeh Rishta Kya Kehlata Hai fame, is one such diva. Here is Hina Khan & Rocky Jaiswal Love story.
Yeh Rishta Kya Kehlata Hai,  changed from reel to real life for Hina Khan. Let's see how?
As she shot to fame with the show, parallely she rose to new heights of romance with her wannabee!
Rumours have been taking the rounds that the cute actress is deeply in love and seeing her show 'Yeh Rishta Kya Kehlata Hai's' ex-producer, Jaywant (Rocky) Jaiswal.
Must-Read Love Story
How Hina Khan met Rocky jaiswal?
Hina khan came face-to-face with her prince charming while she was shooting for Yeh Rishta Kya Kehlata Hai. Hina met Rocky Jaiswal during shooting for T.V serial.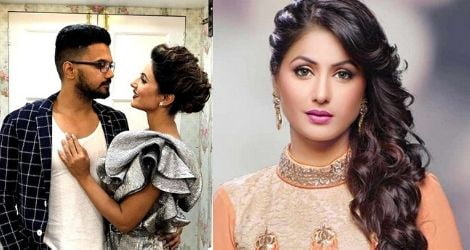 Hina recalls her days off-screen time as
"Well, that was short and sweet but unforgettable memories with Rocky by my side".
Rocky was Hina's partner in Khatron Ke Khiladi season where she was the first runner-up. Hina said about the man of the moment: "Rocky is very special to me. We are more than friends."
The actress  preferred silence about her link-up rumours, ever since they started budding. Fans and media as well were very keen for the glimpses of what is going on in Hina's love life.
Hina Khan & Rocky affairs went official
many of Hina's fans were delighted,as the actress  finally made her relationship official with beau Rocky. Hina once posted a very cozy picture on Instagram with Rocky with a beautiful caption,
"La Vita e Bella So m gonna love u, like m gonna lose u,m gonna hold u, like m saying goodbye..love this song."
which was enough for the minds of the people to think that she is finally accepting her love for her boyfriend openly.
Hina, before entering Bigg Boss, said: "I indeed wish sometime soon he will surprise me in the house." Well, Hina's desire finally got contented.
Rocky Proposed Hina at Big Boss house
It was in Bigg Boss 11, where family and friends of the contestants entered the house for a while. Hina Khan's reaction was remarkable as Rocky walked in the Big Boss house in style.
As she called out his name, she was literally seen dancing with joy. Much to Hina's surprise and delight, Rocky made Hina weae a ring.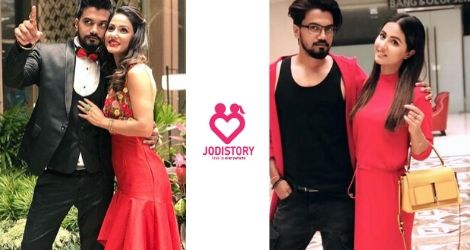 While Hina got emotional on this note and expressed her emotions by saying the three magical words 'I LOVE YOU'.After a brief heart-to-heart talk between the two, Rocky left.
Isn't it just too cute?
With a loud and clear declaration on national television, they cleared the air around their relationship with her 'special friend', Rocky Jaiswal.
Distant-still-Close
Whenever Hina found herself in trouble with her actions in the Bigg Boss house, it was Rocky, who stood up for her and fought her haters. He has also been actively involved in social media.
He tried his best to defend and protect his 'Sher Khan'. Rocky called her a 'walking heart' in the said post.
Must-Read Love Story
Hina-Rocky Marriage plan
Hina said in an interview recently, "I have no marriage plans for the next three years".
One of the most talked about and lovely pair of the TV industry looks adorable together in their vacation posts and events.
Love continues…Hopefully marriage follows soon. Hina Khan & Rocky Jaiswal Love story is so cute. Is not it?