I suggest you to do war but never love because in war either you live or you die. But in love neither you live nor you die."
-Adolf Hitler.
The Start
Adolf Hitler, born on 20th April, 1889,is known as the greatest Dictators of all times. He held the Nazi Party back then, and was appointed as the Chancellor of Germany. Hitler's mother, Klara Pölzl, was his father's third wife and also his cousin.
Hitler hated exams and eventually failed his high school exams.His interest lay in politics. And after fighting in favor of the German army, he joined a small party -The Nazi party which evolved to be the greatest and then his Dictatorship expanded.
A one woman man
Though there were rumors of Hitler sharing his love between 2 women, but as chauvinist as he was, he loved 2 things- His poltical party- NAZI and a woman- EVA BRAUN.
Also Read:Love Story Of Lionel Messi: A Story Everyone Dreams Of
Eva was a young model back then, who proved to be so intrepid to love the barbaric soul and darkest mind of history. Adolf being a vegetarian, loathed cosmetic products made from animals, whereas Eva loved the reverse.
Well "Opposites Attract." Don't they?
From where did it start?
Young Eva Braun, just 17 back then, had agreed to accompany a 40 year old Hitler, who had two tickets to the Opera.
Hitler made it sure not to let his private matters fly out in the open. He even avoided Eva Braun from being photographed by media.
Eva had started to fall in love with this merciless Hitler. But as disciplined as he was, he did not want the people to think that he loved someone else more than the country.
True Love does find a way back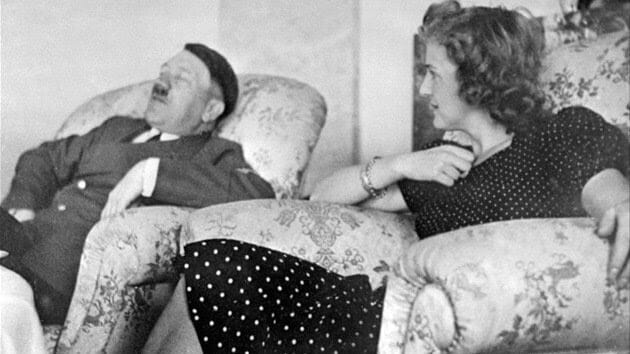 It was back then, when Hitler was close to defeat and being dead. But Eva still chose to be by his side. That's wat real lovers do. Don't they?
It was then, Hitler realised and agreed to make Eva his soul mate, his loving Wife. It was because he knew that the enemies were just one step away from him and he would be defeated and dead.
Also Read: Fragrance Of Romance on Silver Screen: Romantic Movies For Love Birds
Eva was delighted at this gesture and even more ecstatic when Hitler changed her name to 'Eva Hitler' from Eva Braun.
Happy Days ended soon for the Hitlers
Their marriage lasted only for 46 hours. Deadly. Isn't it? But I think it was the result of his dangerous actions itself that he died such a painful death, as the enemies were around the corner.
Hitler and his beloved wife gave their farewell to the staff. And it was only after some minutes that the people heard the sound of a Gunshot.
Also Read: Love Story Of Emraan Hashmi: A Romantic Tale
On opening the door, the groom and bride were found dead on the sofa. No, it wasn't a murder. But a painful suicide.
The dutiful wife Eva, sacrificed her life by biting a Cyanide tablet and the greatest dictator of all times shot himself by his pistol.
In Hell we'll meet.
Though the lovers didn't get a chance to live their marriage life, they opted for a life in hell. In hell, because as cruel as Hitler was, he would have surely made it into hell.
Apart from being the brutal, ferocious and untamed man, he surely was a great lover and a loyal person who had his eyes and heart laid only on one woman.
Eva was too strong to love him and it is because of such powerful women like her, that people believe that real Love exists, even if it is meant to be dangerous. Adolf Hitler love story was wild and cruel.