One love story which you'll remember till eternity is the story of Turia Pitt Michael Hoskin.
Turia Pitt, an Australian Athlete, is also a mining engineer, humanitarian, athlete, motivationalist, and author.
She was competing in an ultra-marathon through WA's Kimberley region in 2011 , when unfortunately she was caught in a bushfire.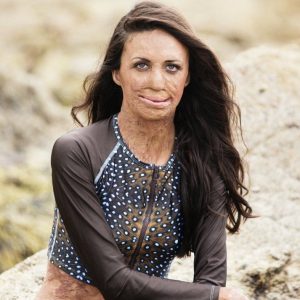 She had almost succumbed to her injuries as she had stopped breathing during the operation.
But due to her courage and will to live, she marked a new milestone in her recovery with severe burns along.
Turia Pitt & michael Hoskin
Turia and Michael were the couple falling in the high school category.
They have been together and dating since then.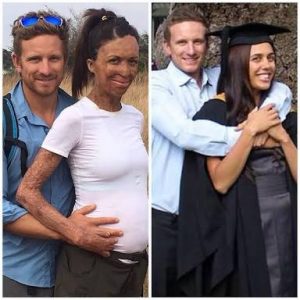 Surprisingly,Michael always had a feeling that she's the one for him, whom he's going to love for the rest of his life.
In even in his wildest dreams, Michael would have never thought of experiencing such a horrific incident which had 99% possibility of losing Turia.
Also Read: Love Story Of Scarlett Johansson: not a one man woman?
But maybe it was due to the real and purest form of Love, that saved Turias life even from the drastic incident of catching in a bush fire.
Michael would have then thought Turia would not be alive, but there she was, confident, brave and standing strong through all the surgeries and treatments.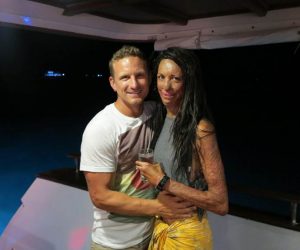 During her on-going hospitalisation, Michael bought her an engagement ring and vowed himself that "If Turia lives, I'll marry her immediately. "
Having such extensive reconstructive surgeries, and intense physiotherapy, Turia was getting treated for 2 years.
But even in these 2 years, Michael never let her out of sight and even resigned from his position as a cop.
Unbelievable. isn't it?
Turia Pitt & Michael Hoskin marriage
In July of 2015, Michael proposed to Turia in the Maldives. They soon got married in 2016.
And in June 2017, the couple announced the exciting news of their baby who would soon be born.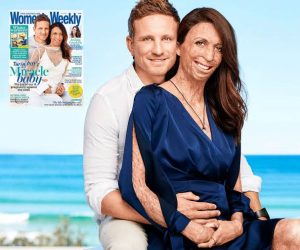 not every woman in the world gets to experience this. I'm still here and I get to do this journey with my best friend."
Michael loved her since school, and even after such a life changing event, he loved her much more than he ever did.
It was her true inner beauty which shone through, and as for Michael, she was still the girl he loved.
When I look at her I see Turia, I see the beautiful Turia. She is still the girl I fell in love with," he said.

Turia Pitt & Michael Hoskin true love inspire us
Wasn't this a love story which forced you to believe that true love does exist?
Also Read: Captain America still single! ?
Turia suffered burns to 65 per cent of her body, lost her fingers and thumb on her right hand, but still Michael never stopped loving her.
At heart, my story is a love story. As much as it is a tale of triumph over adversity — a story of the girl who was burned but not broken — it's a story of the boy and the girl whose love for each other couldn't be dimmed. A love that no fire could tear apart." – Turia says.
Yes, her looks were damaged, but Michael didn't love her for her looks, but due the fact that she was the same old Turia which he loved so much, back in high school.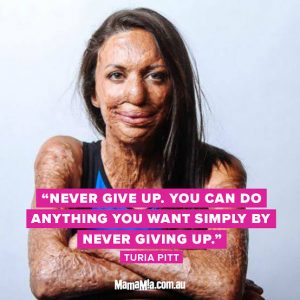 Michael breaks this convention of loving someone for their beauty. Cause beauty surely vanishes someday, but the inner qualities and true genuine love of a person doesn't. Turia Pitt & michael Hoskin love story is so inspiring & sweet. Isn't it?